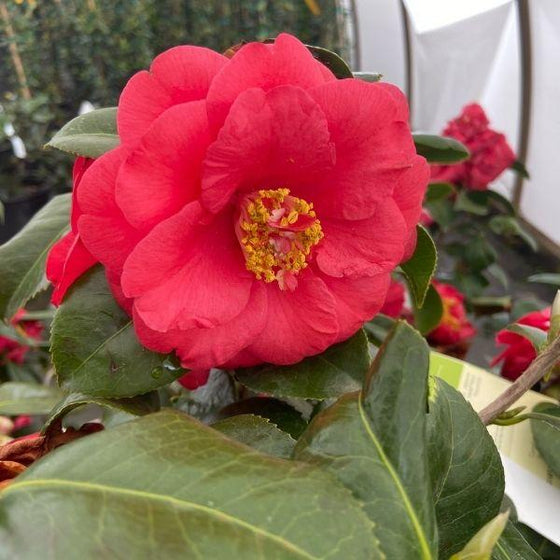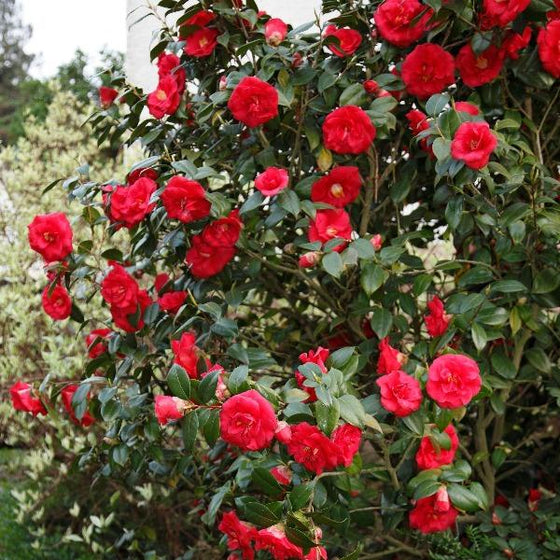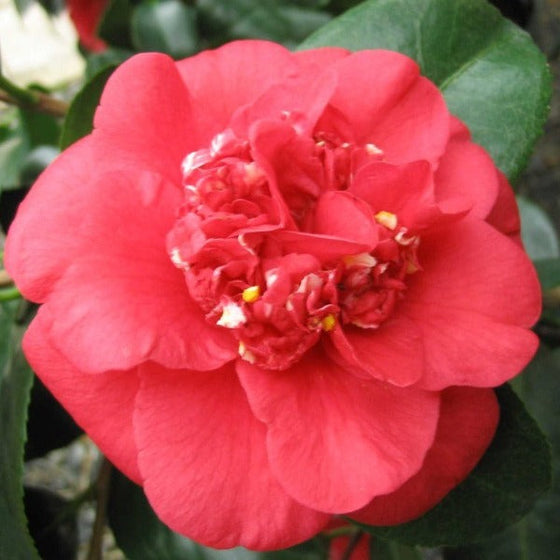 Images Depict Mature Plants
April Tryst Camellia Shrubs for Sale Online
Camellia April Tryst Shrubs are part of the April Camellia Series developed to have improved winter cold hardiness and later bloom cycle than most other Camellia japonica. These brilliant red flowers have petals seemingly stuffed into showy layers, creating big fluffy red blooms even in colder climates.
---
| | |
| --- | --- |
| Hardiness Zone: | 6-9 |
| Mature Height: | 8 to 10 Feet |
| Mature Width: | 6 to 8 Feet |
| Classification: | Broad leaved evergreen shrub, spring flowering |
| Sunlight: | Part sun to shade |
| Habit: | Evergreen, densely branched, columnar |
| Flower Color: | Red |
| Foliage: | Dark green |
| Soil Condition: | Any well-drained soil |
| Water Requirements: | Water well until established |
| Uses: | Extremely attractive when used as a focal point in the mixed border, mass planting, or a specimen planting. |
Growzone: 6-9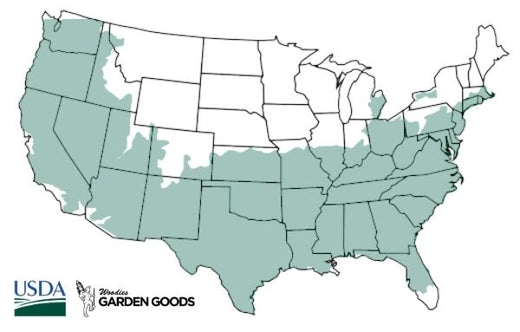 How to Care for Camellia April Tryst
Be sure to read our planting instructions to ensure a healthy and happy plant for years to come!

How do I plant my Camellia April Tryst?
When planting your new Camellia April Tryst shrubs, dig a hole twice as wide and the same depth as the container your shrub arrived in. Amend the bottom of the soil with peat moss, top soil, or other organic soil amendments in order to add nutrients and create drainage. This is a good time to introduce a starter fertilizer that will add healthy microorganisms to the native soil. Then, position your shrub in the hole and backfill. Do not plant the roots too deep - you should still be able to see the soil it arrived level with your soil once the hole is completely backfilled. Then, cover the area in 2 to 3 inches of mulch and water well.

How do I water April Tryst Camellias?
After back filling and lightly compacting the 50/50 mix of existing soil and compost give the Camellia April Tryst a good, deep watering. A general rule of thumb is to count to 5 for every one gallon of pot size. Check the plant daily for the first week or so and then every other day there after. Water using the counting method for the first few weeks. Gator bag Jr. can be used to help aid in this process and also provide plants with a good soaking due to the slow release of the water into the root-zone of the plant. Soaker Hoses can also be used to water when planting a long hedge.

What kind of sun exposure do Camellia Japonica April Tryst shrubs need?
Camellia April Tryst shrubs do best in partial sun to full shade. An ample amount of sunlight would be 4 to 6 hours of sun per day. Direct sunlight for too long in too hot of an area could scorch the leaves. These are a great choice for brightening up a shady spot in your yard.

How should I fertilize my spring Camellia japonica April Tryst?
It is best to fertilize your Camellias in such a way that you encourage growth and flowers at the right time of the year, and you do not try and fertilize when a camellia shrub is going into its growth dormancy. For Camellia japonica shrubs such as Camellia April Tryst, we recommend you use a fertilizer balanced for floral shrubs (such as Espoma Flower-tone) in early spring and late summer, or before and after their bloom cycle.
---
Other Products you may be interested in
---
Customer Reviews