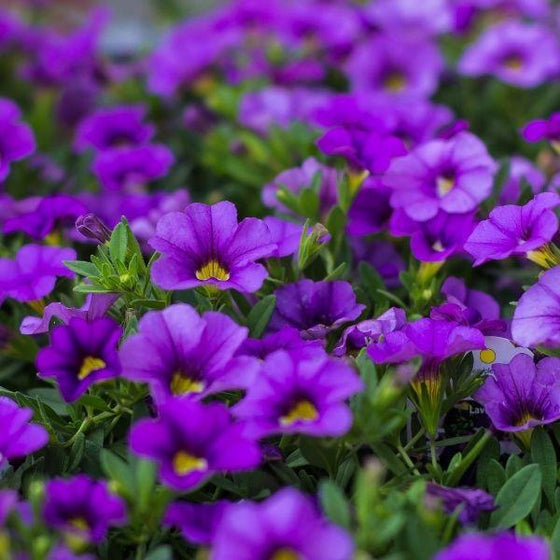 Images Depict Mature Plants
Calibrachoa Dark Blue Plants for Sale Online
The Calibrachoa Dark Blue plant is covered in royal blue trumpet-shaped flowers with yellow throats and purple centers. These annuals bloom from late spring to early fall and grow in a beautiful trailing habit. Due to its growth habit, this plant does very well when potted in hanging baskets or at the edge of any outdoor container that will allow for it to grow and spill out throughout its blooming season.
Known for needing occasional upkeep, make sure to keep an eye on any flower heads that die off. You can simply trim them, allowing new beautiful blossoms to bloom. Calibrachoa plants are pollinators and attract bees, butterflies, and hummingbirds. Calibrachoa Dark Blue are also deer and rabbit-resistant so you will never have to worry about any forest creatures chewing on your beautiful flowers.
---
Growzone: 9-11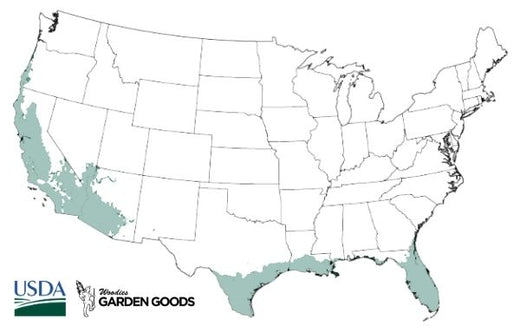 | | |
| --- | --- |
| Hardiness Zone: | 9-11 |
| Mature Height: | 6 to 12 Inches |
| Mature Width: | 12 to 15 Inches |
| Classification: | Tropical Perennial, Annual |
| Habit: | Mounding |
| Flower Color: | Royal blue |
| Foliage: | Dark green |
| Attracts: | Hummingbirds, bees |
| Uses: | Mass planting, hanging baskets |
| Soil Condition: | Prefers slightly dry |
| Light: | Full sun, partial sun |
| Water Requirements: | Water frequently |
---
How to Care for Calibrachoa Dark Blue
After purchasing a Calibrachoa Dark Blue Flower, be sure to read our recommended care instructions to ensure a healthy and happy plant all season long!

When Should I Water My Dark Blue Calibrachoa Flower?
We recommend watering your plant regularly until it is fully established. This plant is fairly drought-tolerant so you can allow its soil to dry out slightly before watering again. Generally, this plant likes to have evenly moist conditions, but will not tolerate being overwatered. Overwatering Calibrachoa will cause its roots to sit in standing water and cause its root system to rot. Check on its soil periodically and if it is moist to the touch, do not worry about watering it just yet.

How Much Sunlight Should My Dark Blue Calibrachoa Flower Get?
This plant does well in full sun to partial shade. Calibrachoa loves time in the sun, but is a cold-hardy plant and can survive completely fine in some shaded areas. We recommend giving your plant between 4 and 6 hours of sunlight each day while allowing it shade when needed.

What Soil Does My Calibrachoa Need?
This annual is not particular to any soil pH and can usually handle organic, well-draining soil. It does best when the soil is evenly moist, however, this plant will not tolerate sitting in standing water. This will cause root damage and root rot. Dark blue Calibrachoa is highly tolerant of urban pollution and can even thrive in inner-city environments. This plant does very well when planted in containers due to its trailing habit. When potting, make sure you use well-draining potting soil and place it in a pot that has excellent drainage holes.

Do I Need to Prune My Calibrachoa?
Pruning your Calibrachoa is not necessary, but can be done if you choose so. We recommend only cutting off dead flowers, foliage, or stems very carefully. This will help promote new growth, even late in the blooming season. This plant does not require any deadheading as it will shed any problem areas mostly on its own. If you have your plant potted, feel free to cut it back to your desired shape if it begins to trail too long.
---
Frequently Asked questions
Can I Plant My Calibrachoa in a Container?
Where Should I Plant My Calibrachoa in My Garden?
Will My Calibrachoa Dark Blue Plant Attract Pollinators?
---
Other Products you may be interested in
---
Customer Reviews