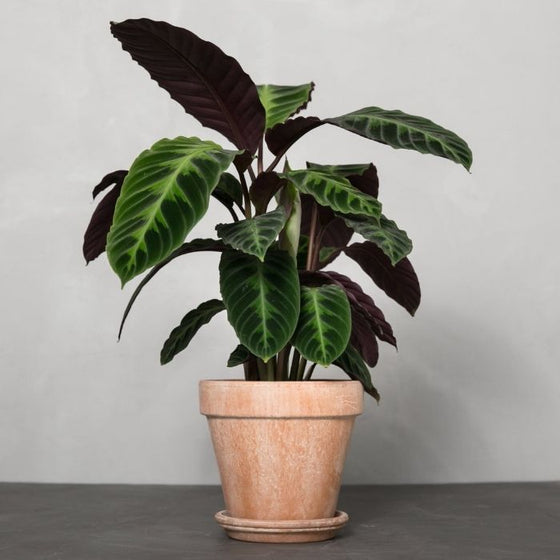 Images Depict Mature Plants
Calathea warscewiczii Plants for Sale Online
Calathea warscewiczii Plants have darkly patterned leaves with light green stripes in a more rounded shape than the other Calatheas that do well inside in low-light areas. Calathea warscewiczii brings personality and color to any space indoors. It is a part of the Marantaceae family, and likes bright, indirect light at most, as the colors will fade and the leaves will burn if exposed to too much direct light. These plants like to dry out some between watering. Also Called Jungle Velvet Calathea.
Calathea Warscewiczii is a pretty, pet-friendly plant that does well indoors with minimal light and care. This plant looks like it's been painted, and likes to dry out between watering. While it is tolerant of wet roots, it prefers not to be that way. The foliage will fade or burn if exposed to excessive light. The foliage is both cat and dog safe, according to the ASPCA Plant Toxicity List. This family of plants is known for its bright, intense foliage as it performs well indoors and holds its color without much light or care.
Native to Brazil, Calathea Warscewiczii is found in slightly moist soil with bright, indirect light. The soil, while moist, drains quickly so that the roots don't constantly stay wet. Thus, the plants like some humidity and can survive with little to no direct light. Calathea Warscewicziis produces small flowers that are white but rarely seen when the plant is grown indoors. The leaves move upwards, near-vertical, come nighttime when the light is no longer available.
---
| | |
| --- | --- |
| Hardiness Zone: | 9-11 |
| Mature Height: | 2.5 Feet |
| Mature Width: | 10 to 16 Inches |
| Classification: | Colorful foliage |
| Sunlight: | Fluorescent to bright, indirect |
| Habit: | Wider than it is tall, compact |
| Flower Color: | White, rarely flowers |
| Foliage: | Round leaves with green with stripes |
| Soil Condition: | Well draining |
| Water Requirements: | Likes to dry out between watering |
| Uses: | Excellent indoors in offices or low light areas |
Growzone: 10-11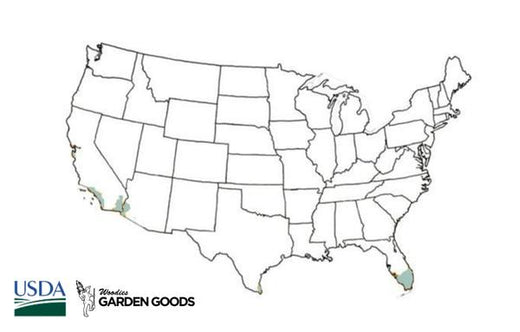 Other Products you may be interested in
---
Customer Reviews