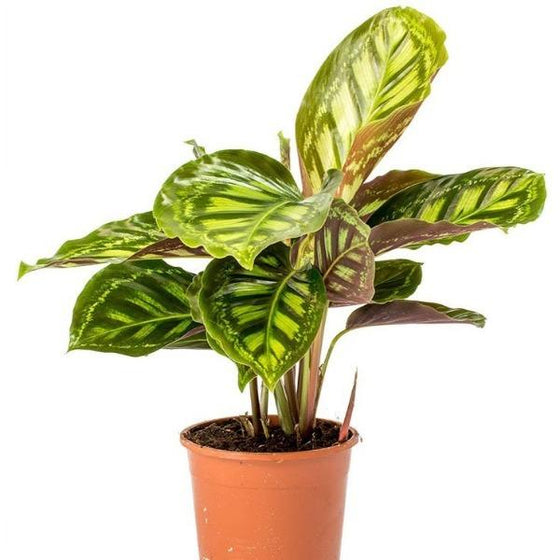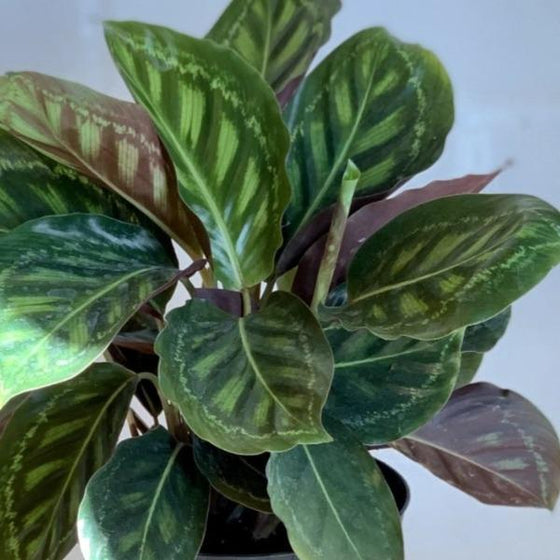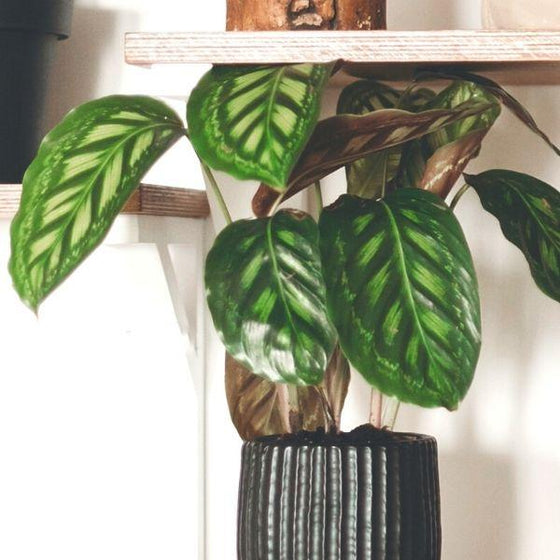 Images Depict Mature Plants
Calathea Flamestar for Sale Online
Calathea Flamestar is simply beautiful. With its rich green and yellow striped leaves, it will easily become one of your most prized house plants. Pet and child safe makes this possibly one of the best houseplants for homes with pets and children.
Calathea flamestar plants are part of the Marantaceae family which includes about 50 species of tropical house plants. Indigenous to the tropical forests of South America it contains three genera: Calatheas, Maranta, and Stromanthe.
The leaves of Calathea are flat during the day and foldup during the night. This habit is the origin of the common name "prayer plant". Calathea Flamestar Plants can seem like high-maintenance divas at first as they require almost perfect conditions to thrive. They grow best when provided with tropical forest-like conditions: warm, moist, conditions will make your calathea flamestar happiest.
Calathea plants that are kept too cool or too dry are likely to lose their leaves or begin to develop root or foliar issues. Plants that are exposed to too much sun are likely to lose their vivid coloring and develop brown blotches on their leaves.
---
| | |
| --- | --- |
| Mature Height: | 12 to 18 Inches |
| Mature Width: | 12 to 18 Inches |
| Classification: | Tropical |
| Sunlight: | Fluorescent to bright, indirect |
| Habit: | Evenly balanced, compact |
| Flower Color: | White, rarely flowers indoors |
| Foliage: | Green spade-shaped leaves with lime green stripes |
| Soil Condition: | Well drained |
| Water Requirements: | Evenly moist, OK to dry out slightly between watering |
| Uses: | Excellent indoors in offices or low light areas |
Growzone: 9-11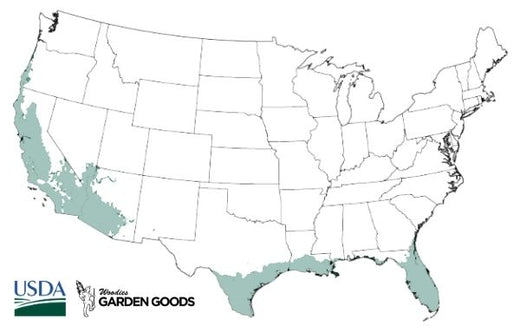 How to Care for Calathea Flamestar
Be sure to read our planting instructions to ensure a healthy and happy plant for years to come!

How often do I water Calathea Flamestar?
Calathea Flamestar likes to dry out occasionally between watering. They will tolerate staying moist, but prefer not to have constantly wet soil. When the top inch of the soil feels dry to the touch, you know its time to water it again.

What soil should I use for Calathea Flamestar?
The Calathea Flamestar needs a very well drained soil. Regular potting mix or potting soil mixed with sand or cactus soil works well for plants potted in containers. You should not need to repot your Calathea Flamestar very often, only do so when it is so rootbound you cannot press your finger in to test for moisture.

How much light does Calathea Flamestar need?
Calathea Flamestars do well with bright, indirect light, but they can tolerate lower light or fluorescent light sources.

How should I fertilize Calathea Flamestar?
Any all purpose, fertilizer will work for Calathea Flame Star.
---
Other Products you may be interested in
---
Customer Reviews