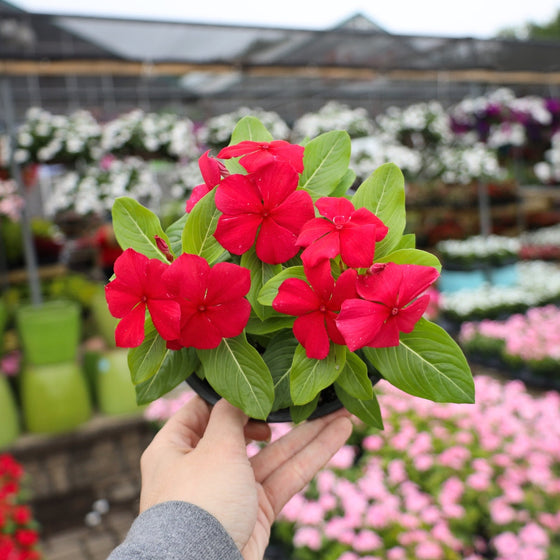 Images Depict Mature Plants
Burgundy Vinca Plants for Sale Online
Red Vinca (Catharanthus roseus) is a tropical plant that grows as an annual in the majority of the United States. Also known as Madagascar periwinkle, this plant loves to be placed in the sun and looks beautiful when planted as a bedding plant.
Red Vinca plants have deep red flowers with stunning green foliage that contrast beautifully. Your Vinca will grow to about six to 18 inches tall at full maturity and blooms from early summer until the first frost of the winter. These plants are also rabbit resistant and attract pollinators such as butterflies, bees, hummingbirds, etc.
---
Growzone: 9-11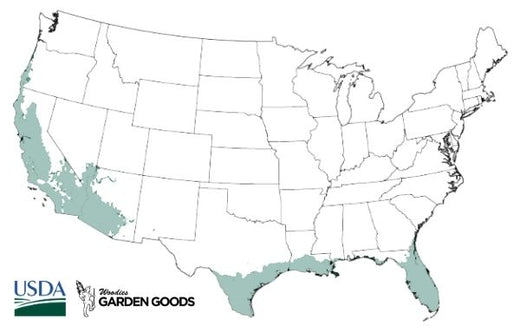 | | |
| --- | --- |
| Hardiness Zone: | 9-11 |
| Mature Height: | 6 to 16 Inches |
| Mature Width: | 6 to 18 Inches |
| Sunlight: | Full sun to part shade |
| Water Requirements: | Water well until established |
| Selling Points: | Evergreen, flowering, spreads quickly, tolerant of all light conditions, fast growing |
| Flower Color: | Burgundy, red |
| Details: | An evergreen ground cover that makes a thick carpet of trailing stems. |
---
How to Care for Red Vinca
Before you buy a Burgundy Vinca plant, be sure to read about the recommended care instructions to keep this plant healthy and thriving!

How Do I Plant Burgundy Vinca?
It is crucial not to rush to plant your Vinca annuals. If you plant them too early in the spring, it will be too cold, and the soil will still be wet. The wet conditions of the soil could cause your plant to become sick. These are hot weather annual plants, meaning they do not thrive in cool and wet climates. We recommend planting your Burgundy Vinca plants around the same time as you begin to plant your vegetable garden. Full sun is best for your plant to bloom beautiful and luscious burgundy-red flowers. However, if you live in an extremely hot climate, some afternoon shade wouldn't harm your plant one bit.

How Often Should I Fertilize My Burgundy Vinca Plant?
If your Burgundy Vinca is grown in containers, we recommend feeding it more frequently with a general, all-purpose fertilizer. Doing so will help replenish any nutrients that are lost during watering. If your Vinca plant is in the ground, we recommend that you fertilize with a slow-release fertilizer at the time of planting. You can also apply compost to the plant bed and will help add the nutrients that fertilizer adds.

What Type of Light is Best for Burgundy Vinca Annuals?
Your annual Vinca loves to be in full sunlight. We recommend planting your Burgundy Vinca in a spot that receives at least 6 to 8 hours of sunlight a day, preferably more. Your plant will do fine in partially shaded areas. However, it most likely will become leggy and not produce as many flowers if it receives too much shade. If your plant is in a container, you can move it around parts of your garden to ensure it receives enough sunlight each day. The more sun your plant receives, the more luscious and full its flowers will be.

When Should I Water Burgundy Vinca Plant?
A common mistake when caring for a Vinca plant is overwatering it. We recommend that you water your plant once the top inch of soil feels dry to the touch. This usually means you can water your plant once a week. However, if you live in an area that receives lots of rainfall or you're having a year of more rainfall than usual, cut back on watering because the rain is already providing what your plant needs to thrive. This plant thrives in dry soil conditions. It is better to wait to water your plant than to water too soon. You could risk the chance of root rot disease, and that could cause permeant damage to your plant.
---
Frequently Asked questions
Will my Vinca Plant Attract Pollinators?
Where Can I Plant Burgundy Vinca in My Garden?
How Do I Propagate My Burgundy Vinca Plant?
---
Other Products you may be interested in
---
Customer Reviews