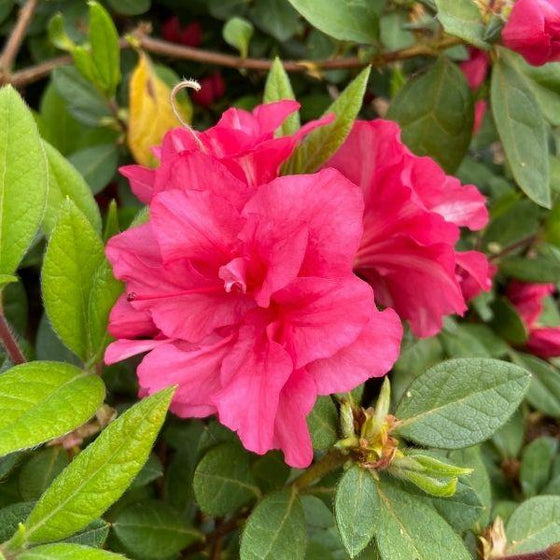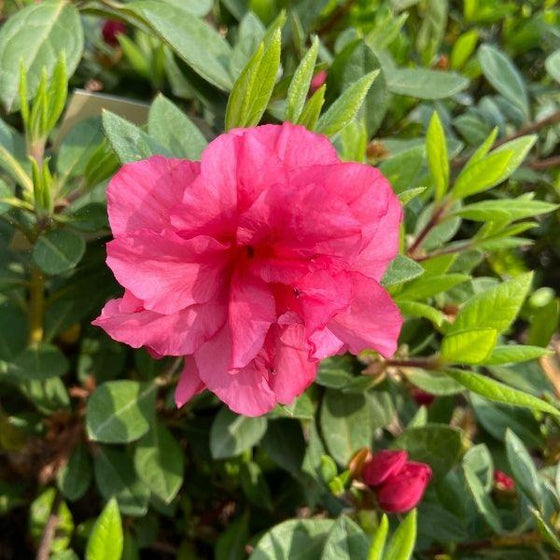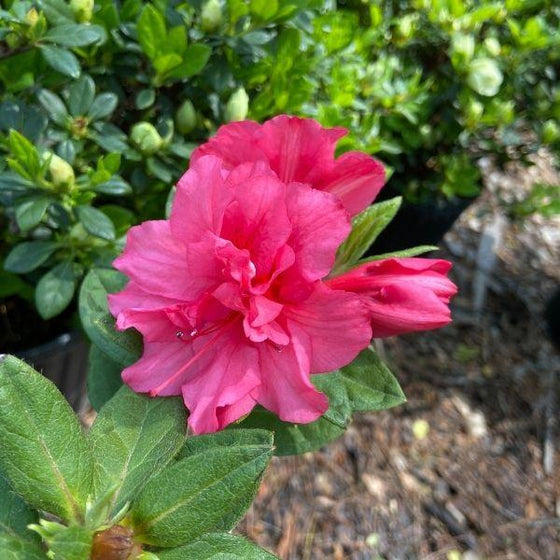 Images Depict Mature Plants
Autumn Rouge Encore Azalea Shrubs for Sale Online
Autumn Rouge Encore Azalea Shrubs (Rhododenron 'Conlea') are repeat blooming azaleas with lush, deep pink flowers. This classic variety was one of the first ones developed for the Encore Azalea line. Its semi-double bloom habit means it has a fluffy, layered look to the petals. The pink flowers repeat for an "encore" bloom cycle through the summer and into the fall, bringing another round of color to your garden.
---
| | |
| --- | --- |
| Hardiness Zone: | 6-10 |
| Mature Height: | 3 to 4 Feet |
| Mature Width: | 3 to 4 Feet |
| Classification: | Broad leaved evergreen shrub |
| Sunlight: | Part shade to filtered sun |
| Habit: | Upright, rounded |
| Foliage: | Dark green |
| Flower: | Rich, velvety pink blooms |
| Bloom Form: | Semi-double, 2 inches across |
| Pruning Season: | Pruning not needed |
| Soil Condition: | Any very well drained soil, likes acidity; does not like clay |
| Water Requirements: | Water well until established |
| Uses: | Extremely attractive when used in the mixed border or containers; specimen |
Growzone: 6-10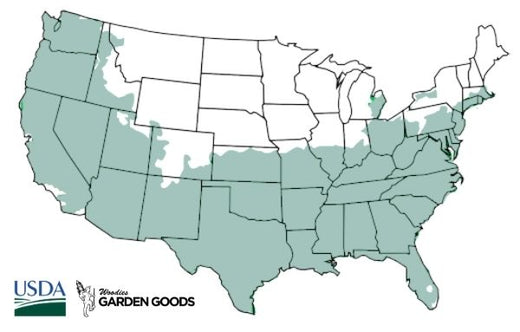 How to Care for Autumn Rouge Encore Azalea
Be sure to read our planting instructions to ensure a healthy and happy plant for years to come!

What kind of soil is best for a Rouge Azalea?
Autumn Rouge Encore Azaleas must have well draining soil. This is why we highly recommend that you amend your soil before planting your Autumn Rouge Azaleas, to make sure their delicate roots have the space and aeration they need to establish successfully. Clay soils are too dense and the roots will not be able to breathe and grow. If your soil is naturally dense like clay, good amending materials to mix in are cedar shavings, pine bark, peat moss, compost or humus. Make sure to add a layer of mulch around the drip line of the shrubs, to help regulate soil temperature and discourage weeds.

How much water does my Encore Autumn Rouge Azalea need?
Encore Azaleas prefer a well hydrated environment, but they cannot sit in water for long periods of time. Water that does not drain away will cause root rot. Depending on how quickly or slowly your soil drains water will determine how frequently you should water your Encore Autumn Rouge Azalea, as well as sun exposure and seasonal heat. When you first plant your azalea, give the ground a long, healthy watering. Then, for the next few days, check the soil daily to see how quickly or slowly it begins to feel dry. When the top inch of the soil (about the length to your first knuckle) are fairly dry to the touch, then water for a 5 second count for each gallon size your plant arrived in. A 3 gallon pot will need a 15 second count when watering, etc. This way you can keep your azalea happy and avoid the risks of overwatering.

How much sun is right for Encore Azaleas?
Autumn Rouge Azaleas bloom in the spring and again in the fall, but having the right sun exposure for your azaleas will ensure that all of their bloom cycles are full and spectacular. While they can handle full sun and will be OK in partial shade, making sure they get about 4 to 6 hours of sun will help encourage those iconic fluffy fuchsia blossoms multiple times in the year. If that means that they are in morning light on a north-facing wall or filtered shade on a south or west facing garden would work, either will work. East facing landscapes will often provide the softest balance of light, depending on where you live.

How do I fertilize Autumn Rouge Encore Azalea Shrubs?
Autumn Rouge Encore Azalea Shrubs grow best if they are fertilized once in the spring. Autumn Rouge Encore Azalea bushes favor nutrient rich soil and ample fertilization. When selecting a fertilizer for your Autumn Rouge Encore Azaleas, use a balanced fertilizer blended specifically for shrubs such as Espoma Holly Tone for example its also a good idea to acidify the soil using Espoma soil acidifier once a year to maintain a "sour" environment for your azaleas. See "Using coffee grounds with your Azaleas" further down this page. Our ideal fertilizer schedule for azaleas is to apply an early spring fertilizer with a product such as Espoma Tree-tone or Plant-tone at the recommended rate this will give the plant a boost of nitrogen that will be needed for healthy abundant foliage. Follow this up with a early summer application of Espoma Holly-Tone, this will provide the necessary nutrients and raise the acid level in the soil which Autumn Rouge Encore Azalea Shrubs favor. Espoma products are easy to use, just sprinkle around the base of the plant and water it in.
---
Other Products you may be interested in
---
Customer Reviews