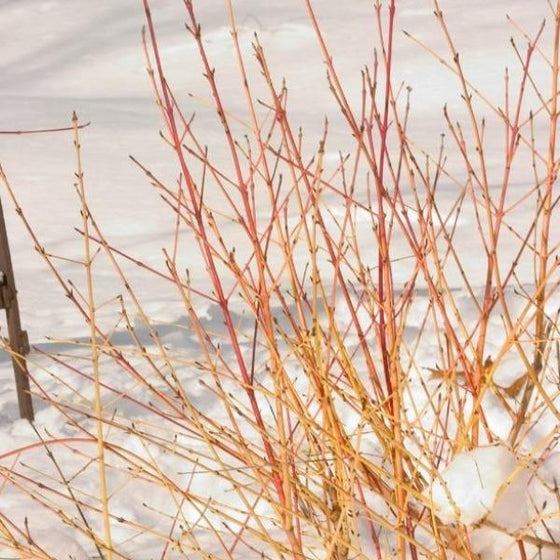 Images Depict Mature Plants
Arctic Sun Dogwoods For Sale Online
Arctic Sun Dogwoods (Cornus sanguinea 'Arctic Sun') is grown for the brilliant and unique array of colors their stems bring to your garden. This deciduous shrub features bright yellow stems that fade to orange and end with a bright crimson at the new tips, creating a dynamic splash of color in winter landscapes all season long. You can even use the stems as a strong accent in holiday floral arrangements.
In the spring the leaves are a lovely light green and the flowers are classic white blossoms. After blooming, your shrubs will produce deep purple berries before the fall season. The show really starts in the fall with their foliage displaying bright sunshine yellows and sunset reds.
Arctic Sun Dogwood Shrubs stay low, growing approximately 3 to 4 feet wide by 3 to 4 feet high at maturity. No maintenance is required on these dwarf shrubs, but pruning the older stems in the spring can help encourage a brighter display of colors in the winter.
It is not only the stem colors that transition over the course of the year. The green leaves in spring will change to bright lime green and yellow, then they change again in the fall to rich yellows, oranges, corals, and reds. The shrubs are popular for landscaping since they are considered deer resistant and are a great choice for a shrub border. Choose a place with part to full sun to show off these Proven Winners all year long.
---
Growzone: 4-7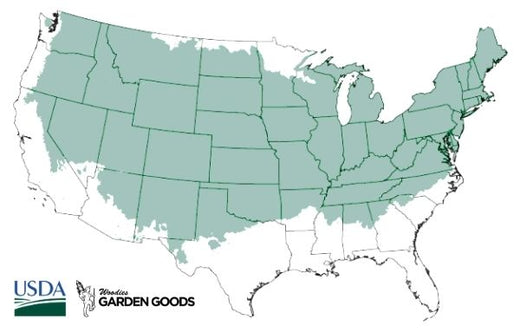 | | |
| --- | --- |
| Hardiness Zone: | 4-7 |
| Mature Height: | 3 to 4 Feet |
| Mature Width: | 3 to 4 Feet |
| Classification: | Deciduous shrub |
| Sunlight: | Full sun to partial shade |
| Habit: | Upright, mounded |
| Foliage: | Green and yellow in spring, red and yellow in fall |
| Bark Color: | Yellow fading through orange to coral red in winter |
| Soil Condition: | Any well drained soil |
| Water Requirements: | Water well until established |
---
How to Care for Arctic Sun® Dogwood
Be sure to read our planting instructions to ensure a healthy and happy plant for years to come!

How do I prune Yellow Twig Dogwoods?
Maintenance of Dogwood shrubs like Arctic Sun Dogwoods is minimal once established. You can remove 1/3 of the shrub each spring to eliminate the oldest stems, as it is the newer stems that display the best coloration. You could also rejuvenate the entire shrub every 3 years or so by removing all of the branches to within 8″ of the ground. The flush of growth that ensues will be a blazing, fiery array of sunset colors in the following fall when the leaves drop. It's okay to cut the plant a little harder than you normally would most shrubs. Arctic Sun Dogwood are plants that thrive on abuse.

How do I plant my Arctic Sun Dogwood?
Arctic Sun Dogwoods will generally do well in a wide range of soils, as long as they are well-drained soils. The most common cause of plant death after transplanting is planting the new plant too deep. That is why we do not recommend planting in a hole any deeper than the soil line of the plant in the pot. Dig a hole twice as wide as the root system but not deeper. Depending on the quality of your existing soil, you may need to mix compost or topsoil into the backfill soil.

How much water does an Arctic Sun Dogwood need?
When first planting your yellow twig dogwood, give the roots a good, deep watering. This is not to be rushed. Most of the water you put on the plant at first will run away from the plant until the soil is soaked. A general rule of thumb is to count to 5 for every one gallon of pot size. Check the plant daily for the first week or so and then every other day thereafter. Water using the counting method for the first few weeks.

How should I fertilize my Arctic Sun Dogwood?
Bio-tone starter fertilizer is a great starter fertilizer that provides plants with mycorrhizae fungus. It is a naturally-occurring, beneficial fungus that colonizes on the new growing roots of plants. It creates a barrier between the roots of the plant and fungus and pathogens that can cause root rot.We love this product and use it on all plants we install in our own gardens. Bio-tone is a gardener's best friend and can help guarantee your success.
---
General questions
What do the pot sizes mean?
---
---
Other Products you may be interested in
---
Customer Reviews