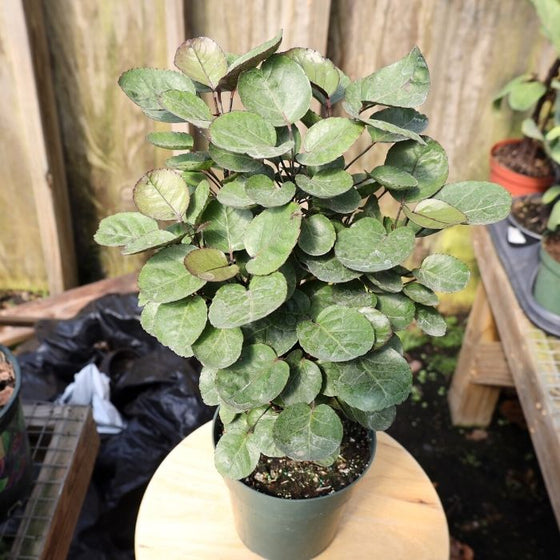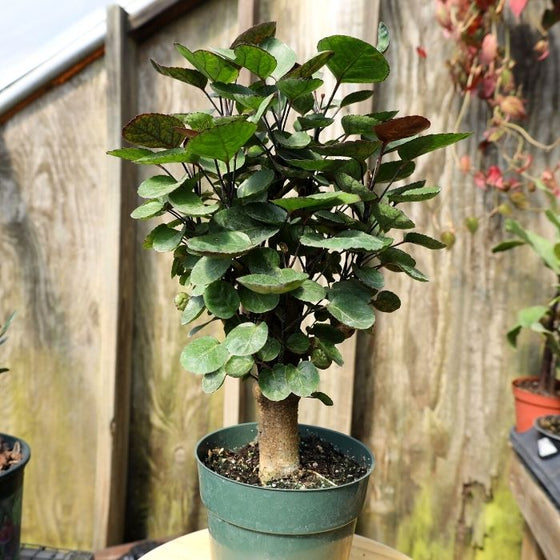 Images Depict Mature Plants
Aralia Fabian Plants for Sale Online
Aralia Fabian Plants are easy to grow as a houseplant require minimum maintenance and are hassle-free. The leaves are round, glossy, and have an interesting purplish color making it a perfect tropical piece for any room — a great starter plant for a bonsai addition to your home or workspace.
---
| | |
| --- | --- |
| Hardiness Zone: | 9-11 |
| Mature Height: | 3 to 7 Feet |
| Mature Width: | 3 Feet |
| Classification: | Bonsai/tropical indoor plant |
| Sunlight: | Fluorescent light to some bright, indirect |
| Habit: | Upright, clear trunk multiple branches |
| Flower Color: | Does not flower |
| Foliage: | Green, round |
| Soil Condition: | Rich, slightly acidic soil |
| Water Requirements: | Likes to dry out occasionally |
| Uses: | Fabulous housewarming gift or present for a new space or business |
Growzone: 10-11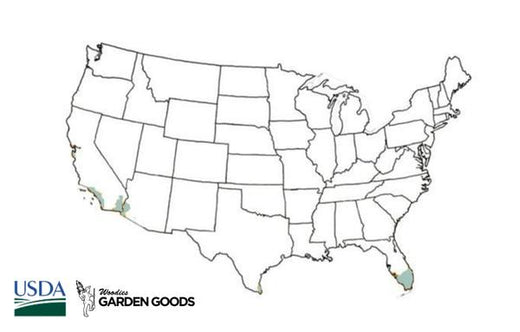 How to Care for Aralia Fabian
Before you buy a Aralia Fabian Plant, make sure to read about the recommended care instructions to keep this plant healthy and thriving.

What is the best light for a Fabian Japanese Ming Aralia Tree?
Aralia Fabians prefer low, fluorescent light to some bright, indirect light.

How often do I water Aralia Fabian plants?
Aralia plants, including Aralia fabian, do well in just about any light condition. Fabian will have the best leaf color in medium or indirect light indoors. Aralias do excellent in offices, living rooms, and even kitchens and bathrooms due to their ability to thrive in low light. Aralia fabian can take some direct sun on the leaves, but it's advised to diffuse the bright sunlight with a sheer curtain.

How do I fertilize Aralia Fabians?
Any all purpose, foliage fertilizer will work for Aralia Fabian. Indoor houseplant fertilizers fall into two groups: water soluble, liquid quick release, and granular, slow release fertilizers. Jack's Classic Indoor plant food works well as a powder, quick release fertilizer that is mixed with water to quickly provide nutrients to a plant that has been in a container for an extended time. On the other hand, Osmocote Indoor/Outdoor is an option as a granular, slow release fertilizer that can be applied while potting and planting. Any type of fertilizer offers nutrients that help plants with the transition to a new environment. All of these fertilizers may be used when planting Aralia Fabian Stump.
What is the best soil for Aralia Fabian?
Use a well-draining potting mix, such as Espoma Organic Potting Soil, and be sure to ruffle the roots when transplanting lightly. It is also recommended to add a slow-release fertilizer to the new potting mix. Osmocote Plus Fertilizer can be mixed into the potting soil and will continually feed your Aralia for up to 90 days each time you water. The most common cause of plant death after transplanting is that the plant was planted too deep in the pot. That is why we do not recommend covering the existing potting soil with new soil. A good rule of thumb is that you should still be able to see the original soil the plant was grown in after planting in the new pot.
---
Frequently Asked questions
How do you repot an Aralia Fabian?
---
Other Products you may be interested in
---
Customer Reviews