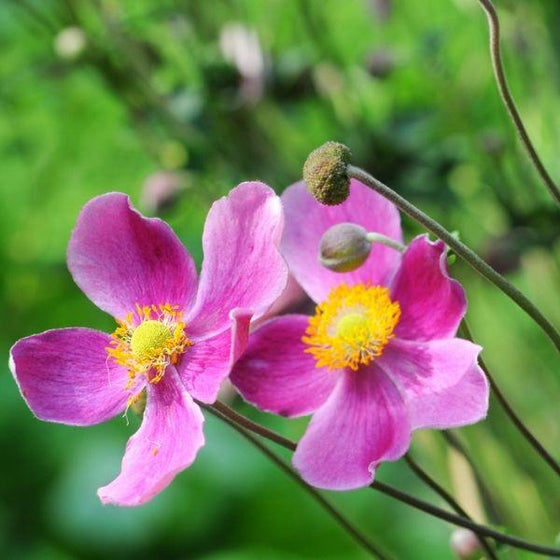 Images Depict Mature Plants
Anemone Fantasy Red Riding Hood Plants for Sale Online
Anemone Fantasy Red Riding Hood plants are incredible perennials for the late summer and fall garden. This Red Anemone produces bright pinkish/red poppy-like flowers with contrasting yellow centers on thin branches with green leafy foliage. They grow in a spreading and clump-forming pattern and look beautiful when used as groundcovers or containers.
Anemone Red Riding Hood loves to have some shaded time throughout the day and prefers to be in rich, well-draining, moist soil conditions. Because these flowers are so beautiful and bright and grow on branching stems, they make excellent cut flowers in floral arrangements. You will not have to worry about your perennials becoming a snack for local wildlife because these are deer and rabbit resistant.
---
Growzone: 4-8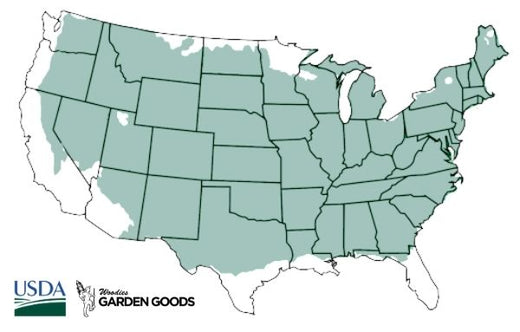 | | |
| --- | --- |
| Hardiness Zone: | 4-8 |
| Mature Height: | 12 to 18 Inches |
| Mature Width: | 1.5 to 2 feet |
| Classification: | Flowering Perennial |
| Sunlight: | Full Sun to Part Shade |
| Habit: | Upright, clump forming |
| Flower Color: | Pink with Yellow Center |
| Flowering Season: | Late Summer through Fall |
| Foliage: | Green |
| Soil Condition: | Any Average Garden Soil |
| Water Requirements: | Water well until established |
| Uses: | Extremely attractive when used in the mixed border, mass planting. Attracts pollinators and hummingbirds |
---
How to Care for Anemone Fantasy Red Riding Hood
Before you purchase your Anemone Red Riding Hood plants, be sure to read our recommended care instructions to ensure your plant remains happy and healthy for years to come.

What Kind of Soil Does my Anemone Red Riding Hood Plant Need?
Your Anemone Red Riding Hood plant thrives best in rich, organic, well-draining soil conditions. This perennial also prefers to have consistently moist soil to ensure they do not dry out and wilt. If their soil is too dry, this plant will not produce as many flowers as it is capable of blooming. However, it is important not to overwater your perennials. Too much water could cause root rot disease and damage your plant's roots- and could even kill them if not treated quickly. If you live in a cold region of the United States, you should apply a layer of mulch around your plant during the winter to ensure it remains healthy and its soil does not dry out.

What is the Best Fertilizer for my Anemone Red Riding Hood Plant?
We recommend feeding your Anemone Red Riding Hood in early spring and again in mid-summer after all new growth has hardened off- and it begins to set flower buds. Espoma Bio-tone starter fertilizer is the best product to use at the time of planting. Our ideal fertilizer schedule for you to use is as follows. In the early spring, apply a fertilizer like Espoma Plant-Tone at the recommended rate. Doing so will give your plant a boost of nitrogen potash for healthy foliage and stem growth. Follow this up with an early summer application of Espoma Flower-Tone. Doing so will again provide the necessary nutrients to promote a flush of beautiful flowers. Espoma products are easy to use; sprinkle around the base of the plant and water it in. Be careful with products such as miracle-grow, as these products can burn newly planted plants when not used at the recommended rates. Slow-release fertilizer can help prevent rapid soft growth that is vulnerable to diseases and insects.

How do I Prune my Anemone Red Riding Hood Plant?
Remove the old flowers of Anemone Red Riding Hood as they become brown and unattractive. This procedure, called deadheading, encourages the Anemone plant to produce new flowers, keeping your plant looking attractive throughout the season. Deadheading also prevents Anemone Fantasy Red Riding Hood from spreading through your yard. Remove the brown stems and leaves to give your plant a healthier and more attractive appearance. Cut back Anemone Fantasy 'Red Riding Hood' to within 6 inches of the ground after it has finished flowering. In colder climates, cut it back as one of the last chores in your garden before the snow flies. In warmer temperatures, cut it back in the spring before it begins to bud.

How Much Sun Does my Anemone Red Riding Hood Plant Require?
Red Riding Hood Anemone plants can survive in full sun to partially shaded areas. If you live in a cold region, your plant will thrive in full sunlight, but if you live in a warm region, plant your perennial in an area that receives partial shade. Doing so will allow your plant to have some rest time out of the sun, particularly the hot midday sunlight. Too much bright sunlight could scorch your plant's foliage and flowers.
---
Frequently Asked questions
Is my Anemone Red Riding Hood Plant Deer and Rabbit Resistant?
Where Can I Plant my Red Riding Hood Anemone Fantasy Perennial?
How Do I Pot my Anemone Fantasy Red Riding Hood?
---
Other Products you may be interested in
---
Customer Reviews