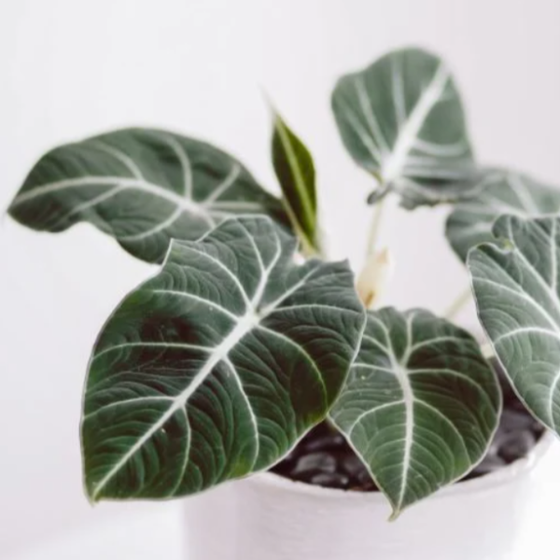 Images Depicted Range in Maturity & Container Size
Pots Not Included Unless Otherwise Stated
Alocasia Black Velvet for Sale Online
Alocasia Black Velvet is also known as 'The Little Queen' and we can certainly see where the moniker came from. 
This dwarf alocasia was found in Borneo in the 1800s, and it developed one of the blackest foliage colors known in the plant world as a means of absorbing more light while under a thick jungle canopy. The deep black onyx foliage with striking white veins makes for a true gem on a desk or in a terrarium. The velvety texture makes for a luxurious feel as well.
---
Growzone: 9-11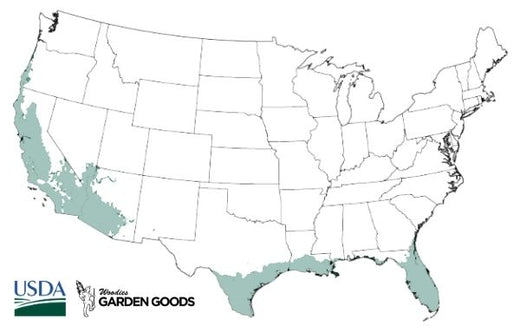 | | |
| --- | --- |
| Hardiness Zone: | 9-11 |
| Mature Height: | 1 to 2 feet |
| Mature Width: | 1 to 2 feet |
| Sunlight: | Bright indirect light to low light |
| Water Requirements: | Likes to stay evenly moist, let dry out between waterings |
| Uses: | Indoor foliage; ornamental indoor plant; terrariums |
---
How to Care for Alocasia Black Velvet
Before bringing home your new Alocasia Black Velvet plant, make sure to read the recommended care instructions for a smooth and successful transition to its new home.

What is the best light for Alocasia Black Velvet?
Alocasia Black Velvet leaves can tolerate bright, indirect light and they can also thrive in low light or fluorescent light. Since this is a tropical plant, its native environment is in light that is filtered by a lush tropical canopy. This is actually why the Alocasia Black Velvet leaves evolved their iconic dark colors - they absorb all visual light waves in order to absorb more light while under a think jungle canopy. Direct sunlight may scorch the leaves if exposed for too long.

How much water does Alocasia Black Velvet need?
It's always best when you can keep an Alocasia Black Velvet evenly moist in soil with lots of drainage. The best way to realistically keep the right moisture levels for your Alocasia is to water it thoroughly, until water runs out of the drainage holes, and then let it dry out until the top inch is dry to the touch before watering again. If the leaves have started to wilt and the top of the soil is dry, your Alocasia is telling you that it is thirsty.

What kind of fertilizer is best for my Alocasia Black Velvet?
Alocasias respond well to any all-purpose indoor plant food, or any evenly balanced houseplant fertilizer. It is a good idea to fertilize your alocasias at least a few times a year in the spring and summer, since they are in pots and cannot get nutrition from the same sources that your outdoor plants do. Jack's Classic Indoor plant food is a great quick-release fertilizer in a powder form that mixes with water. You could also use a slow-release formula, such as Osmocote Indoor/Outdoor granules - whichever system works best for you will work best for your alocasias.

What kind of soil is right for Alocasia Black Velvet?
Alocasia Black Velvet likes to stay moist, so any potting mix with lots of organic matter and good drainage will make them happy. We like Espoma potting mix, but any well balanced organic potting mix will do. You can also make your own potting mix that is just right for an Alocasia by mixing vermiculite or topsoil with perlite and fir bark or coarse cactus soil. A mix of these organic elements will help provide nutrients and allow enough drainage.
---
Frequently Asked questions
Are Elephant Ear Plants Pet Safe?
Are Elephant ear Alocasia Plants poisonous to humans?
---
Other Products you may be interested in
---
Customer Reviews