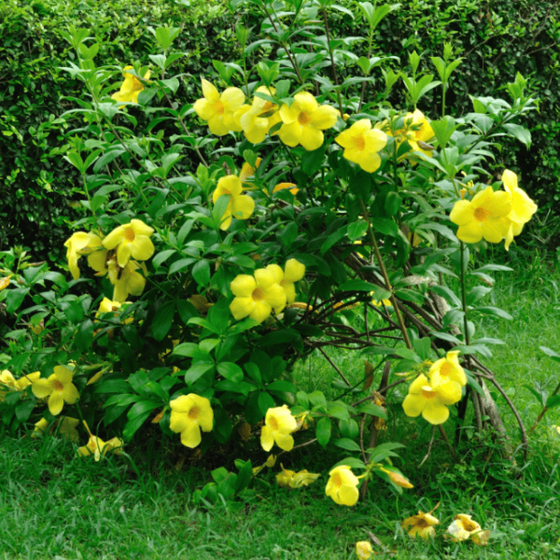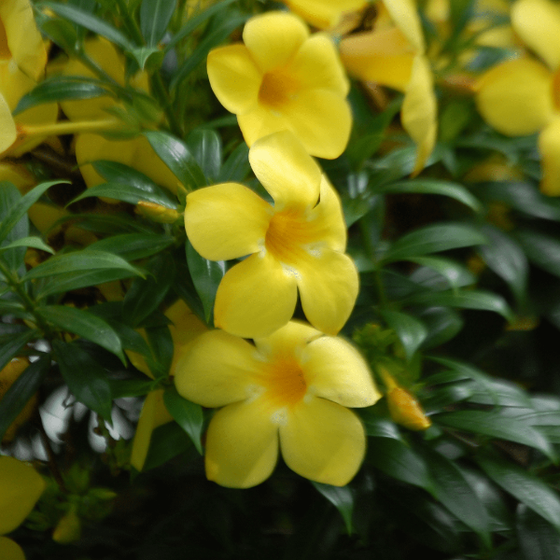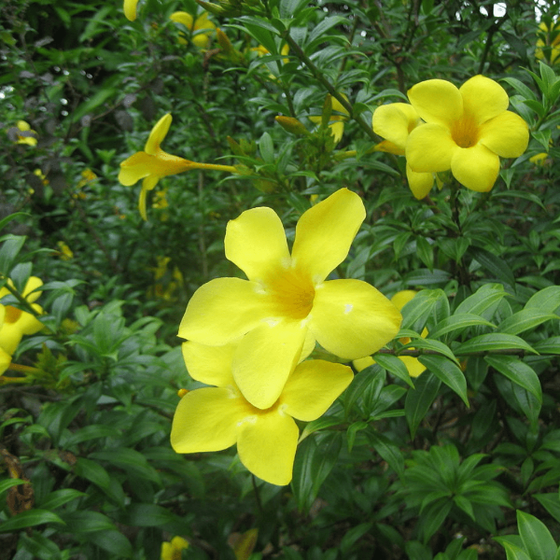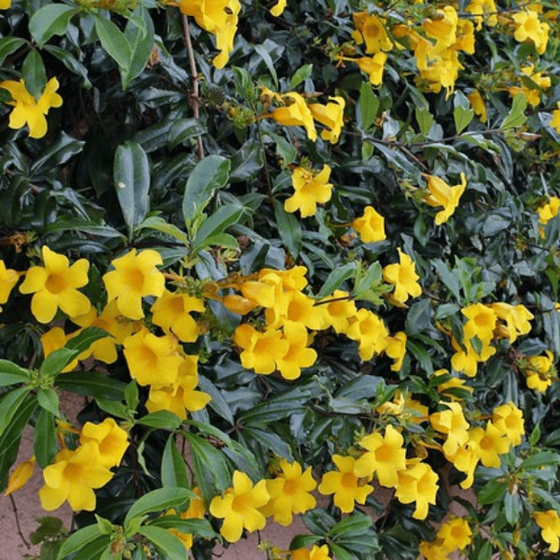 Images Depict Mature Plants
Allamanda Bush Plants for Sale Online
Allamanda schottii is a tropical plant known for its golden-yellow trumpet-shaped blooms and glossy green foliage. This flowering shrub is perfect for decorating decks, patios, and can be formed into a hedge for landscaping purposes. Allamanda thrives in warm climates and prefers moist, well-drained soil for optimal growth.
Allamanda bushes are fast-growing and semi-climb in an upright growing habit. Its bell-shaped yellow flowers are very fragrant and attract butterflies, hummingbirds, and other pollinators. This plant loves sunlight, so be sure to place this tropical plant anywhere it can receive at least 6 hours of direct sunlight per day.
---
| | |
| --- | --- |
| Hardiness Zone: | 9-11 |
| Mature Height: | 10 to 20 Feet |
| Mature Width: | 3 to 6 Feet |
| Classification: | Tropical |
| Sunlight: | Full-sun |
| Habit: | Semi-climbing, upright |
| Flower Color: | Bright yellow |
| Foliage: | Dark green |
| Soil Condition: | Moist, well-drained soil |
| Water Requirements: | Average watering |
| Uses: | Thrives best outdoor and used as landscape hedging |
Growzone: 9-11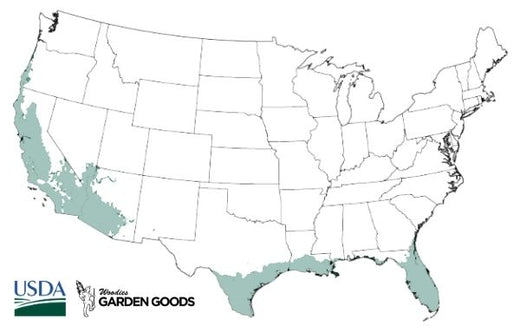 How to Care for Allamanda Bush
Be sure to read our planting instructions to ensure a healthy and happy plant for years to come!

When should I fertilize Allamanda?
We recommend fertilizing your Allamanda bush throughout the year at least once a month to ensure maximum growth. During the summer, you can increase fertilizing to twice a month to encourage new plant growth and blooms.

What type of soil is best for Allamanda?
Allamanda schottii grows best in nutrient-rich, well-draining soil. While this tropical plant grows well in most types of soil, it will thrive in fertilized soil. We recommend transplanting your Allamanda plant to a new planter every two years, and pruning the roots to keep it a compact size (late March to early April).

When should I water Allamanda?
Allamanda requires an average amount of water, but during the summer months it will require more frequent watering due to its tropical nature. Inadequate watering will result in improper blooms and flower loss. In the winter, we recommend reducing the amount of water the plant gets without letting the roots dry. As mentioned, this plant is tropical so it requires a bit of moisture to grow.

What is the best type of light for Allamanda?
Allamanda is a tropical perennial bush that needs ample amounts of light for the best growing results. While full-sun is great for the plant when placed outdoors, we recommend filtered light that doesn't directly hit the plant when placed indoors. The more sun Allamanda receives, the more abundant its blooms and foliage will be.

Although this plant is drought-tolerant when placed in humid conditions, be sure that the temperature is above 40 degrees Fahrenheit. We recommend placing this tropical plant in a planter for easy moving from indoors to outdoors.
---
Other Products you may be interested in
---
Customer Reviews