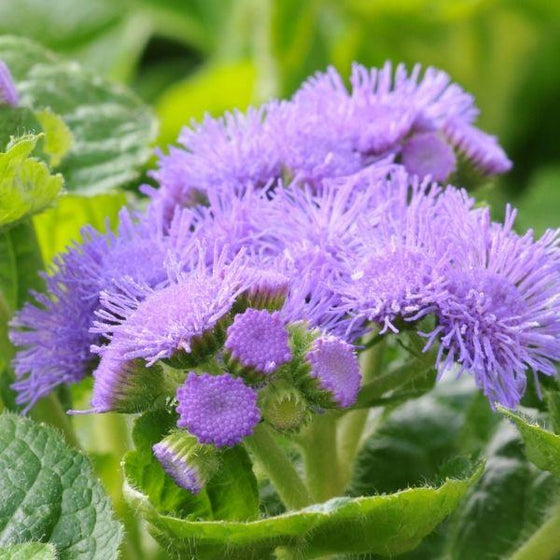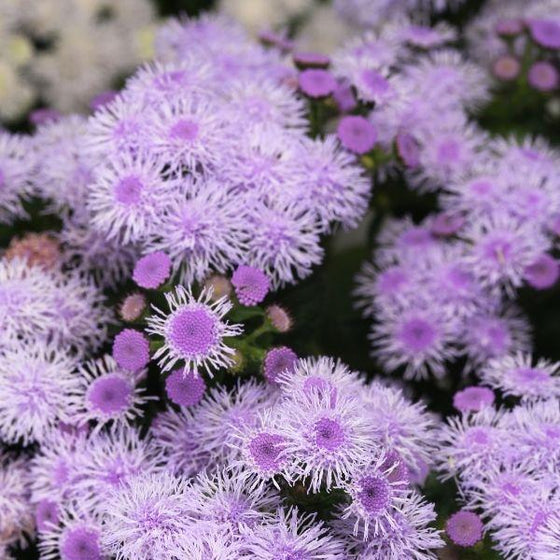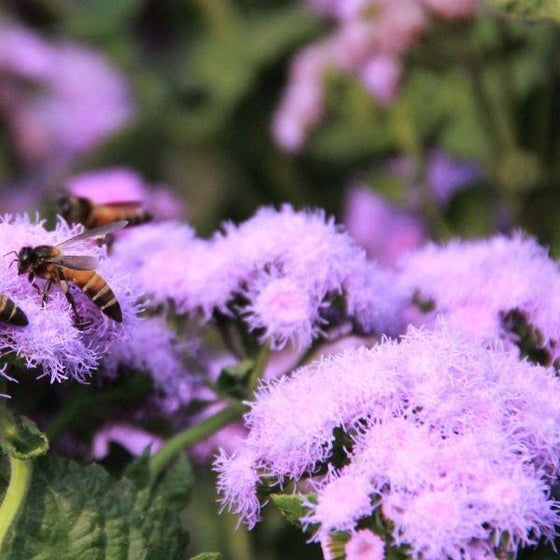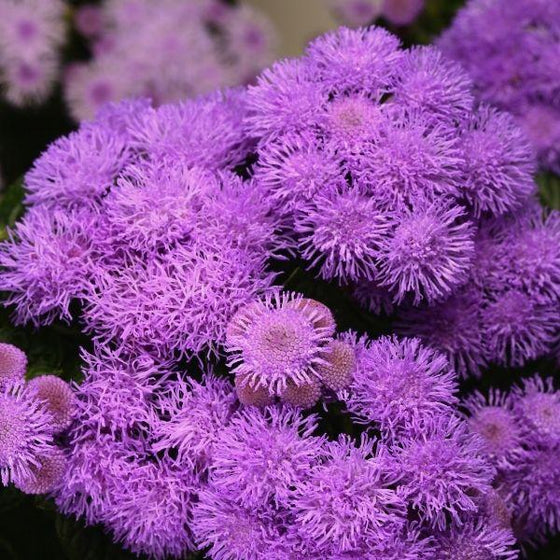 Images Depict Mature Plants
Ageratum Bumble Blue Plants for Sale Online
Blue Ageratum, known for its exaggerated and vigorous growing habits, blooms vibrant blue-purple flowers. Their blossoms are very uniform, compact, and resemble a fuzzy shape. These plants can grow 1 to 2 feet in height and spread. They are incredibly resistant to heat, drought, deer, and rabbits. Not to mention they attract pollinators, helping your garden stay beautiful and plentiful all blooming season long.
These flowers are great for border planting, mass planting, and in containers. They add a bright pop of color to any garden. These annuals love moist, well-draining soil, full sun to partial shade in the warmer areas, and to be feed every so often to promote healthy growth.
---
| | |
| --- | --- |
| Hardiness Zone: | 10-11 |
| Mature Height: | 8 to 12 Inches |
| Mature Width: | 12 to 14 Inches |
| Classification: | Annual |
| Flower Color: | Blue, purple |
| Foliage: | Green |
| Attracts: | Hummingbirds, bees |
| Vigor: | Vigorous |
| Habit: | Upright, mounding |
| Soil Condition: | Prefers moist soil, well-drained |
| Light: | Full sun, partial sun |
| Water Requirements: | Water frequently |
Growzone: 10-11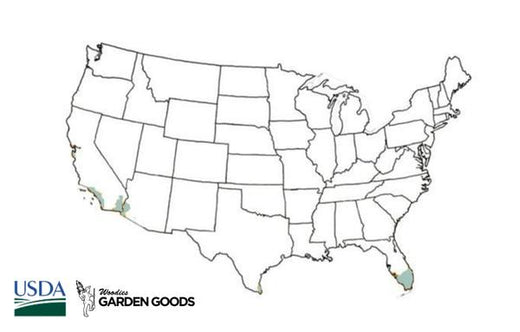 How to Care for Ageratum Bumble Blue Plants
After purchasing a Ageratum Bumble Blue Plant, be sure to read our recommended care instructions to ensure a healthy and happy plant all season long!

How Much Sunlight Should My Ageratum Bumble Blue Plant Get?
Depending on what climate you live in will determine what light this plant requires. If you live in a cooler climate, we suggest giving it plenty of full sun time. Anywhere from 6 to 8 hours of full sunlight will help it flourish. If you live in a southern more warm climate, this plant will benefit greatly from some afternoon shade. Too much hot sun will dry out its soil and potentially burn its flowers and foliage.
Should I Mulch My Ageratum Bumble Blue?
Mulching your Blue Ageratum will do wonders during the growing season. Adding a simple layer will not only suppress any weed growth but also help your soil retain the proper amount of soil. Even though mulching is a great idea during the growing season, adding mulch as a protective layer during the cooler, winter months won't help with protection. These tropical annuals will die off in the winter if your climate is cold.

When Should I Water My Ageratum Bumble Blue?
Water your plant regularly until it is well established. After your plant has adjusted, we recommend watering your plant every so often. Blue Ageratum likes to have moist soil at all times and that requires you to have a constant watering schedule. Check and see if their soil's top level is dry, if so it is time to water. If your plant's soil is still moist, you will not need to water just yet. The risk you run into with overwatering will be damage to the root system, causing root rot disease.

What Kind Of Soil Does Ageratum Bumble Blue Need?
Blue Ageratum does very well when planted in well-drained soil that has been amended with compost. They are not fussy about soil pH and prefer to always have moisture in their soil. If it dries out your plant could wilt or lose flowers. If the water is too moist, you could run the risk of drowning the roots and causing root rot disease.
---
Frequently Asked questions
Does My Blue Ageratum Attract or Resist Wildlife?
Is Blue Ageratum Poisonous?
Why is My Ageratum Bumble Blue Turning Brown?
---
Other Products you may be interested in
---
Customer Reviews