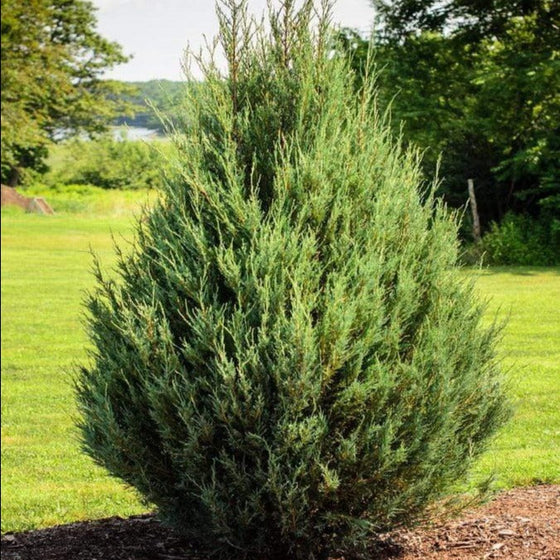 Images Depict Mature Plants
Eastern Red Cedar Trees for Sale Online
Eastern Red Cedar Trees are large, dense, evergreen trees generally seen throughout the eastern United States. Despite their name, Eastern Red Cedars are actually classified as junipers, hence their botanical name 'Juniperus virginiana.'
Sporting feathery, needled blue-green foliage, the Eastern Red Cedar is a gorgeous specimen that brings stunning year-round interest to a landscape. Growing prolifically along fencerows, highways, and back roads throughout the northeast, these trees have shown their immense versatility in landscape design.
Native to the eastern United States, Red Cedars are ideally suited for most growing conditions and areas. These eastern conifers, native to 37 states, are highly adaptable to the elements and are resistant to drought and tolerant to extreme temperature fluctuations.
In addition to their heartiness to climate fluctuations, Eastern Redcedars have a high salt tolerance and can handle just about any soil moisture level and growing conditions. The adaptable specimens are even safe to be planted by a road where salt is used in the winter.
Ideal conditions for the Eastern Cedar include moist, well-drained soils and full sun. Suited for USDA zones 3-9, these large trees can reach mature heights nearing 50 feet tall at maturity.
Historically, Eastern Red Cedar trees were commonly used to make furniture and fences because it was easy wood to work with and had superior weathering ability. Today, these trees are most frequently used as native privacy screening trees or as landscape windbreaks. These trees are also popular for use as Christmas trees!
---
Growzone: 3-9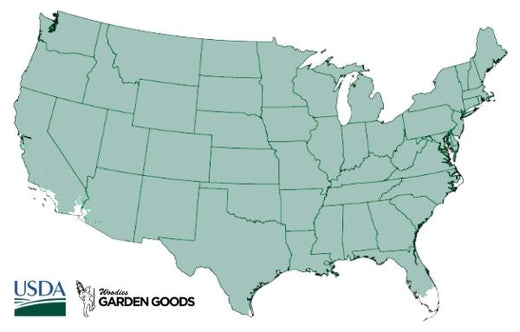 | | |
| --- | --- |
| Hardiness Zone: | 3-9 |
| Mature Height: | 40 to 50 Feet |
| Mature width: | 8 to 20 Feet |
| Classification: | Evergreen tree |
| Sunlight: | Full sun to part shade |
| Habit: | Upright, columnar |
| Foliage Color: | Blue green |
| Pruning Season: | Prune in late winter before new growth or after new growth hardens off in summer |
| Soil Condition: | Any well drained slightly acidic soil |
| Water Require: | Water well until established |
| Common Names: | Eastern Red Cedar, Red Cedar, Eastern redcedar, and Upright Juniper |
| Uses: | Tolerates heat, drought and salt Spray. Full sun brings out the best fall color. Will adapt to slightly moist sites |
---
How to Care for Eastern Red Cedar
For the best results follow these guidelines.

Step 1: Planting Eastern Red Cedar Trees
We suggest when planting your newly purchased Eastern Red Cedar Trees that you dig a hole twice as wide as the root system but not deeper. Depending on the quality of your existing soil you may need to add a locally sourced compost or topsoil to the back-fill soil. We do not recommend using straight topsoil or compost as a back-fill soil because more times than not these products will retain entirely to much moisture and will cause the root system to rot. Adding compost or topsoil will help the young feeder roots of Eastern Red Cedar Trees to spread through the loose, nutrient rich soil, much easier than if you used solely the existing soil which more times than not will be hard and compacted. The most common cause of plant death after transplanting is planting the new plant to deep. That is why we do not recommend planting in a hole any deeper than the soil line of the plant in the pot. A good rule is that you should still be able to see the soil the plant was grown in after back-filling the hole.

Step 2: Fertilizing Eastern Red Cedar Trees
Upright junipers such as Eastern Red Cedar Trees grow best if they are fertilized lightly in the spring once frost has passed with a well-balanced, extended-release, fertilizer such as Espoma Tree-tone or Holly tone to provide the extra acid that junipers crave. Fertilize Eastern Red Cedar Trees again in late summer to mid-fall. Eastern Red Cedar will still thrive in a landscape with no additional fertilizer so if you don't even like the idea of not having fertilizer in your garden you can still plan on seeing Eastern Red Cedar Trees thrive. Look around wild areas of your location and you'll start to notice Eastern Red Cedar Trees just about everywhere in the wild untamed lands in your region.

Step 3: Watering Eastern Red Cedar Trees
After back filling and lightly compacting the 50 50 mix of existing soil and compost give the Eastern Red Cedar Trees good deep watering. This is not to be rushed. Most of the water you put on the plant at first will run away from the plant until the soil is soaked. A general rule of thumb is to count to 5 for every one gallon of pot size. For example a one gallon pot would be watered until you count to 5 a three gallon pot would be 15 and so on. Check the plant daily for the first week or so and then every other day there after. Water using the counting method for the first few weeks.

How should I prune my Eastern Red Cedar Trees?
Cut young Eastern Red Cedar Trees to leave only a single vertical stem, known as the central leader. Choose the healthiest and straightest of multiple leaders, and cut the remaining vertical stems back to the ground or point of origin with the main trunk. Cut any dead branches back to the point of origin on the parent stem or back to the central leader trunk. Leave at least a bit of green foliage on the branch, if possible, so it can produce vigorous new growth; sometimes a branch is completely dead, so you can simply cut it back to the trunk. Cut broken branches back to the nearest point of intersection with a healthy, unbroken branch. If possible, avoid cutting branches so far back that you expose the dead zone — the area within a juniper in which branches are not actually dead, but they do not grow foliage because they are not exposed to light. Clipping the green tips of branches encourages a new flush of growth, but new growth will not develop from the tips of branches in the dead zone because this is old wood. Cut the top of the Eastern Red Cedar back to its joint with a lateral branch, if needed, to control the height, but do not cut down into the dead zone. If you cut only the green portion of the top, then a new central leader will develop; cutting into the dead zone leaves a flat top that is undesirable for pyramidal plants. Thin out as much as 20 percent of the total juniper foliage, cutting the branches back to the central leader or trunk to open up the remaining branches to airflow and sunlight. The dead and broken branches count toward the total 20 percent, and other branches should be chosen carefully so you don't disrupt the shape or leave gaping holes that allow you to see into the inner dead zone. Step back from the juniper and observe its shape. Trim any branches that stick out from the basic pyramidal shape, clipping each back to the intersection with a lateral branch so the cuts are not obvious and a new tip will develop. Trim individual branches as needed to maintain the shape at any time throughout the year. If a few branches become too long, you can cut them back to maintain the shape at any time, but severe or more thorough pruning should only be done in early spring.
---
Frequently Asked questions
When should I prune my Eastern Red Cedar Trees?
---
General questions
What do the pot sizes mean?
---
---
Other Products you may be interested in
---
Customer Reviews