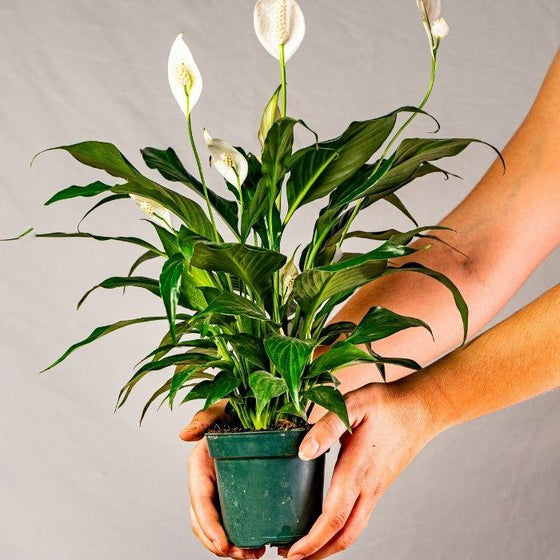 Images Depicted Range in Maturity & Container Size
Pots Not Included Unless Otherwise Stated
Peace Lily Plant for Sale Online
The Peace Lily is a graceful, elegant plant that works with any decor. It is an elegant houseplant that grows best in bright, indirect light. The peace lily blooms in the spring, brightening up any room after the winter months. Protecting the cream-colored flower cluster, there are white 'flowers'. These are actually modified leaves and resemble a white flag of surrender, giving this plant its name.
This tropical plant is one of the most effective houseplants when looking to purify the air. In a study completed by NASA, Peace Lilies removed all of the tested toxins, including benzene, ammonia, and formaldehyde. From this, it made it to NASA's "Top Ten Household Air Cleaning Plants" and got the recognition it deserves.
---
Growzone: 9-11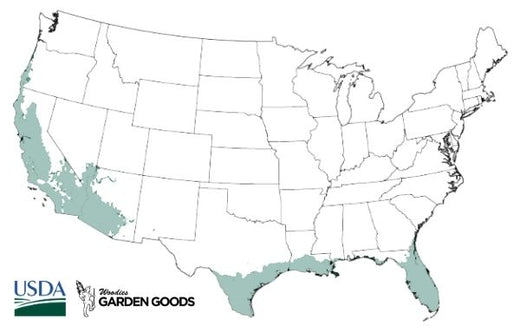 | | |
| --- | --- |
| Hardiness Zone: | 9-11 |
| Mature Height: | 24 - 36 inches |
| Mature Width: | 20 to 26 inches |
| Classification: | Ornamental flower |
| Sunlight: | Fluorescent to bright, direct light |
| Habit: | Upright |
| Flower Color: | White |
| Foliage: | Green, glossy |
| Soil Condition: | Regular potting mix |
| Water Requirements: | Likes to stay slightly moist |
| Uses: | Efficient at cleaning air indoors, does well in most spaces |
---
How to Care for Peace Lily
Once you buy a Peace Lily plant, make sure to read about the recommended care instructions to keep this plant healthy and thriving.

What is the best light for Peace Lily?
Peace Lily plants grow well in fluorescent light like office buildings or atriums or anywhere away from direct light. They can handle the bright, indirect light found north or east-facing window. As long as the plant is away from the window or is well shaded, western or southern exposure would suffice. More bright, indirect light will produce more blooms whereas plants kept in lower light conditions will typically flower less often.

How do I fertilize Peace Lily?
Any all-purpose, fertilizer will work for Peace Lily. For plants that have been in containers for extended periods, use Jack's Classic Indoor plant food to quickly provide much-needed nutrients. Osmocote Indoor/Outdoor is an option as a granular, slow-release fertilizer that can be applied while potting and planting. Any type of fertilizer offers nutrients that help plants with the transition to a new environment.

How do I water Peace Lily?
This elegant plant prefers slightly moist soil - not too wet or too dry. Peace Lily leaves turn yellow when overwatered while brown leaf tips mean the plant is under-watered. Although, Peace Lily is drought tolerant and can be saved with resumed proper care. Some owners wait until they see Peace Lily Plants wilt to water the plant. Wilting can also be caused by the plant staying too wet; check the soil condition before watering excessively.

What is the best soil for Peace Lily?
Peace Lily plants do best in soil that stays slightly moist; a regular potting soil mix will do. Try to keep the soil from drying out too much because once dry soil compacts, it may be difficult to rehydrate. Peace Lily Plants also do well if grown exclusively in water without soil. Because of his, they are frequently found on green walls (living, planted walls).
---
Additional Information
Deceivingly, Peace Lilies are actually not a true lily. Instead, they are an Arum and in the same family as Chinese Evergreens, Anthurium, and Elephant Ears. Arum plants have a similarly shaped flower with two parts, spathe, and spadix.
Spathiphyllum wallisii grows best in fluorescent to bright indirect light which makes an excellent office plant. Be sure to water regularly, as Peace Lily prefers moist, well-drained soil. However, this plant can be saved due to its drought-tolerant properties.
---
Frequently Asked questions
Are Peace Lilies pet safe?
How long do Peace Lilies last?
Can Peace Lilies be planted outdoors?
---
Other Products you may be interested in
---
Customer Reviews