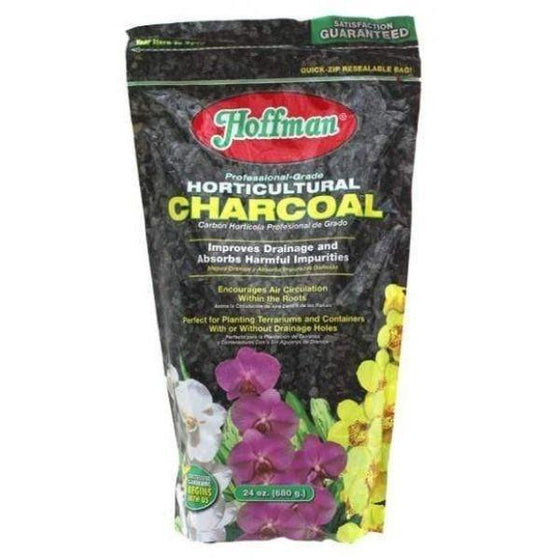 Hoffmans Horticultural Charcoal for Sale Online
Mixing Hoffman's Horticultural Charcoal into your potting mixes is highly beneficial to your plant's well-being. The charcoal essentially works to absorb harmful impurities from the water and the soil itself so that only the good stuff gets absorbed into your plant.
In addition to absorbing impurities, charcoal works to increase the aeration of the soil and promote better drainage. For this reason, horticultural charcoal is a game-changing factor in preventing over-watering issues and root rot.
As a bonus, Hoffman's Horticultural Charcoal filters and freshens soil in terrariums, potted containers, or wet areas. Use Hoffman's Horticultural Charcoal in Terrariums to control Odors!
About Your Hoffman's Horticultural Charcoal
Benefits of using Hoffman's Horticultural Charcoal
Hoffman Horticultural Charcoal is a professional grade charcoal used for planting terrariums and containers. Horticultural charcoal encourages air circulation within the roots, and is ideal for planting terrariums and containers with or without a drainage holes. Charcoal is a porous form of organic matter primarily composed of carbon. It is used as a soil conditioner to improve soil drainage. A layer of charcoal in the bottom of a container also acts as a filter to help remove chemicals, salts and other impurities which might be toxic to plant roots.
When planting terrariums and other containers that don't drain, Hoffman's Horticultural Charcoal helps to sweeten the soil while keeping excess water away from delicate roots. Wear gardening gloves when handling this product and potting soil. Place a layer of clean gravel in the bottom of your terrarium, add approximately an inch of Hoffman Horticultural Charcoal, then at least 3 inches of soil or potting mix. Added to any non draining container, Hoffman's Horticultural Charcoal absorbs excess water to help prevent root damage from excess watering.
Charcoal can be added as a soil amendment to draining containers too, just mix a small amount in with the potting mix to absorb odors, impurities, and excess water. Another option is combining Hoffman's Horticultural Charcoal with fir bark to create a loose, porous orchid mix. Charcoal makes a significant difference in terrariums and non draining containers by filtering the water and keeping the soil moist and fresh.
Hoffman's is a family owned and operated American company with 25 years of experience providing the best garden products on the market. Hoffman's Horticultural Charcoal is made in the USA.
Hoffman's Horticultural Charcoal comes in a 24 ounce resealable plastic bag with instructions and information in English and Spanish on the reverse side; it is 100% hardwood charcoal. Wear gloves when handling this product, as it will leave a mark
---
Customer Reviews