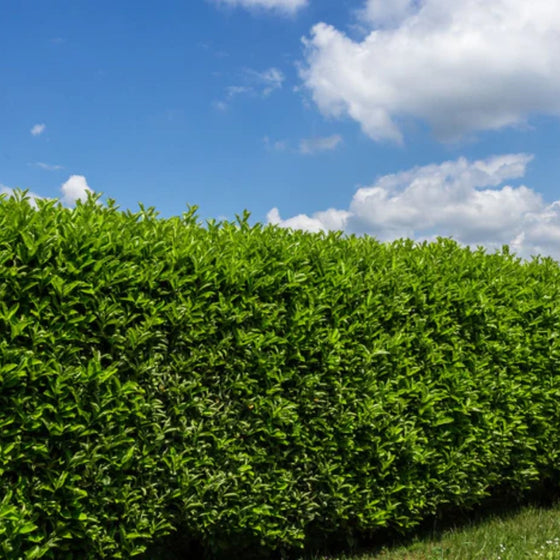 Images Depict Mature Plants
Skip Cherry Laurel Shrubs for Sale Online
Skip Cherry Laurel (Prunus laurocerasus 'Schipkaensis'), also known as Schip Laurel or Cherry Laurel, is an easy-to-grow evergreen or hedge shrub. Its glossy evergreen foliage and solid form create an elegant layered effect.
Skip Cherry Laurels have proven themselves useful in any landscape situation. They are low-maintenance and can tolerate poor soil conditions, in addition to heat, cold, and drought.
It's not often you come across a plant that can take those conditions as well as just about any soil moisture from dry to moist with no ill effects. One of the things that draw most people to the Schip is they discover that it is disease, insect, and deer resistant, which means you'll spend less time caring for these gems and more time enjoying their beauty. 
---
Growzone: 6-9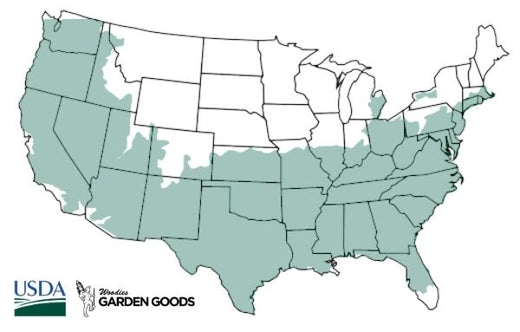 | | |
| --- | --- |
| Hardiness Zone: | 6-9 |
| Mature Height: | 6 to 10 Feet |
| Mature Width: | 5 to 6 Feet |
| Classification: | Broad leaved evergreen shrub |
| Sunlight: | Full sun to part shade |
| Habit: | Densely branched, upright |
| Foliage: | Dark green |
| Flower Color: | White fragrant flowers that produce red berries |
| Pruning Season: | Prune in spring after flowering if needed |
| Soil Condition: | Any well drained soil |
| Water Requirements: | Water well until established |
| Uses: | Extremely attractive when used as in the mixed border, foundations, or as a privacy hedge |
---
How to Care for Skip Cherry Laurel
Before you buy a Skip Cherry Laurel, make sure to read about the recommended care instructions to keep this plant healthy and thriving.

How to Plant Skip Cherry Laurel Shrubs?
When planting your Schip Cherry Laurel, dip a hole that is twice as wide, but no deeper than the pot your shrub arrived in. A good rule is that you should still be able to see the soil the plant was grown in after back-filling the hole. This prevents stem rot and allows the plant to receive proper air circulation. You may need to add locally sourced compost or topsoil to the back-fill soil.

How Do I Mulch Skip Cherry Laurel Shrubs?
When mulching your Schip Cherry Laurel, any type of mulch will do, but cypress or hardwood mulch will be of a higher quality and provide better nutrition overall as they break down. Mulching helps to keep weeds away while protecting the root system of the laurel trees. A two to three-inch layer of mulch is sufficient but remember to leave a one-inch gap of space between the mulch and the stem or trunk of the plant to prevent stem rot.

How Do I Fertilize Schip Cherry Laurels?
Plants such as Schip Cherry Laurel grow best if they are fertilized once in the spring and again in early summer. Laurels benefit from nutrient-rich fertilizers that raise the acid level of the soil, such as Holly-Tone by Espoma. Organic additions to the soil can also be combined with a shot of chemical fertilizer for maximum effect. If you choose to use chemical fertilizers, applying a slow-release, balanced fertilizer once a year in the spring. Over-fertilization can be much more detrimental than under-fertilization, so be sure to follow the directions closely. Don't fertilize Schip Cherry Laurel after August. Fertilizing at this time may stimulate new growth that will be too tender to withstand the winter.

How Do I Water Skip Cherry Laurel Shrubs?
After planting your Laurel shrub, give your plant a slow, deep watering. This will encourage the roots to settle into their new home. Check the plant daily for the first week or so and then every other day thereafter. Water using the counting method for the first few weeks. You'll want to water the bushes regularly after planting until they've been well established. When watering, it's best not to water the foliage of the plant. Instead, water at the base of the plant near the soil line. Gator bag Jr. slowly releases water into the root zone of the plant to aid in the process.
---
Additional Information
The most noticeable feature of any hedge is the appearance of its glossy leaves. The common name, cherry laurel, hints at the resemblance of its leaves to true laurel leaves, which are beautifully oblong and dark green. Prunus laurocerasus schipkaensis has beautiful stalks of fragrant, white flowers that appear in the spring. As the flowers fade and small cherry-sized red berries are born on the spent flower spikes, another season of interest is added. This is where the common name "cherry laurel" comes from.
These berries are edible by humans but very sour. They are far more prized by the birds which will flock to your garden from summer to winter. During the winter months, Schip Laurels provide the perfect habitat for non-migratory songbirds which will thank you for providing the wide-spreading coverage that is so much needed during the winter months.
SCHIP LAUREL EVERGREEN PRIVACY SHRUB
The dense, green foliage of Schip Laurel is thick and full. If you want your privacy laurel hedge to form a solid wall of greenery to the ground, you can underplant Schips with smaller, lower-growing shrubs that can be used to cover the bare bottoms of the plants.
Space the smaller shrubs far enough from the base of your Skip Laurels so that the mature size of both types of plants doesn't touch the base so much that the smaller evergreens get lost in Skip's foliage. We call this space negative space and it is one of the fundamental rules of landscape design. Otto Luyken Laurels are a great choice for underplanting due to their slightly smaller leaves.
For an informal look, space Skip Laurels 5 to 6 feet apart on center. For an even more open look, space them up to 10 feet apart. For a formal or dense hedge, space each plant only 3 to 4 feet apart. As the plants mature, their branches will overlap and they'll form a continuous solid hedge.
---
Frequently Asked questions
How Do I Prune Skip Cherry Laurels?
How Far Apart Should You Plant Skip Laurels?
How Fast do Schip Laurels Grow?
Are Skip Cherry Laurels Drought Tolerant?
---
---
Other Products you may be interested in
---
Customer Reviews