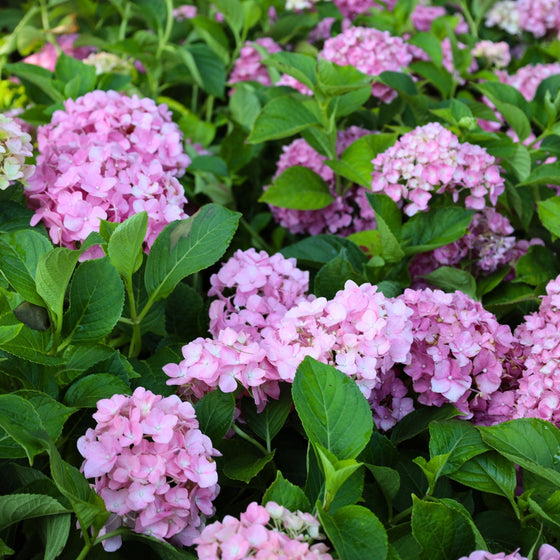 Images Depict Mature Plants
Cardinal Red Hydrangeas for Sale Online
Cardinal Red Hydrangea Shrubs are a French-type, mophead Hydrangea that actually produce pale pink blooms that mature into a deeper pink to redish hue over time.
The dark, pink flowers sport serrated edges on each petal. Flowers are a standout in partially shaded areas of the garden during summer and can then be cut and dried for use in dried flower arrangements.
---
Growzone: 6-9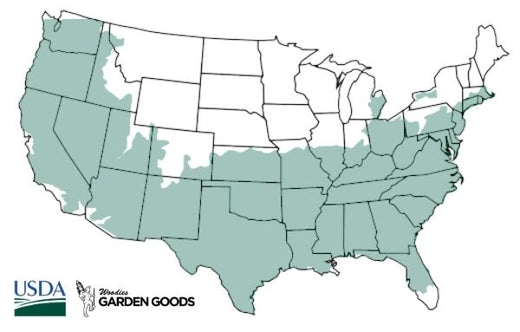 | | |
| --- | --- |
| Hardiness Zone: | 6-9 |
| Mature Height: | 3 to 4 Feet |
| Mature Width: | 3 to 4 Feet |
| Classification: | Broad leaved deciduous shrub, summer flowering |
| Sunlight: | Part shade to full shade |
| Habit: | Upright, densely branched, mounding |
| Foliage: | Dark green |
| Flower Color: | Shades of red |
| Pruning Season: | Do not prune, flowers on old wood |
| Soil Condition: | Any well drained soil |
| Water Requirements: | Water well until established |
| Uses: | Extremely attractive when used as a focal point in the mixed border, mass planting, or a specimen planting |
---
How to Care for Cardinal Red Hydrangea
Be sure to read our planting instructions to ensure a healthy and happy plant for years to come!

How do I plant Cardinal Red Hydrangea Shrub?
We suggest when planting your newly purchased Cardinal Red Hydrangea Shrubs that you dig a hole twice as wide as the root system but not deeper. Depending on the quality of your existing soil, you may need to add a locally-sourced compost or topsoil to the backfill soil. We do not recommend using straight topsoil or compost as a backfill soil for Hydrangea Shrubs because more times than not these products will retain entirely to much moisture and will cause the root system to rot. Adding compost or topsoil will help the young feeder roots of Cardinal Red Hydrangeas spread through the loose, nutrient-rich soil much easier than if you used solely the existing soil, which more times than not will be hard and compacted. The most common cause of plant death after transplanting is planting the new plant too deep. That is why we do not recommend planting in a hole any deeper than the soil line of the plant in the pot. A good rule is that you should still be able to see the soil the plant was grown in after back-filling the hole.

How often do I water Cardinal Red Hydrangeas?
After back filling and lightly compacting the 50/50 mix of existing soil and compost give the Cardinal Red Hydrangea a good, deep watering. This is not to be rushed. Most of the water you put on the plant at first will run away from the plant until the soil is soaked. A general rule of thumb is to count to 5 for every one gallon of pot size. For example, a one gallon pot would be watered until you count to 5; a three gallon pot would be 15; and so on. Check the plant daily for the first week or so and then every other day there after. Water using the counting method for the first few weeks.

How do I fertilize Cardinal Red Hydrangea Shrubs?
Any all purpose, fertilizer will work for your Desert Rose Plant. Indoor houseplant fertilizers fall into two groups: water soluble, liquid quick release, and granular, slow release fertilizers. Jack's Classic Indoor plant food works well as a powder, quick release fertilizer that is mixed with water to quickly provide nutrients to a plant that has been in a container for an extended time. Osmocote Indoor/Outdoor is an option as a granular, slow release fertilizer that can be applied while potting and planting. Any type of fertilizer offers nutrients that help plants with the transition to a new environment. We offer a one year warranty on our plants when you purchase Bio-tone at checkout and use it per label instructions. All of these fertilizers may be used when planting Desert Rose. To encourage blooms on Desert Roses, a good replacement for regular fertilizer is Captain Jack's Bloom Booster, which has the nutrients that plants need to encourage flowering.

How do I prune my Cardinal Red Hydrangea Shrubs?
Cardinal Red Shrubs are hydrangea that should just not be pruned. It flowers on the previous years growth and pruning them back in the spring would remove all the flower buds. The most important reason for pruning hydrangeas is to improve the overall health of the plant which in turn will reward you with a plethora of blooms. Many times, Hydrangeas that have not been pruned in a few years will develop dead or degenerative twigs. Removing the dead and dying limbs will minimize the possibility of diseases such as "dieback" and will also allow the plant to re-concentrate its energies and produce flowers.
---
General questions
What do the pot sizes mean?
---
---
Other Products you may be interested in
---
Customer Reviews