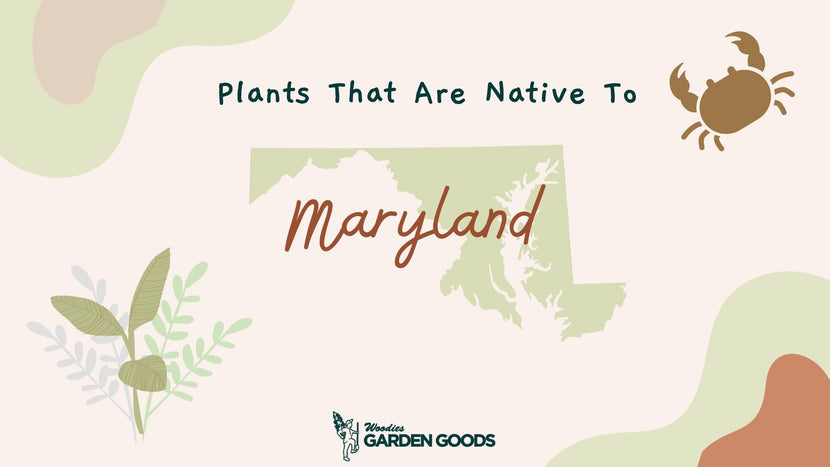 Maryland Native Planting Guide
Home to the Chesapeake Bay, Natty Boh and Old Bay, Maryland is a gorgeous state with a plethora of planting options to explore. Maybe we are a little biased, considering MD is where Garden Goods Direct was born…but nonetheless, if you are lucky enough to be a Maryland resident the opportunities for planting are endless. 
Some benefits to Maryland planting include a wide variety of nutrient rich clay soils, early spring blooms, multi-seasonal interest,  and a plethora of gorgeous native plants to choose from when designing your yard's landscape. 
In this blog, we will share with you the importance of planting native, and then dive into some great native plant options you can use in your garden this planting season!
The Importance of Planting Native
The simple decisions you make in your tree, shrub and perennial plantings this season can make a bigger impact than you think. Native plants are not only the foundation to a gorgeous landscape, but more importantly, they are key to a functioning ecosystem. 
As plants that occur and grow naturally in the region in which they evolved, it's no surprise that native plants will grow best in their region of origin because conditions are ideal. In addition to achieving your plants optimal growth capacity and producing the best garden possible, you should consider planting native for the benefit of the environment. 
Planting native helps the environment through combating climate change, conserving water, and supporting local wildlife necessary for a balanced ecosystem. You can change the planet starting with your own yard. What are you waiting for? To learn more about the benefits of planting native, check out our blog: Planting To Attract Local Wildlife and Benefit Your Ecosystem. 
6 Native Planting Options For Marylanders
Now that we've briefly gone over the main advantages of planting native, the Garden Goods Direct team has compiled a list of Maryland Native plants to add to your yard this season. 
False Indigo 
First on our list of gorgeous Maryland native plants is the whimsical False Indigo plant. With unique blooms ranging in color from deep indigo to a light lilac, these Maryland native perennials are true showstoppers in a springtime garden. 
The indigo blooms easily complement a yard and give your native flower garden an added boost of color! Pollinators love these flowering yard plants, and you will too! With a very low maintenance care regimen, not to mention a high tolerance to drought, it's hard not to love these indigo beauties. 
As an added bonus, the False Indigo plants look fabulous when used in cut flower arrangements! 
Swamp Milkweed
Next on our list of Maryland Native Plants is another fun perennial! The Swamp Milkweed's name simply does not do it justice. These gorgeous mounding perennials boast spherical mounds of dainty flowers that will have you swooning over them day in and day out. 
We aren't the only ones completely obsessed with Swamp Milkweed plants, as it also attracts pollinators like no other! Enjoy a yard swarming with butterflies, bumblebees and nectar-loving pollinators galore when you plant Swamp Milkweed in your yard this spring. 
While many plants cannot tolerate swampy, water-run landscapes, moisture is not a problem for these stunning plants! Perfect for low moist areas in landscapes that tend to gather water. Buy your False Indigo Plants online today and have them conveniently shipped to your door!
Blue Cardinal
The Blue Cardinal is a Maryland Native perennial that boasts large bright green foliage and blue trumpet-shaped flowers. The main benefit of this flowering plant is its attraction to pollinators like hummingbirds and butterflies. 
Additional reasons to love these native beauties are for its low maintenance care regimen and its tolerance to many light and soil conditions. Blooming in late summer, these pollinator magnets enjoy moist conditions and part sun. 
The plants' upright habit and dainty flowers bring elegant beauty and class to any Maryland garden. 
Red Columbine
The Aquilegia Canadensis–or better known as the Red Columbine Plant, is a North American Native spring wildflower. Growing naturally in the most off the wall places, Red Columbines are perfect plantings if you live in rocky wooded areas, like the mountains. 
Sporting the most eclectic bi-color blooms, the Red Columbines' red and yellow flowers add an exotic and beautiful touch to any landscape. It's truly hard to believe these flowers are native to MD. for their bell-shaped flowers with funky red spurs would have you convinced it derived from some far off tropical island.
The foliage appears delicate but is hardy and will last through the summer if planted in a moist soil! 
Black Eyed Susan 
Next on our list of Maryland Natives is a bit more obvious of a choice. As Maryland's State Flower, the Rudbeckia Fulgida 'Goldsturm' is a flowering perennial that is tolerant of clay and sandy soils. 
In addition to their soil tolerance, these golden flowering plants are loved for their tolerance to various lighting conditions ranging from full sun to partial shade, along with their hardiness to high temperatures and tolerance to drought. 
If you haven't already fallen in love with the Black-Eyed Susan, you might change your mind when you learn that these native plants are also deer resistant. 
Bringing the sunshine on rainy days, these golden-yellow perennial plants will be an easy boost of serotonin and warmth through to late summer. 
Viburnum 
Last but not least on our list of plants native to Maryland, is the oh-so versatile Viburnum. Providing multi-seasonal interest, the Viburnum is a winter-hardy plant that produces vibrant red berries in the fall. 
These plants are easy to grow and surprisingly produce fruits without a pollinator present. If you are eager to see some planting action in the spring, don't worry because these deciduous native shrubs also provide some springtime excitement. Producing creamy white flowers in spring, this plant is sure to bring year-round interest to a yard. 
Garden Goods Direct has a wide selection of Viburnum plants for sale online that you can have conveniently shipped to your door! 
Shop Garden Goods Direct
In conclusion, for all you Maryland gardeners out there, we hope you make the choice to plant native this season to see for yourself all the benefits it can bring. Your landscaping choices can make a difference!
The Garden Goods Direct team has a wide variety of native trees, shrubs and perennials to provide you with the necessities to create the native garden of your dreams! Shop online today and have your native plants shipped conveniently to your door just in time for this season's planting season.