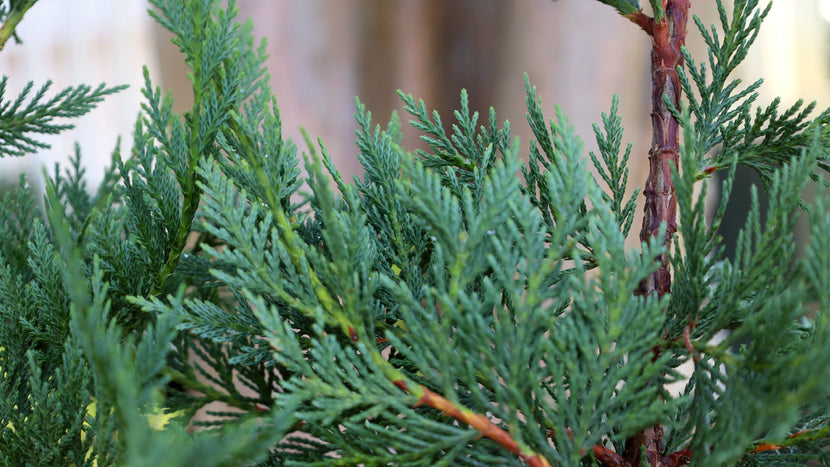 Reasons To Love Leyland Cypress
Most homeowners in the United States are familiar with the Leyland Cypress. Maybe you're not sure of the name, but we guarantee you would know the tree if you saw it!
As one of the most popular evergreen trees sold in the U.S, the Leyland Cypress has gained traction over large areas of the United States for a wide range of reasons. Read on to learn why Woodie feels that the Leyland Cypress is the MVP of evergreen trees.
Impressive Growth Rates
The Leyland cypress can be expected to grow in USDA Hardiness Zones 6–10. These popular landscape trees can grow to 40–60 feet tall and 15–25 feet wide at maturity.
These Cypresses are fast growing evergreens, with growth rates averaging between 3 to 5 feet per year. The fast growing trees feature dark green to bluish-green foliage borne in fern-like sprays.
Leyland Cypress does not have to be a 50-foot tall tree. When the Leyland reaches the height you prefer just simply prune the top off. This will cause the tree to send more energy to the horizontal or "side-branches" which will allow them to fill in.
The Best Privacy Tree Option
Leyland Cypress trees have been the go-to plant for privacy for many years and will continue to be used for the purpose of creating backyard sanctuaries. As man continues to develop tract housing and developments we are being stripped of our privacy.
It's good to have neighbors, but as our lives become more stressful we yearn for solitude and peace in our yards. Planting privacy trees such as Leyland Cypress can give you the much needed peace and quiet that you've been craving. More and more homeowners are planting Leyland Cypresses due to their fast growth rate and sheer sophisticated beauty that they add to a landscape.
Extreme Hardiness
From the evergreen tree's legendary salt tolerance, to its ability to thrive where many other trees will not grow, the Leyland is the hardest working plant in the landscape.
While most evergreen trees require nutrient rich, well drained soils, the Leyland Cypress grows in poor soils, full sun and partial shade. Some more notable benefits of this hardy Cypress tree include drought tolerance, and a pest and disease resistance.
Beyond its ability to grow well in a wide variety of climate and soil conditions, the Leyland Cypress is loved for its ability to work in a wide range of yard projects. The Leyland for instance makes an excellent windbreak, and works beautifully as a privacy screen for it provides a dense barrier with good blue-green color throughout the year!
Creating an Evergreen Windbreak
Leyland Cypress planted along your property line will provide privacy, however, there is another use for Leylands that few people really know about. During the winter months, cold winds hitting your home rob your house of warmth. Heating costs are on the rise in the country and studies have shown that using evergreen trees such as Leyland Cypress can reduce winter heating bills.
Proper windbreak planting usually involves multiple rows of plants. Start with a row of Leyland Cypress trees on the outside of your property these will be the tallest plant in the windbreak. Inside of that plant a smaller evergreen plant such as American Holly or Nellie Stevens Holly.
And finally, your innermost row of plants can be flowering shrubs such as Hydrangea Quick Fire or better yet one of Woodie's personal favorites Aronia brillantisima or simply Red Chokeberry. The Aronia will not only provide an amazing show of fall color against the backdrop of evergreen trees but will provide berries which will entice songbirds to nest in your newly created "habitat". Red Twig Dogwoods or winterberry hollies are another great choice due to the show provided every winter.
Windbreaks and Privacy Screens don't have to be utilitarian only. Albeit the most important reasons to plant them is to screen out either neighbors or eyesores or the cold winter winds. But with a little pre-planning on your part, they become wonderful additions to the overall landscape design of your property. By mixing species of plants you'll create an ever-changing show of colors and textures.
The Ohio Division of Forestry has put out a very informative information packet on windbreaks. Those that live in more temperate regions have more choices of plants than our friends in the colder reaches of zone 5 and 4 but the information is presented in such a way that it can be used just about anywhere in the U.S.
Contact Us!
Our team is happy to discuss options with you for windbreaks and privacy screens and you can reach out to us at custserv@gardengoodsdirect.com; our experts can answer your questions, give suggestions or further hail the benefits of the Leyland cypress.