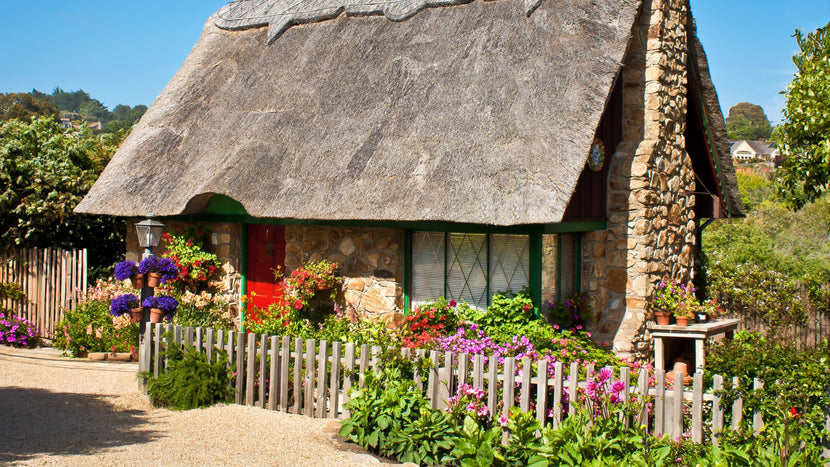 How To Create A Colorful Cottage Landscape
As we reach mid-spring, prime landscape design and planting season is upon us! If you've always dreamed of crafting a charming cottage garden, this is your sign to stop dreaming and start planting!
While Pinterest and TikTok are filled with a range of design ideas and so much inspiration, it can become overwhelming to plan, and it is difficult to know where to begin!
Lucky for you, the team here at Garden Goods Direct eats, sleeps, and breathes plants, and we've got the knowledge and experience to guide you through crafting your very own dream cottage garden! Keep reading to learn some of the best tips for creating your cottage landscape with ease.
Layering Different Plant Shapes & Sizes
Our first tip to creating a breathtaking cottage landscape is to incorporate a range of different plant shapes and sizes–specifically when it comes to your evergreen plants!
Through interspersing tall conical evergreen trees with low mounding evergreen shrubs, you create a stunning base for your landscape where you can build a blooming empire around.
Pictured are some tightly pruned Emerald Green Arborvitae trees, coupled with some deep green Hoogendorn Holly shrubs. The combination of these two plants in the landscape works beautifully to create dimension and give a natural frame to the home.
Mix Perennials & Annuals For Maximum Color
Our next expert tip in crafting your cottage-core-inspired landscape is to include both spring-blooming annuals and perennials in your design. Pictured below is a gorgeous combination of blooming hosta plants, geranium hanging baskets, blue star juniper, and variegated vinca vine.
A few other annuals that we are loving for cottage gardens right now include yellow calibrachoa, and pink petunias! Pair these with some Odessa Yellow Dianthus and some Shirley Temple Peonies for a real wow factor in the garden!
Now, Time For The Flowering Shrubs!
For a final wow factor to bring that cottage feel to a yard, you will want to include some flourishing flowering shrubs! The fan favorites for cottage styles are without a doubt rose shrubs or hydrangeas, and if you're feeling ambitious, you will attempt to incorporate both!
In our example cottage landscape design, the homeowners worked in the Pink Double Knock Out Rose bush along the path on the left side of the house, and opted for a wow-factor hydrangea wall along the right side of the house with the bright blue Endless Summer Bloomstruck Hydrangea!
Some other fun colorful options we would recommend for a cottage-style design are the Sunny Knock Out Roses and the Proven Winners® Color Choice® Bobo® Hydrangea!
Final Touches
Once you've got your cottage garden planted, it's time to incorporate the finishing touches to pull your outdoor space together. Adding some charming physical décor like wrought iron benches, concrete bird baths, and lattice arbors will take your cottage landscape to the next level.
As you sit on your porch on a cool spring evening, you can watch in awe as birds chirp, and local pollinators are hard at work in your delightful cottage out of the fairytale books!
Shop Online For Your Cottage Style Garden
Whether you are going for subtle elegance or a brilliant garden that wows, we have everything you need to craft the cottage garden of your dreams! And the best part? You can do the whole thing from the comfort of your own home!