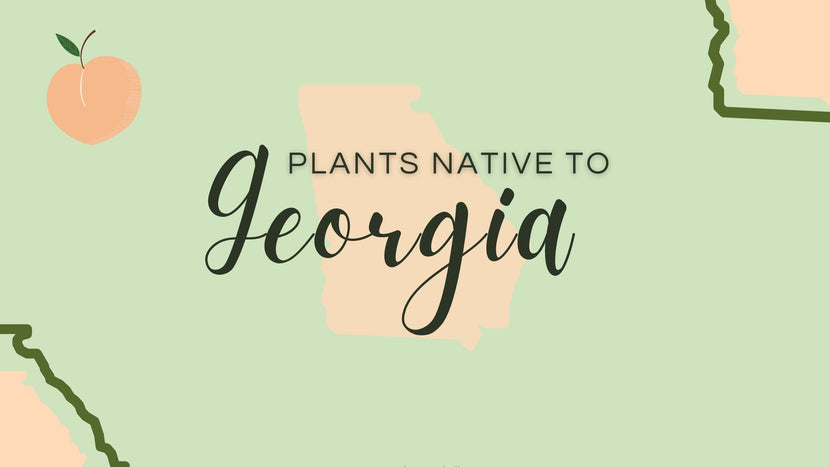 Georgia Native Planting Guide
As the sweet peach state, Georgia is truly a magical state that is home to seven natural wonders and boasts a pleasant subtropical climate. With the added bonuses of longer growing seasons and mild winters, the opportunities for Georgia native planting are expansive.
The main factor we do recommend considering is the clay and sandy soil mediums that are heavily prevalent in Georgia. At times these conditions can feel like a major setback; however, in choosing to plant native, you can easily overcome this obstacle through the plants that have adapted to such conditions.
The Importance of Planting Native
Planting native is a practice that is gaining popularity in gardens all over the US. With this rise in native gardening, it may have crossed your mind: Why should I plant native anyways? Well, there are a multitude of benefits to planting native and the Garden Goods Direct team is here to share them with you!
The first initial benefit of native plants is as we discussed above; plants native to your zone occur and grow naturally in the region in which they evolved, so they will ultimately grow best in these regions. Beyond choosing native for a plant's success,  it's worth it to consider planting native for the benefit of the environment.
Planting native helps the environment through combating various issues revolving around climate change, water conservation and the protection of your local pollinators! You can change the planet and work to support your local ecosystem starting with your own yard… So let's get to planting those native gardens!
6 Native Planting Options For Georgia
Now that you understand the immense impact planting native can have on your ecosystem, check out these six Georgia native plants to add to your yard this planting season.
Wisteria Vines are a whimsical and stunning Georgia native that provides heavy blooms in late spring, and blooms again in summer! Only requiring moderate pruning and holding a strong resistance to deer and drought, the Wisteria Frutescens are a front runner for us.
Ideal conditions for these purple blooming Georgia garden plants include full sun and a slightly acidic, well drained soil medium. As an added bonus, these beautiful climbers are considered a host plant for the Marine Blue butterfly, Silver-spotted Shipper, and Long-tailed Shipper. 
Next on our list of plants native to the Peach State is the Itea Virginica. The flowering deciduous shrub is an award winning plant that brings a new show of color each season. From the shrub's fragrant spikes of furry white blooms in spring and summer, to the red-purple fall foliage, you will constantly be in awe of this popular yard plant!
Ideal care for these broad-leaved North American native plants includes full sun and a well draining, slightly acidic soil. However, in addition to this plant's multi-seasonal beauty is a high adaptability to most conditions!
The Itea Virginica is the perfect yard shrub for beginner gardeners and experts alike. This Georgia native is sure to spice up a mundane landscape.
As one of the most popular trees of the south, it should be no surprise that the classic and well-loved Magnolia Grandiflora made our list of Georgia native favorites. These monstrous trees make a grand statement in a landscape with their unique leathery foliage and massive white blooms.
The evergreen Georgia native tree grows best in USDA zones 7 through 9 and enjoys conditions of full sun and moist well draining soils. Resistant to deer, pests, and drought, these hardy yard specimens can quite literally take the heat.
A Magnolia Grandiflora, like the Magnolia Claudia Wannamaker, would be the perfect focal point in a Georgian yard.
Beautyberry
Beautyberry Plants (Callicarpa Dichotoma) are a spectacular fall shrub for Georgia planting. Summer flowers and bright purple berries in early fall that bring a much needed splash of color to a garden. Plant your Beautyberry shrub in full sun and in any well-drained soil for best results.
The broad leaved deciduous shrubs are fairly low maintenance and work great in a wide variety of Georgia yard designs. Use the Callicarpa Dichotoma as a garden focal point, mixed yard border or in mass plantings and take in all the color and beauty it provides.
Next on our list of Georgia native garden plants is the fan favorite of Carolina Jessamine. Climbing vines of bright yellow, bell-shaped flowers grace this shrub in late winter and boast significantly long bloom times through the spring.
The evergreen foliage is an added bonus that keeps this plant looking presentable year round! Tolerant of a wide range of soils and lighting conditions, Carolina Jessamine plants prefer bright sunshine and a rich loamy soil.
The versatility of these warm yellow garden plants makes them all the more desirable. The fast growing vines and abundance of blooms looks great as a ground cover plant, but we love it most when its cascading along fences, trellises and walls.
Oakleaf Hydrangea
Last on our list of Georgia native plants to add to your native garden this season is the enchanting Oakleaf Hydrangea. The low maintenance shrub produces creamy white cone-shaped clusters of blooms each summer.
Long bloom times from summer through to the season's first frost are a swaying factor to choosing this stunning shrub for your Georgia garden. The plant has an upright growth habit that makes it ideal for covering eyesores around a property as well as filling a space.
These popular Georgia natives thrive best along edges of wooded areas where they can bask under the shaded protection of larger canopied trees…so basically just about anywhere in Georgia that is encapsulated by the Spanish moss trees that are just about everywhere!
Shop Garden Goods Direct
In conclusion, Georgia gardeners and landscapers have so many options when it comes to the best native plants to incorporate into their Georgian landscapes! With this brief guide of Georgia native plants that we love, we hope you feel better prepared to plant your native garden this season.
The Garden Goods Direct team has a wide selection of native trees, shrubs and perennials to provide you with the necessities to create the native garden of your dreams! Shop online today and have your native plants shipped conveniently to your door just in time for planting season.