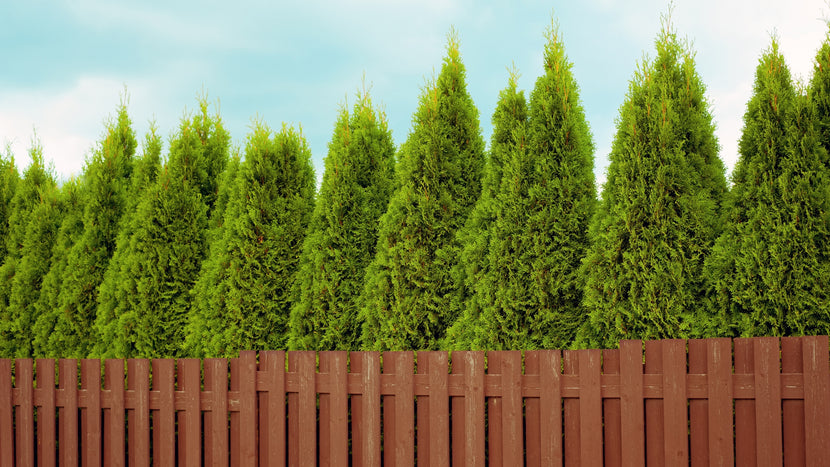 Creating a Privacy Screen With Thuja Green Giant Arborvitaes
If you are looking to instill a luscious wall of living privacy trees, it is likely that the Thuja Green Giant Arborvitae is just the specimen for you!
Taking the prize for the largest, hardiest evergreen tree on the market, there's really no reason why you wouldn't want these beauties surrounding your property and encompassing your private oasis.
Thuja Green Giant History
The Thuja Green Giant begins its origin story in Denmark at the Poulsen Nursery. In 1937, this green majesty was discovered; however, amidst the chaos of World War II, the discovery was not given the attention it deserved.
In 1967, the National Arboretum in Washington, D.C. had a fleet of trees and shrubs shipped in, ad within that shipment was the soon-to-be infamous Thuja Green Giant Arborvitae Tree. It wasn't until the 1990s that the name 'Green Giant' was coined by Tennessee nurseryman Don Shadow. Shortly thereafter, the Thuja Green Giant became the must-have tree in the landscape!
With better technology and more knowledge within the horticultural industry coming to light, it was able to be deduced that the Green Giant is a hybrid between two species of Thuja– a Japanese variety: the Thuja standishii, and an American cultivar: Thuja plicata. And from these two magnificent trees, a legend was born.
Benefits of Thuja Green Giant Arborvitaes
There are so many reasons to love Thujas. From their low-maintenance care regimen to their tolerance of insects, disease, and adverse weather conditions, these arborvitae trees have proved their immense hardiness and strength.
Next on the list of benefits for the Green Giant Thuja is its impressive adaptability. These trees are known to adapt to just about any sun or soil conditions, which can be hard to find in a landscape tree.
Beyond their hardiness to the elements and adaptability, Green Giants are praised for their rapid growth rate and ability to reach impressive heights. Reaching a mature height between 50 and 60 feet, it's no wonder why these trees make for the perfect privacy screen!
Green Giant Planting Process and Care
Thriving in USDA hardiness zones 5-9, Thujas are known to do best in the Southeastern states of the US. Ideal conditions for these colossal specimens include full sun to partial shade and acidic or alkaline soils.
The best time to get your arborvitaes in the ground is in spring or fall, so the trees can adapt to their environment before the temperatures get too intense.
To begin your planting process, we recommend measuring out a plot of land and planning the spacing for your trees. For a privacy screen space, your trees out about 8-10 feet apart to allow space for horizontal growth.
Next, you will want to dig a hole twice the width of the root ball, and equal to the rootball's height. Remove your Thuja from its container and loosen the rootball. Place the tree into the hole and backfill it with the remaining soil. Water your tree thoroughly and lightly mulch around the base of the tree.
Thujas prefer fairly moist soil, so consider watering deeply every so often to keep your trees green and happy.
Thuja Green Giant Uses
Evergreen Privacy Screen
The most popular use for Thuja Arborvitae Trees is in use for hedging and evergreen privacy screens. The tall and thick form is ideal for blocking out nosy neighbors and making your yard feel like a private sanctuary.
Mixed Windbreak
Another use for Thujas includes use as a windbreak or noise barrier. When landscaping a larger property, imagine all the money you will save by utilizing 20 large trees instead of 40 small ones!
A good windbreak is dense, fast-growing, and hardy to the elements. While cold windy temperatures will dry out a lot of evergreen specimens, the Thuja can take the wind like a champ and will stay standing tall and green. For complete assurance that your evergreens will stay green in the intense winds, check out Wilf Puf, a completely non-toxic product that keeps moisture concealed!
Bordering Driveways and Entrances
If you have a large property with a trailing driveway, planting Thujas along either side can really transform the entrance of your home! Whether it's winter time and the bright green trees are dusted with snow, or it's summer and the evergreen foliage shines in the sunlight, you will constantly be in awe of their beauty.
Use as an Accent
The last and most unconventional way to use Thuja Green Giant Trees is to plant them stand-alone as an accent! The utter size and vibrant green hues of this tree make it beautiful enough to be a real statement piece in the yard!
Shop For Thuja Green Giants Online
No matter how you plan to use these gorgeous trees in the landscape, we have everything you need to make your dream yard a reality! Shop our Thuja Green Giant Trees online today and enjoy free shipping on orders over $130! Did we mention you will save big when you shop our Arborvitae multi-packs?!
Your dream yard is just a few clicks away!