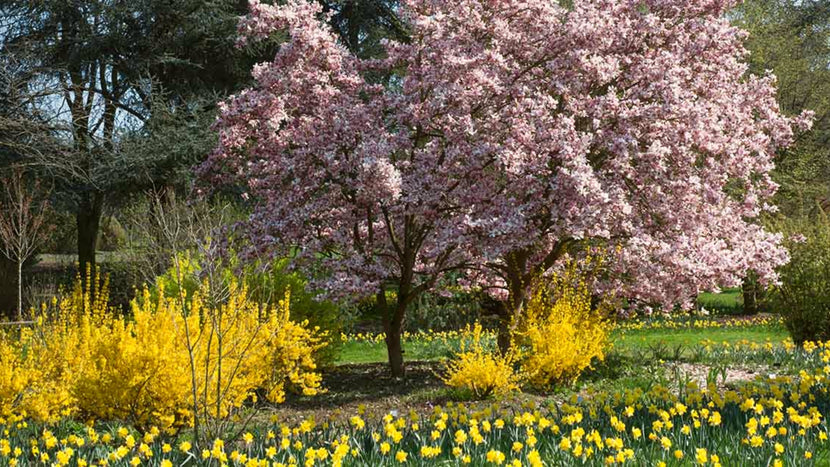 Cold-Hardy Color For Your Garden
While March 20th marked the official first day of spring, the late March to early April temperatures beg to differ. As we ease into planting season, many are in search of the perfect cold-hardy plants to bring vibrant color to the garden.
While many plants cannot handle cool temperatures, we have a few cold-hardy staples that you will certainly want in your March landscape.
Cold-Hardy Annuals
The number one flowering plant we would recommend adding to your early spring garden would be pansies! Pansies offer bright splashes of color to a landscape and require little upkeep to maintain that gorgeous spring color.
Beyond their stunning color, tough nature, and low-maintenance care needs, pansies are loved for their ability to provide a constant source of cut flowers throughout the growing season. When deadheaded, many annual plants will continue to bloom throughout the entire growing season!
Pair your pansies with the fan-favorite, cool-toned dusty miller plant! These annuals help to balance out the vibrant tones and make for a breathtaking addition to flowerbeds.
Cold Hardy Perennials
Next on the list of plants to offer cold-hardy color to the early spring landscape is a few of our favorite perennials; hellebore, Mediterranean heather, and creeping phlox!
Perfect for a whimsical and fairytale feel, Hellebores or 'Lentin Roses' offer delicate and intricate beauty for a cool-season garden. Beginning blooms in early January, these hardy plants persist through to early spring!
Creeping Phlox is another great cool-temperature lover that boasts a plethora of sweet little blooms. This low-growing, mat-forming plant is well-loved in the garden and is often used as a groundcover plant. There is a wide range of bloom colors to choose from in the phlox family, and the options for design are endless!
Cold Hardy Shrubs
No landscape is complete without a slew of shrubs to fill an outdoor space! When it comes to cold hardy shrubs that can handle those frigid evenings and chilly mornings in late March, there are many to choose from! A few of our favorite cold-hardy shrubs include Forsythia, Pieris, Spirea, and Abelia!
If you really want a standout shrub to make a statement in early spring, forsythia is the perfect option for you. When you plant forsythia shrubs, you will be greeted by an abundance of golden blooms extremely early on in the season!
Pieris shrubs are another stunning early spring bloomer that will bring a rainbow of colors while withstanding the cool winds!
Another stunning blooming to add to your list of must-have shrubs is Spirea. Specifically, Bridal Wreath Spirea is a breathtaking shrub that presents understated elegance and grace. Perfect for cottage and Victorian gardens, these white bloomers may not offer a ton of color, but where they lack in color they make up for in sheer beauty.
Last, but certainly not least, on the list of cold-hardy early spring shrubs is Abelia. Abelia Kaleidoscope is a dwarf golden shrub that brings sunshine even on the rainiest of days. The eye-catching foliage has a golden base but is splashed with ombre hues of greens, oranges, and reds.
Shop Cold-Hardy Plants Online Today!
Cold weather is not enjoyable. Skip the busy crowds and cool breezes of your local garden center this early spring season, and shop online for all of your cold-hardy plant needs! With plants conveniently shipped to your front door, planning a spring garden has never been easier!