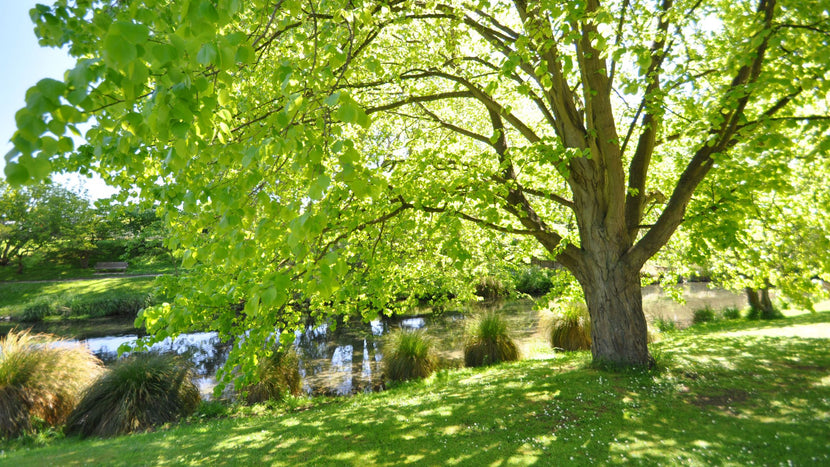 A Guide to Fast Growing Shade Trees 
With global temperatures on the rise each year, the need for a shadier, more heavily oxygenated planet is higher than ever. If you are in a debate on whether or not to plant shade trees on your property, take this as your sign that you most definitely should! Beyond keeping you cool on hot sunny days, fast-growing shade trees have a multitude of benefits.
The Garden Goods Direct team is here to share with you the benefits of growing shade trees. Additionally, we are here to give you a quick guide on all you need to know in order to choose the perfect shade tree for your yard!
Benefits of Growing Shade Trees
Trees are an excellent investment, especially for homeowners. Having big healthy trees in your landscape increases a home's market value significantly. Additionally, shade trees help improve the environment in your home by providing shade, fresh air, and an overall great aesthetic!
It will take time for you to create an incredible garden with lovely trees around your home. However, you can consider investing in fast-growing shade trees to reduce your wait time significantly.
These trees grow faster and in significant volumes to cover a larger area and offer incredible shade for your home. If you are ready to plant fast-growing shade trees in your garden, here is a quick guide to help you level up your home garden.
Choosing the Right Fast-Growing Shade Trees
Fast-growing shade trees come in a wide variety of shapes, colors and sizes. In addition, most of these trees feature pros and cons that will help inform whether they'll be suitable for your yard.
Finding the perfect fast shade tree species will also require you to consider your USDA grow zones. Taking this information into account is a great way to ensure you choose a tree that will thrive in your specific climate.
Some great fast shade trees to consider include:
Tulip Poplar Trees
Tulip trees are a great option if you are looking for a tall tree species that will also stand firm over time. These broad-leaved deciduous trees grow up to 80 feet tall and 40 feet wide with incredible green leaves providing shade, while also improving the look of your garden.
In addition to their massive size and wide-spread shade coverage, Tulip Poplar Trees bring a fantastical show of beauty and colors throughout the seasons.
Spring brings a magical show of color and beauty with the unique yellow blooms that resemble tulip flowers. Come October, the bright green foliage turns yellow and orange. Beyond the magical fall foliage, this tree is readily loved for its low maintenance care regimen and impressively fast growth rate.
River Birch Trees
Investing in the River Birch Tree is also a decision for the stunning specimen gives you access to incredible shade and makes for a unique addition to any landscape.
River Birch Trees reach a mature height of 40 and 50 feet, making them the ideal medium-sized shade tree for smaller landscapes. When planting the River Birch tree, ensure to plant in a space that provides full sun, and acidic and moist well-drained soils for optimal growth.
Beyond their size, fast growth rate and great shade properties, River Birch trees are loved for their impressive bark coloration and delicate foliage patterns. The unique upright vase shape of these trees makes the tree a statement in any yard.
Willow Trees
Mature willows feature a mature height of 35  to 50 feet and come with a minimal spread compared to other options. In addition, they grow in a narrow space, making them an excellent choice for small gardens and wet areas.
The downside to planting willows is that you'll need to keep up with pruning and cleaning up to avoid bacterial infestations. This is because willows tend to shed their leaves throughout the year.
Maple Trees
Next on our list of shade trees to incorporate into your landscape, is the tried and true Maple Tree. Coming in a wide range of colors, shapes and sizes, the Maple Tree cultivar is beautiful and versatile and works in a wide range of landscape designs.
Red Maples specifically are a fan favorite option when it comes to fast growing shade trees. Growing on average up to two feet per year, your new maple will be providing a blanket of shade on your yard before you know it!
Oak Trees
Last but not least on our list of great, fast growing shade trees is the Oak Tree. As one of the longest-lived trees, Oak trees are strong and can withstand erosion, strong winds, and storms while providing incredible shade for your garden.
Many people prefer oak trees because they can thrive in any soil medium, allowing you to plant them in your home no matter the conditions. Additionally, these trees grow tall to reach 40 to 80 feet! Oak trees are a great option, provided the space in your garden can comfortably accommodate the spread.
Planting Your Shade Tree
A proper planting location of your shade tree is essential in ensuring optimal growth and well-being of your tree. To ensure that you invest in what is suitable for your garden space. Remember that when planting these trees, they'll start small, but they can reach intensive heights with a massive spread in a few years.
If you factor this in, it will allow you to ensure that you plant your tree in the best location. Planning out your tree's location based on your tree's average mature growth will help to avoid future issues of trees outgrowing their space. Additionally, it enables you to ensure that your tree doesn't spread to your neighbor's compound and end up being a problem for them.
Soil Conditions For Your Shade Tree
The soil conditions in your garden are an essential aspect to consider before deciding on the fast shade tree you'll plant. Some trees thrive in wet soil conditions, while others prefer soil with excellent drainage.
Ensuring that you plant your trees in the right soil conditions will help ensure that they don't suffer from root rot. This allows the trees to grow strong and thrive to provide incredible shade in your home garden.
If you need to improve the drainage conditions of your soil, ensure that you do before planting your trees. You can add in some compost, organic fertilizers, and soil and other products soil amendments that will help improve the nutrient uptake of your tree.
Growing Younger Shade Trees
The growth of AI in agriculture enables you to invest in nursery tree options that are well prepared to thrive and provide desired results. For example, most fast-shade trees start in nurseries to give the desired attention before planting.
Starting with younger plants will enable you to cultivate them right and provide an environment where they can quickly adapt to and thrive.
Additionally, with younger trees, the roots have time to grow in the soil and become stronger as the tree continues to grow. However, when you plant trees that have been growing for some time, the roots will not be as strong.
Additionally, the growth of the fast shade trees will be as strong or fast and may not be as tall as they should be. Therefore, ensure that you invest in younger trees when looking to invest in fast shade trees.
Mix Fast Growing Trees and Slower Growing Options
Fast-growing shade trees are a great option, but some are not as fast in their growth patterns. That does not mean these trees aren't a great option for your yard! Incorporating both fast and slow growing trees into your landscape adds excellent diversity and depth!
Just like humans, we all grow at our own rate, and no matter the speed, the process is beautiful. Allowing the fast shade trees to grow in advance, while giving the slower-growing options time to fully mature is a nice way to enjoy a versatile spread of life and beauty!
Shop Garden Goods Direct
Garden Goods Direct offers a wide variety of shade tree options available to be shipped directly to your door! Avoid the hustle and bustle of hectic garden centers and tree nurseries this season by shopping trees online from America's Online Garden Center!
If you have any questions about shade trees, or landscape plants in general, please do not hesitate to reach out to the experts here at GGD!