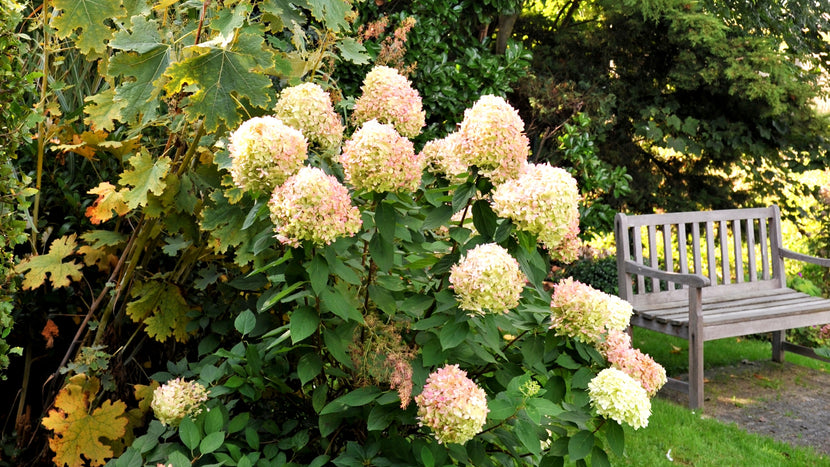 5 Plants that Create Year-Round Interest
Picture this-- it's mid-fall, you've just finished up a warm cup of coffee on a dewy October morning, and you peer outside to a yard filled with warm hues and vibrant life. Flash-forward a couple of months into the chillier moments of winter, and that warm and happy feeling is likely to fade with the dull colors of the season.
But it doesn't have to...there are select plants that despite wicked winter temperatures and limited daylight, will thrive year-round!
Here at Garden Goods, we are fortunate enough to see beautiful flowers, tropical foliage, and plants that we keep in pristine condition in controlled environments. Sometimes we take this for granted.
If you are after a year-long landscape full of color and beauty, but you're unsure where to begin, have no fear. For your benefit, Woodie has taken stock of all the plants that he's planted over the years, and he has come to find a few standout options in the landscape that never fail to provide magnificent color and life throughout every season.
What plants offer four seasons of interest?
Mahonia Soft Caress:
As one of the few plants that boast magnificent winter blooms, you will surely want to incorporate Soft Caress Mahonia into your landscape. With vibrant clusters of neon yellow flower spikes, atop feathery, bamboo-like foliage, these broad-leaved evergreen shrubs will surely make a statement in your yard.
Lover of part sun, but also tolerant to shade, these hardy shrubs work beautifully in mixed borders and flowerbeds. Mahonia shrubs are hardy to USDA growing zones 7 to 9. As one of Woodie's all-time favorites, we guarantee these yellow Majesties will keep you smiling at your landscape year-round.
Red Twig Dogwood:
No matter where you stand in the landscape, Red Twig Dogwoods will surely catch your eye and bring bold color to a yard. As the stunning shrubs shed their fall foliage the bright red stems stand tall. Woodie recommends planting your Red Twigs in front of a tall evergreen like Green Giant Arborvitaes. The juxtaposition of hues is one like no other.
If you feeling extra adventurous, consider mixing the Red Twig Dogwood with the Yellow Twig Dogwood for a real rainbow of beauty.
Panicum Heavy Metal:
Woodie fell in love with Panicums years ago when ornamental grasses were not all the rage. There was a small group of nursery people heralding the benefits and uses of ornamental grasses in the landscape, so he decided to give them a try. They did not disappoint.
In the summer the graceful upright stems move in even the softest of summer breezes. Panicum Heavy Metal has blue foliage which seems cool on even the hottest of summer days. Turning an enchanting golden hue in the fall, you can look forward to this plant's beauty beyond its peak summer season.
Pieris Flaming Silver:
Next on the list of plants to bring non-stop beauty to a landscape, is the fiery and magnificent Pieris shrub. Specifically, the Pieris Flaming Silver is a compact evergreen shrub that puts on a riveting show of color throughout the seasons.
Pushing out delicate chains of white blooms in early to mid-spring, the densely-branched shrubs don't stop there. New growth emerges a spunky orange-red hue and matures to a glossy green that persists through the winter.
Hydrangea Limelight:
We all know that there are few plants that can rival the summer beauty of Limelight hydrangea. If Woodie could only plant one hydrangea in his landscape, the Hydrangea Limelight would be it. The white-green flower heads persist from summer through to early fall and never fail to light up a landscape.
Come winter, it's easy to believe that the hydrangea will likely lose its enchanting charm and beauty. But you would be wrong to think such. Moving in the breeze hundreds of dried hydrangea blooms will encapsulate and wow onlookers.
The age-old question is "What should I plant?"
The answer to the age-old question may have become apparent to you by now after reading this but in case it didn't we will answer it now. When you are considering what to plant, often you can be misled by only considering flower colors, and leaf colors or what will the plant look like in the spring, summer, or fall.
But consider winter just as much when deciding on plants. Winter by nature presents itself as gray and cold almost devoid of life. What we've learned over the years is that there is much beauty available to us through sight and sound in the winter you just need to take a moment to look around.
There is a wonderful play or parade of colors and sounds available to us every day, but as gardeners, we often remove the major players in these spectacles in our effort to tame nature.
Planting For Joy With Garden Goods Direct
The answer is: "Plant what will give you four seasons of enjoyment." In today's culture, we must get the most value for our money. We do it with cars, furniture, and mattresses, so why not do it with our plants as well?
Maybe you have already done your winter pruning, or maybe you've already cut down your ornamental grasses. Today, go out into your landscape and imagine the color and the sounds you are missing in your attempt to keep your garden tidy.
Four-season interest is not a new concept by any means, but we are definitely on the cusp of it becoming a true movement. Enjoying and understanding my winter landscape has certainly opened my eyes to a new way to enjoy the garden.