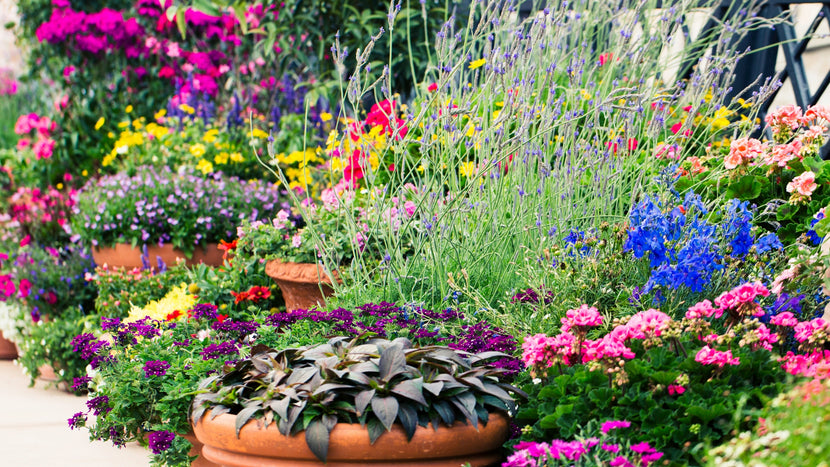 4 Container Garden Styles For Summer
Whether you're limited on space, indecisive, or just looking for a fun new creative outlet, a container garden is the perfect summer project that will bring a new element of style and beauty to an outdoor space.
The options are endless and there are so many different ways you can approach the design of your potted garden. If you aren't quite sure where to begin, and are in need of some inspiration, we've got you covered!
Read on to learn more about the various styles and designs you can base your own container garden on!
Modern Container Garden
First on our list of container garden styles is the Modern Container Garden. This is a broad category of gardening that has recently gained popularity. If you are looking to add a classy statement piece that is bold, yet sophisticated, this is the garden design path for you.
The first step to crafting a modern container garden is selecting a sleek, neutral-toned container for your plants. We would recommend going with something understated like black or white. Additionally, going with a contemporary raised bed planter is a fun modern option for your garden.
The next, and most important step of your modern container garden is the plants. To keep with the modern, sort of minimalist-feel, less is more!
Stick to a concise color pallet and seek out options that exude clean-cut, understated beauty. Dwarf evergreen shrubs and topiaries are a popular choice for modern gardens.
Below we've compiled a list of our favorite plants to incorporate into your modern container garden.
Dwarf English Boxwood
Emerald Petite Arborvitae
Blue Point Juniper Spiral Topiary
Sea Green Two Ball Topiary
Limelight Hydrangea
Hosta Blue Angel
Astilbe Deutschland
Japanese Painted Fern
White Turtlehead Chelone glabra 
Daylilies
Naturalistic Container Garden
Next on our list of container garden styles, is the more care-free, bohemian-esque, naturalistic style container garden. This one is for the wildflower-loving free spirits in the garden world.
The options for your naturalistic container garden are endless, and the restrictions on what you can and cannot plant are minimal.
For the container itself, the world is your oyster, and thrift stores and yard sales will be your best friend! Repurposing old wheelbarrows, watering cans, and mason jars can be one of the best ways to bring a free and easy-going feel to the garden.
The main tips we have for creating this look are to incorporate a variety of colors, textures, and types of plants to embody your free spirited soul. Grassy foliage, plentiful blooms, and free flowing vines will complete your organic vision.
Below we've compiled a list of our favorite plants to incorporate into your naturalistic container garden.
Aquilegia Canadensis
Rudbeckia Cherry Brandy
Monarda Raspberry Wine
Aster Raydon's Favorite
Achillea Apricot Delight
Creeping Jenny
Miscanthus Morning Light
Chasmanthium Latifolium
Cottage Core Container Garden
Another popular design style for both full gardens and containers alike is the idea of a charming and whimsical cottage garden. These designs are often full of character and bring a romantic and fairytale feel to a space.
The container options for cottage gardening range from wicker, to wood, to stone. Large-scale planters made of porcelain or iron make for a very charming and unique feel. We also recommend incorporating trellises and climbing plants to truly bring that fairytale feel.
In order to achieve a cottage garden design, your container garden should incorporate plants that embody elegance, romance, and charm. This is really up to your own personal taste, but we do have a few personal favorites that we think work to complete a cottage-core container garden.
Below are just a few options that will take any cottage-design garden to the next level.
Tea Roses
Onyx Zebra Hydrangea
Little Lime Hydrangea
Phenomenal Lavender
Coreopsis Moonbeam
Allium Summer Beauty
Tropical Container Garden
Last on our list of container garden recipes and styles for summer is the tropical container garden. As the perfect option for turning your outdoor garden into a relaxation zone, tropical container gardens easily transport you to paradise.
Summer is the perfect time to plant a tropical garden, for warm weather and high humidity are ideal for these types of plants. Tropical plants are great for sprucing up the empty space around a pool, or adding character to your outdoor lounge spaces.
The main things to consider when creating a tropical container garden, other than of course selecting tropical plants, are to incorporate large foliage, exotic blooms, and a range of colors and textures.
Below is a list of our most popular tropical plants to incorporate into your container garden for the summer season.
Yellow Hibiscus
Pink Hibiscus
Red Hibiscus
Pink Mandevilla
Variegated Shell Ginger
Alocasia Regal Shield
Pygmy Date Palm
Kimberly Queen Fern