Images Depict Mature Plants
Yellow Marigolds for Sale Online
Yellow Marigold plants (Tagetes spp.) are one of the only true flowering annuals that, no matter what growing zone you live in, you have to replant every year. These annuals are cheerful and compact, with flower shapes that resemble daisies or even carnation flowers. Their bright yellow petals are complemented by deep green foliage.
Yellow Marigold plants are widely adaptable to many conditions, temperatures, soils, etc., and are low-maintenance. Not to mention, these plants are known for being pest-free and can often help keep pests away. Your Marigolds will bloom non-stop from summer until frost.
The best way to keep your Yellow Marigold looking vibrant and thriving is to deadhead them as their blossoms die.
---
Growzone: 3-11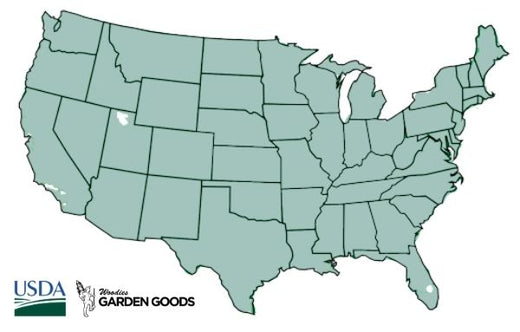 | | |
| --- | --- |
| Hardiness Zone: | 3-11 |
| Mature Height: | 1 to 3 Feet |
| Mature Width: | 1 to 2 Feet |
| Classification: | Flowering annual |
| Habit: | Upright |
| Flower Color: | Yellow |
| Foliage: | Dark green |
| Attracts: | Hummingbirds, bees |
| Soil Condition: | well-draining, all-purpose |
| Light: | Full sun |
---
How to Care for Yellow Marigold
After purchasing your Yellow Marigold plant, be sure to read about our recommended care instructions to ensure a healthy and happy plant all season long!

When Should I Water My Yellow Marigold Flowers?
Marigold plants are fairly drought-tolerant and do not mind dry soil from time to time. We recommend checking about 1 inch down in their soil for moisture. If the soil is dry, it is time to water. If the soil is moist, hold off on watering for a day or two. Your annuals will bloom best if they receive water weekly. However, if you live in a hot climate, you may need to water them more frequently. Also, if you live in an area with lots of rain, you may need to water them less frequently. Always be sure not to overwater your flowers. Overwatering them could cause root rot and damage their growing season.

How do I Fertilize My Yellow Marigold Flower?
Marigold flowers do not need or require fertilizing. However, if your soil conditions are poor, it is best to supplement nutrients by adding fertilizer to their soil. The best thing you can do to keep your annuals thriving and healthy is to deadhead them as blossoms die off and the foliage starts browning. Instead of fertilizing your Marigolds regularly, prune and deadhead them regularly instead. Doing so will be exactly what they need to have a successful growing season.

How Much Sunlight Should My Yellow Marigold Get?
Marigold annuals thrive in full sunlight conditions. We recommend that you give your plant at least 8 hours of full sunlight each day. If you live in an extremely hot climate, you can give your flowers a few hours of shade, but not for too long. If there is a specific spot in your garden that seems too bright for most plants to survive, plant your Marigolds here and watch them thrive. If you notice your plant is not blooming luscious and beautiful flowers, or looks leggy, check and make sure they get enough sunlight. If your Marigold is in a container, make sure you move it accordingly so that it always receives plenty of sunshine.

What Kind of Soil Do My Marigold Flowers Need?
Marigolds are not particular about their soil conditions. As long as you have good, all-purpose garden soil, your plant will thrive. The only thing Marigolds are particular to is soil pH levels. They do not like acidic soils, so keep the pH above about 6.0. They also don't require soil that is particularly rich in organic matter and tends to grow and thrive best in leaner soil.
---
Frequently Asked questions
Where Should I Plant My Marigold Flowers?
Will My Marigold Plants Thrive in Humidity?
Do Marigold Flowers Help Keep Animals Away from My Vegetable Garden?
---
Other Products you may be interested in
---
Customer Reviews