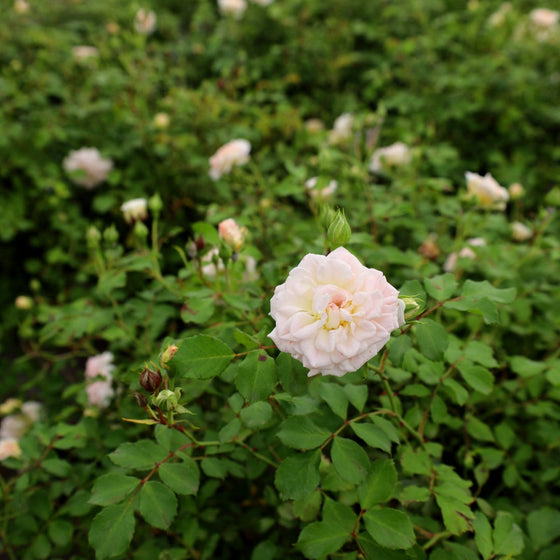 Images Depict Mature Plants
White Drift Rose Bushes for Sale Online
White Drift Rose Bushes (rosa 'Meizorland') blossom continuously from late spring through early fall. These shrubs bloom elegant fully double, bright white flowers that are complemented with bright green foliage up until the first frost of winter. They are cold-hardy, low-maintenance shrubs that continue returning for years to come.
White Drift Rose bushes require 6 to 8 hours of full sun, little to no pruning, and a weekly watering schedule to ensure their blossoms reach their fullest potential. These shrubs go perfectly in any small garden because of how gently they spread around any established plants. They also look beautiful in garden borders or along paths. Who wouldn't want a path lined with roses when walking through a garden?
---
Growzone: 4-11
| | |
| --- | --- |
| Hardiness Zone: | 4-11 |
| Mature Height: | 1 to 3 Feet |
| Mature Width: | 2 to 3 Feet |
| Classification: | Broad Leaved deciduous groundcover rose |
| Sunlight: | Full sun |
| Habit: | Mounding |
| Foliage: | Dark green |
| Flower Color: | White |
| Pruning Season: | Prune in late winter |
| Soil Condition: | Any well drained soil |
| Water Requirements: | Water regularly |
| Uses: | Extremely attractive when used as in the mixed border, mass planting, or on a hillside |
---
How to Care for White Drift® Rose
Be sure to read our planting instructions to ensure a healthy and happy plant for years to come!

How do I fertilize White Drift Rose Bushes?
Rose bushes do not require consistent fertilization, twice a year; once in the spring and once in the summer will be just fine. We recommend using a slow-release fertilizer to mix in or sprinkle around each rose bush. Using a slow-release fertilizer will ensure your drift rose will blossom to its fullest potential during its blooming season. It is most important to plant your rose bush in mildly acidic to neutral soils, the combination of the fertilizer and good soil will allow your shrub to retain the most nutrients possible.

When Much Water Should I Give My White Drift Rose Bush?
At the time of planting, you should water your drift rose daily for at least one week. Make sure the root system is thoroughly saturated and that it does not dry out. Even if you have a sprinkler system, we still recommend you hand water for the first week simply to ensure the success of your plant's transfer. When watering your bush do not water the foliage, water at the base of the plant near the soil line only. This is because oversaturated foliage could result in Blackspot, a foliage disease that could affect your rose bush's success. Even though drift rose bushes are generally resistant to Blackspot, it is better to avoid the risk at all costs.

How Much Sunlight Should My White Drift Rose Bush Get?
Drift Rose bushes require 6 to 8 hours of sunlight each day. They thrive in full sun; the more sun there is, the more they will blossom their beautiful flowers. These rose bushes can tolerate some afternoon shade, but it is best to keep that at a minimum as much as possible. We recommend planting your new shrub in an area that receives a decent amount of morning sun. This is to ensure the morning dew is dried up from their leaves fairly quickly.

What Type of Soil Should I Use with My White Drift Rose Bush?
Drift Roses grow best in a mildly acidic to neutral soil (ranging from 6 to 7 on the pH scale.) For reference, most garden soils fall between this exact pH level. You can test your soil's pH level to ensure you are planting your rose bush in the perfect spot for optimal growth. White Drift Rose Bushes also require a well-draining soil to ensure its root system does not sit in standing water.
---
Customer Reviews