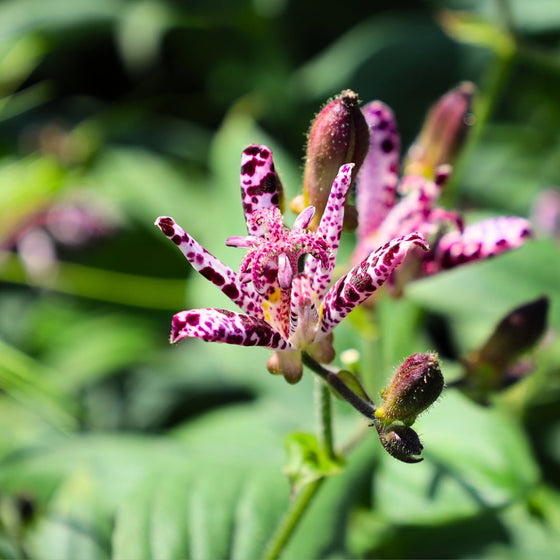 Images Depict Mature Plants
Toad Lily Plants for Sale Online
Toad Lily (Tricyrtis 'Sinonome') plants are shade-loving perennials that produce stunning clusters of small, ivory white flowers with burgundy spots and blotches. These flowers sit on arching stems and medium green foliage. Toad Lily plants grow in an upright, vase-shaped habit and grow between late summer and early fall.
When your spring and early summer perennials are beginning to die back, your Toad Lily plants will be blooming and thriving. These perennials love the shade and be in evenly moist, well-draining soil conditions. You can plant them along borders, in containers on your patio, or in woodland gardens.
---
Growzone: 5-8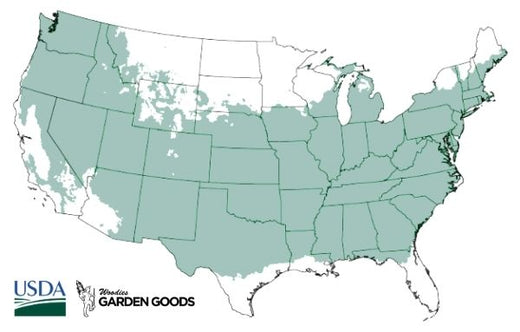 | | |
| --- | --- |
| Hardiness Zone: | 5-8 |
| Mature Height: | 2 to 3 Feet |
| Mature Width: | 1 to 2 Feet |
| Classification: | Perennial |
| Sunlight: | Part to full shade |
| Flower Color: | White with burgundy spots |
| Flowering Season: | Late summer; Fall |
| Foliage: | Green |
| Soil Condition: | Prefers moist, average soil |
| Water Requirement: | Water well until established |
| Habit: | Upright |
| Uses: | Extremely attractive when used as a focal point in the mixed border, containers |
---
How to Care for Toad Lily
Before you purchase your Tricyrtis 'Sinonome' plant, be sure to read the recommended care instructions to ensure your plant remains happy and healthy for years to come!

What Kind of Sunlight Does my Toad Lily Plant Need?
Toad Lily plants love to spend the majority of their time in the shade. This shade-tolerant perennial likes to be in locations that receive partial sun but plenty of hours in the shade. If your Toad Lily plant receives too much sun, it could become leggy, and its leaves could scorch. If you have an area of your garden or landscape that is too shaded for most of your sun-loving plants, this is the perfect location for your Tricyrtis 'Sinonome' plant to go. If your plant receives sunlight, it should be in the morning or evening before the sun goes down. Doing so will give your plant time in the sunlight, but it will not be as intense as the midday sun is.

What Soil Conditions do Toad Lily Perennials Prefer?
Your Tricyrtis 'Sinonome' plant thrives best in moist but well-draining soil conditions. These plants also prefer organically rich, slightly acidic, and loamy soil. You mustn't let this perennial's soil dry out. If the soil conditions dry out for these plants, they may not produce many flowers or look leggy and begin to die off. One way you can reduce the speed of their soil drying is by adding a layer of mulch around the base of the plant. Doing so will reduce water evaporation and help maintain moisture in the soil longer. It is also important not to overwater your plants. Overwatering could lead to root rot disease and permanently damage your plants. However, it is tricky to overwater Toad Lily plants because they enjoy moist soil conditions and survive very well in woodlands and meadows.

When Should I Mulch my Tricyrtis 'Sinonome' Plants?
Toad Lily 'Sinonome' plants must be in moist soil conditions at all times. Mulch around the plant's stem to hold the moisture for a long time. You should only need to add an inch layer on mulch and make sure you do not place the mulch layer too close to the stem. We recommend that you mulch about 1 to 2 inches away from the base of the plant so your plant can still breathe while it is retaining moisture.

How Much Water Does my Toad Lily 'Sinonome' Plant Need?
Toad Lily perennials love to be in moist soil conditions. Tricyrtis Sinonome plants are one of the few perennials that prefer to be in the shade and have consistently moist soil. For most outdoor plants, moist soil and lots of shaded time would kill them. You must never let the soil dry out for this plant because it could damage the rest of their growing season, and they could produce fewer flowers because of it. Water your perennial regularly, and you can add a layer of mulch to help the soil retain as much moisture as possible. The mulch will reduce water evaporation and keep the plant's soil moist for longer.
---
Frequently Asked questions
Where Should I Plant my Tricyrtis 'Sinonome' Plant?
How do I Plant my Toad Lily Plant?
How Do I Propagate my Toad Lily 'Sinonome' Plant?
---
Other Products you may be interested in
---
Customer Reviews