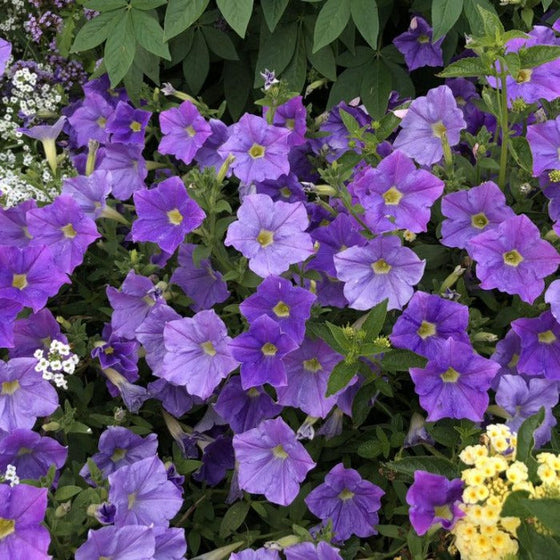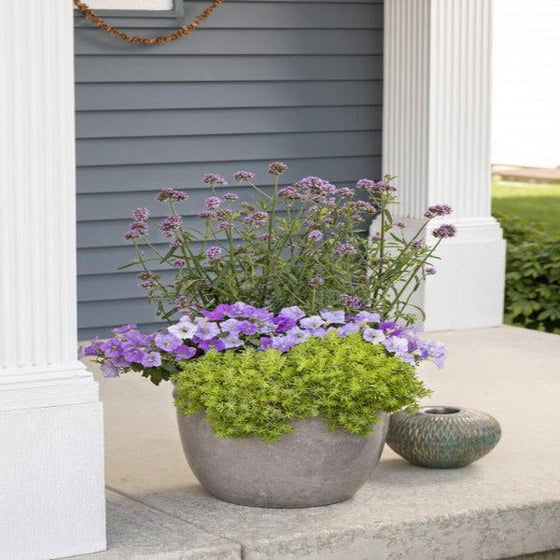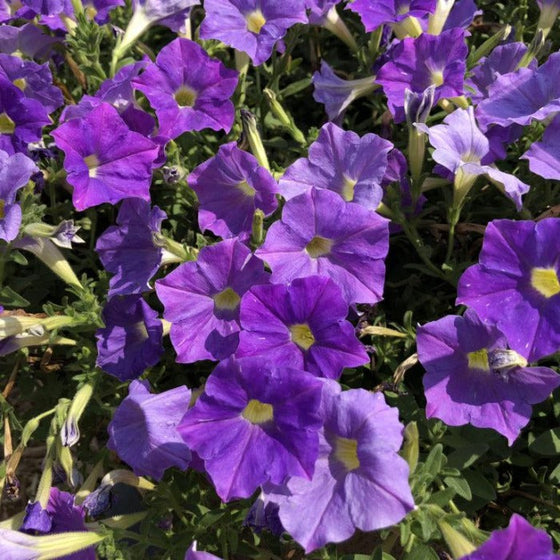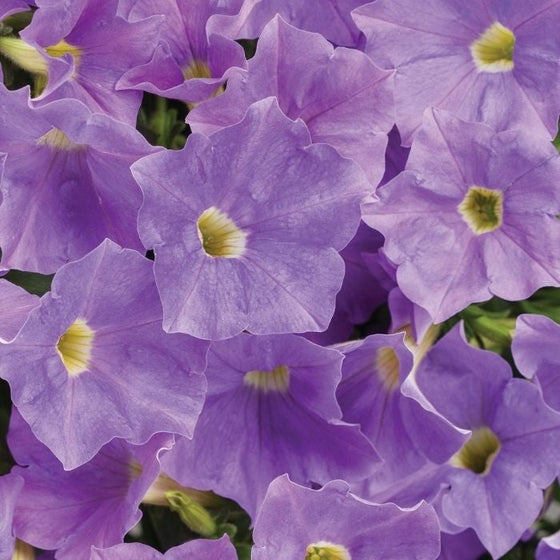 Images Depict Mature Plants
Supertunia Blue Skies Petunia Plants for Sale
A petunia that requires no deadheading to stay looking fresh? That's what you get withSupertunia Petunias by Proven Winners! Enjoy the lavender-blue blooms on Supertunia Blue Skies all summer and into the Fall. Supertunia Blue Skies is a great choice for hanging baskets, planters, or window boxes. Enjoy watching the butterflies as they visit your petunias. Supertunias are self-cleaning and require no deadheading to stay looking their best.
Supertunias love heat and grow best in areas that get at least 4 to 6 hours of full sun per day. These easy-care flowers benefit from a controlled-release fertilizer at planting time and once per month thereafter when grown in containers. Most petunias grown in the ground need no more fertilizing other than an application of starter fertilizer at planting.
Supertunias will spread in a container, spilling over and softening the edges of pots and planters. If your petunia begins to hang down too far or begins to look tired, you can trim it back to rejuvenate. Avoid trimming more than one-third of the plant at any time.
---
| | |
| --- | --- |
| Hardiness Zone: | 10-11 |
| Mature Height: | 8 to 12 Inches |
| Mature Width: | 18 to 24 Inches |
| Classification: | Annual |
| Sunlight: | Full sun to Part Sun |
| Habit: | Mounding, Trailing |
| Flower Color: | Lavender Blue |
| Foliage: | Green |
| Soil Condition: | Well-draining, moist |
| Water Requirements: | Likes to stay slightly moist |
| Uses: | Mass Planting, Container Plant (Spiller), Hanging Basket |
Growzone: 10-11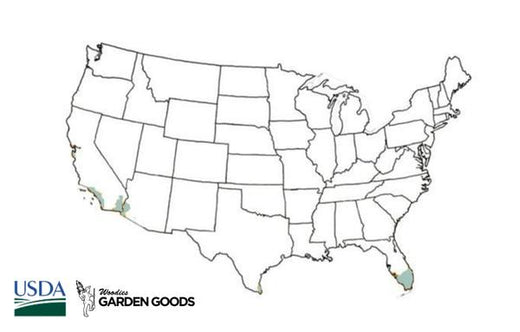 How to Care for Supertunia Blue Skies
Be sure to read our planting instructions to ensure a healthy and happy plant for years to come!

How Do I Water Cascadia Purple Gem Petunias?
Cascadia Purple Petunias thrive best in evenly moist, well-draining soil. We suggest watering your plant at a medium rate, or when you notice their soil is dry about 1 inch down. Be very careful when watering your petunia because they are very susceptible to root rot disease. This is caused when a plant is overwatered and its roots are sitting in standing water for far too long. Because these flowers are planted in hanging baskets often, make sure your basket has properly placed drainage holes to prevent any excess water from remaining in the container.

What Type Of Fertilizer Does Cascadia Purple Gem Petunia Require?
To keep your Cascadia Petunia in its best shape, we recommend feeding them every week while they are growing in the summer. For the best and biggest blooms, use a flower-focused fertilizer such as Espoma Flower Tone.

What is The Best Soil for My Cascadia Petunia?
Cascadia Petunias require rich, well-draining soil conditions. These plants can tolerate a wide range of pH levels and soil types including sandy, clay, loamy, etc. However, they must have properly draining soil to prevent any possibilities of root damage. The flower roots can rot very easily if they are not placed in their proper soil conditions.

How Much Sun Does My Purple Gem Petunia Need?
Purple Gem petunias love the sun! We suggest placing or planting your plant in a place that receives at least 6 to 8 hours of full sunlight each day. Although this annual can survive in partial sun and partial shade areas it will bloom best when only in those conditions for a few hours. Remember the more shade your flower gets, the less your flower will bloom.
---
Frequently Asked questions
Will My Supertunia Blue Skies Attract Pollinators?
Do I need to prune Supertunia Blue Skies?
---
Customer Reviews