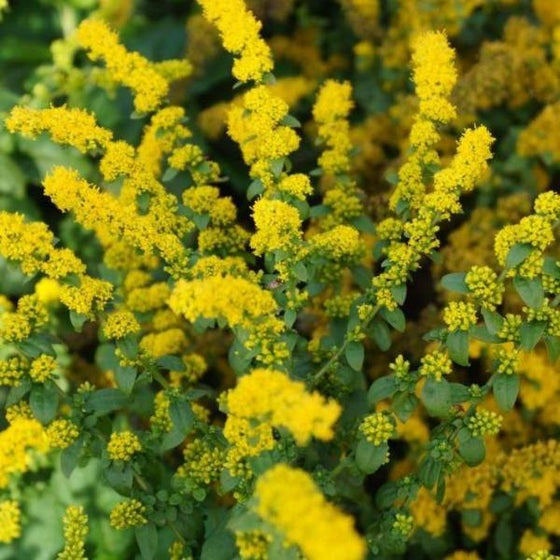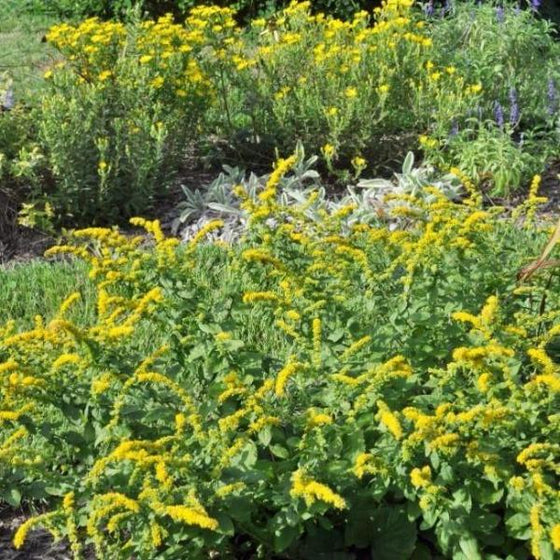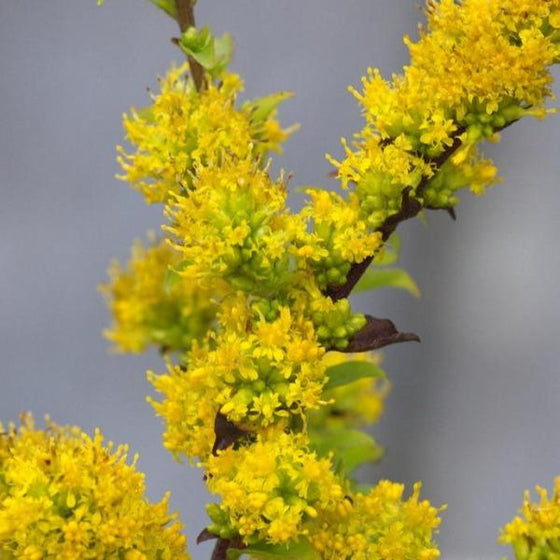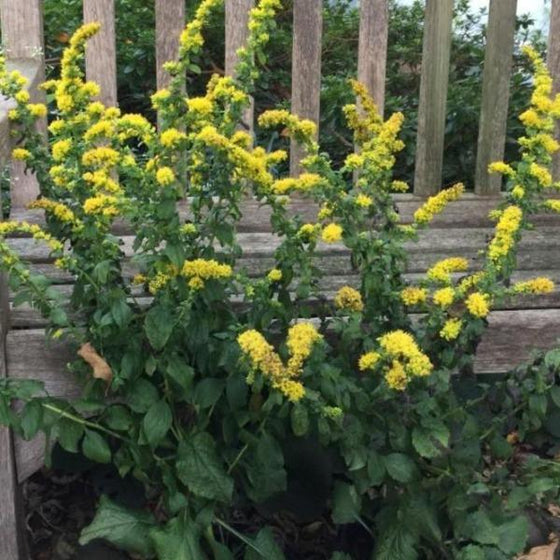 Images Depict Mature Plants
Solidago sphacelata Golden Fleece for Sale Online
Solidago Golden Fleece (Solidago sphacelata) is a flowering perennial that is part of the aster family. Hardy to zones 4 through 8, this goldenrod is low maintenance and only grows up to 2 feet when planted in full sun. It is deer and drought resistant and can grow in both rocky and clay soil.
The Golden Fleece has a natural and wild look and is exceptionally beautiful when planted in a border garden with complementary and contrasting perennials and grasses. The yellow flowers are stunning as cuttings in a bouquet or centerpiece.
The spreading rhizomes of the Solidago sphacelata emerge in the spring, producing a clumping mound of dark green foliage with alternating leaves. On one side of the spreading branches, yellow panicles emerge in August.
Also known as the autumn goldenrod, this cultivar was developed as a compact alternative to other solidago species.
---
| | |
| --- | --- |
| Hardiness Zone: | 4-9 |
| Mature Height: | 1 to 2 Feet |
| Mature Width: | 1 to 2 Feet |
| Classification: | Flowering perennial |
| Sunlight: | Full sun to partial shade |
| Habit: | Upright; spreading |
| Foliage: | Green |
| Flower Color: | Yellow |
| Bloom Period: | August to September |
| Soil Condition: | Any well drained soil, can tolerate clay and rocky soils |
| Water Requirements: | Water well until established |
Growzone: 4-9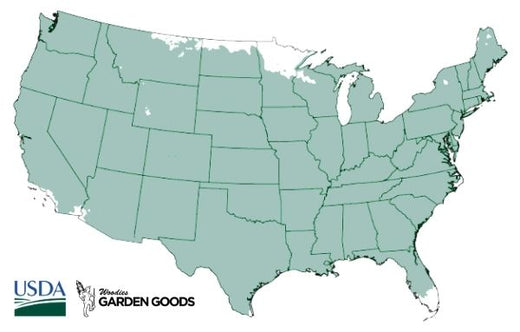 How to Care for Solidago Golden Fleece
Be sure to read our planting instructions to ensure a healthy and happy plant for years to come!

How do you plant a Solidago Golden Fleece?
As with any plant, dig a hole twice as wide as the root system but not any deeper. When you buy a Solidago sphacelata with Garden Goods Direct, it will be delivered in a container. Use the container it was delivered in as a guide for how measure the depth. If the perennial sits too deep in the soil, it runs the risk of drowning and developing root rot. Loosen the bottom of the root ball with your hands and place in the hole. Backfill with a mix of the original soil and compost or topsoil. As you are filling, allow the hose to drip in and as you mix the soil and water, a slurry will form that will encourage the roots to settle.

How often do you water a spacelata Golden Fleece Solidago?
Although the Solidago sphacelata is slightly drought tolerant once established, it thrives in regularly moist soil. While establishing, the rough goldenrod should be watered frequently to keep the soil moist. Once the root system has developed, frequency can reduce, only watering the plant once a week. It is best to water at the base of the plant, rather than a shower from above.

How should I prune autumn Goldenrod?
The Golden Fleece Solidago is not as invasively growing as other solidago varieties, and therefore does not need to be aggressively controlled. However, to encourage branching, the can be pinched back in May.

How should I fertilize yellow Solidago sphacelata?
Since this plant can flourish in almost any soil condition, fertilization is not necessary. If you think your plant needs a boost, a well-balanced, organic compost can be applied in the spring to give it some nutrients. Be careful, because fertilizing with chemical mixes can cause over fertilization which can be detrimental.
---
Other Products you may be interested in
---
Customer Reviews