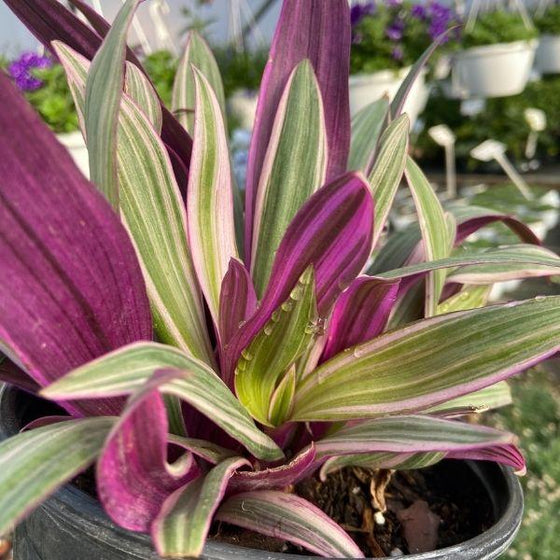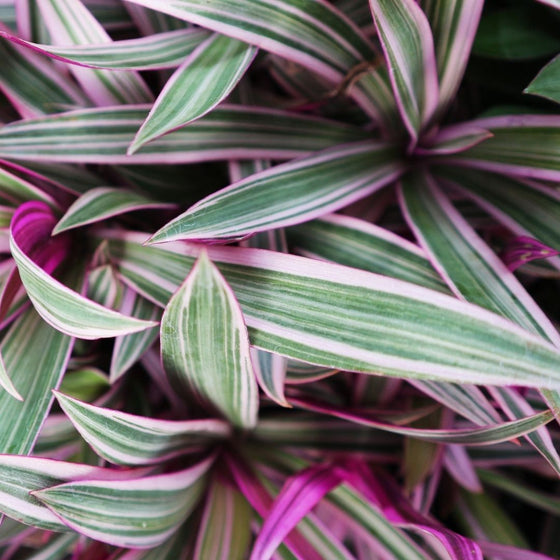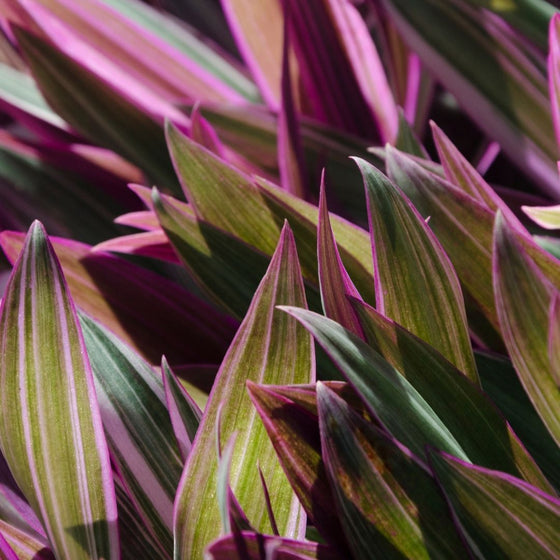 Images Depict Mature Plants
Tricolor 'Moses in the Cradle' Oyster Plants for Sale Online
The Rhoeo Tricolor 'Moses In The Cradle' Oyster Plant (tradescantia spathacea) is a house plant known for its cream, green, and pink variegated foliage. When given enough light, small white flowers produce inside its folded leaves. Oyster plants are mostly grown inside, but if you live in the proper grow zones, they can be planted outside in the warmer months.
Oyster plants prefer full or partial sun in a moist, well drained potting soil. Your plant will be happier if their soil stays on the dryer side, they actually prefer it! They stay a relatively practical size for house plants, up to 12 inches tall and 24 inches wide. Be careful when handling your plant because they can cause skin irritation if touched and are toxic if ingested. Handle only when wearing protective gloves and keep out of reach of animals or children. Check our guide for pet safe plants for more information.
---
| | |
| --- | --- |
| Hardiness Zone: | 9-11 |
| Mature Height: | 8 to 16 Inches |
| Mature Width: | 12 to 16 Inches |
| Classification: | Colorful foliage |
| Sunlight: | Full or partial |
| Habit: | Vase shapped |
| Flower Color | Small white flowers tucked inside the leaves |
| Foliage: | Pink, green, and cream; variegated |
| Soil Condition: | Regular potting mix; quick draining |
| Water Requirements: | Likes to dry out occasionally |
| Uses: | Any humid indoor space |
Growzone: 9-11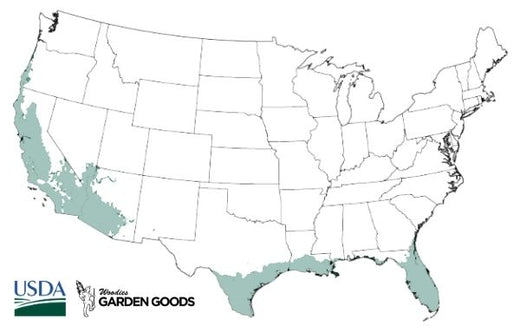 How to Care for Rhoeo Tricolor 'Moses In The Cradle' Oyster Plant
Be sure to read our planting instructions to ensure a healthy and happy plant for years to come!

When Should I Water My Moses In The Cradle?
Your Moses In The Cradle prefers to err on the side of dry when it comes to soil moisture. Overwatering is a common mistake with this house plant, and to avoid doing so, we say to wait until the top 1 to 2 inches of soil are dry. Rhoeo Tricolor prefers a more humid climate even though they don't need excessive watering. Try placing your pot on top of a tray of pebbles in water or next to a cool steam vaporizer.

What Type Of Light Does Moses In The Cradle Require?
Moses In The Cradle prefer bright indirect sunlight and can also thrive in partial shade. If you place the plant in an area that consistently gets little sun the leaves will turn more green than their typical pinkish-purple color.

What Soil Should I Use For My Rhoeo Tricolor Plant?
Any good-quality, all-purpose houseplant potting mix will work with your Rhoeo Tricolor. Use a pot with drainage holes to avoid the roots from sitting in water-saturated soil. Soggy soil can cause root rot and damage the growth of your plant. Well draining soils will allow Rhoeo Tricolor to thrive and grow its best. Allowing the top 1 to 2 inches of soil to completely dry before watering will ensure your soil will never be over watered.

What Type of Fertilizer Should I Use with My Rhoeo Tricolor
From spring to fall, Rhoeo Tricolor will take any balanced water-soluble fertilizer once a month. It is best to only fertilize your plant while it is actively growing. As a house plant, Rhoeo Tricolor can survive without fertilizer in the winter months.
---
Other Products you may be interested in
---
Customer Reviews