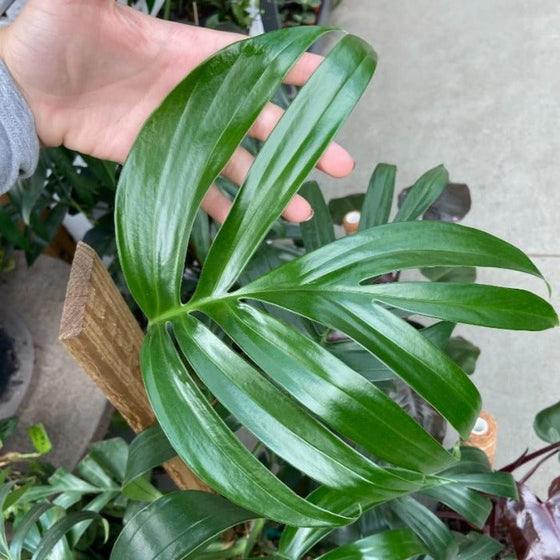 Images Depicted Range in Maturity & Container Size
Pots Not Included Unless Otherwise Stated
Rhaphidophora decursiva Plants for Sale Online
Creeping Philodendron (Rhaphidophora decursiva) plants are a climbing cultivar of the ever-so-popular Philodendron plant family. This plant is native to the Himalayas, and if it is outdoors, it can grow extremely tall. However, when they are indoor plants, they will grow up to 5 feet, which is still very tall for a houseplant. 
The foliage begins as a bluish-green color, and as the plant matures, the leaves become a dark-green color and are deeply lobed. This plant is usually easy to maintain and does not require any expert care when you are taking care of it in your home. Try planting your houseplant in a pot or container and place it where it can be the focal point of any room.
---
Growzone: 9-11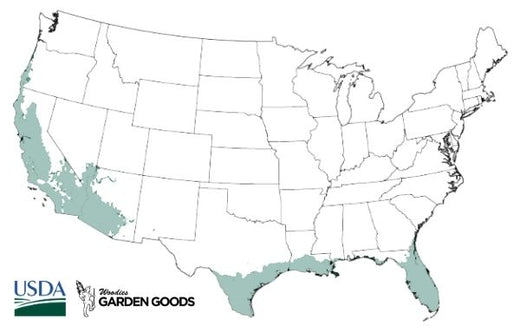 | | |
| --- | --- |
| Hardiness Zone: | 9-11 |
| Mature Height: | Up to 5 feet |
| Mature Width: | 2 to 3 Feet |
| Classification: | Tropical |
| Sunlight: | Fluorescent light to bright, indirect |
| Habit: | Upright |
| Flower Color: | Inconspicuous |
| Foliage: | Dark green |
| Soil Condition: | Well draining, cactus or succulent mix (part sand) |
| Water Requirements: | Likes to go dry |
| Uses: | Does well indoors and in low light conditions |
---
How to Care for Rhaphidophora decursiva (Creeping Philodendron)
Be sure to read our planting instructions to ensure a healthy and happy plant for years to come!

How Much Sunlight Should My Creeping Philodendron Get?
Rhaphidophora decursiva plants should receive bright, indirect sunlight throughout the day. These houseplants can tolerate some direct sun exposure, but be careful not to give them too much. If they receive too much direct sunlight, their delicate foliage will burn and become permanently damaged. If your plant receives direct sunlight, the best time is in the early morning or the evening. In the morning and evening hours, the sun is much less intense than it is during midday. However, throughout the day, bright, indirect sun exposure will allow your houseplant to thrive.

How Do I Water Rhaphidophora Decursiva Plants?
The trick to watering Creeping Philodendron plants is to water them thoroughly and then wait for the top two inches of the soil to dry before watering again. The key to watering them thoroughly is to have a pot with excellent drainage holes. The drainage holes will allow any excess water to drain out and not stick around in the container. If too much excess water stays at the roots of your plant, it will cause root rot disease and can kill your plant. If you are not sure if you should water your plant, wait a day or so to ensure the soil is dry enough to soak up more water.

When Should I Fertilize my Rhaphidophora Decursiva Plant?
Rhaphidophora Decursiva plants have large leaves that need plenty of nutrients to stay strong and healthy. Adding additional nutrients through fertilizing is the perfect way to keep your plant healthy. We recommend that you use any typical houseplant fertilizer once a month in the spring and summer. The spring and summer are this plant's growing seasons, and this is the best time for your plant to absorb any extra nutrients it needs. Fertilize your plant at a distance of about 7 inches from the stem to avoid any root burn. If you notice your plant is looking leggy and weak, add some fertilizer to its soil and give it a thorough watering. In the fall and winter, do not fertilize your plant. Fertilizing during your plant's growth dormancy period will cause more harm than good.

What is the Best Soil for My Creeping Philodendron?
Creeping Philodendron plants thrive in organically rich and well-draining soil conditions. You can add any growing mixtures to your plant's soil as well for an extra boost of nutrients. Rhaphidophora decursiva plants are prone to root rot and fungus, so the potting soil should be perfectly well-draining to avoid the risk of those diseases. If your plant is not in well-draining soil conditions, any excess water your plant does not need will sit at the roots and cause damage. If you do not catch root rot disease or any fungal diseases quickly enough, your plant could die.
---
---
Other Products you may be interested in
---
Customer Reviews