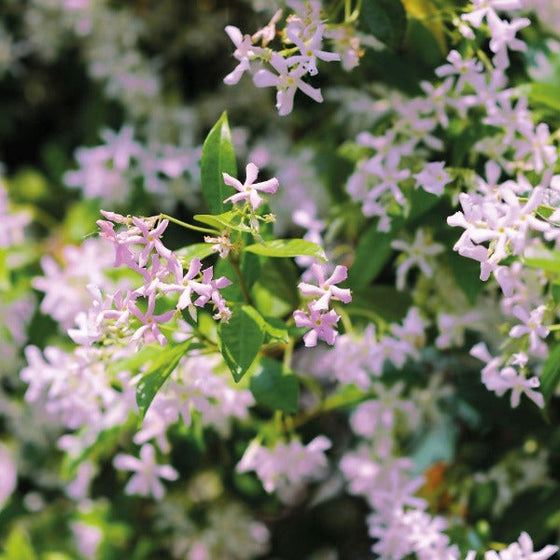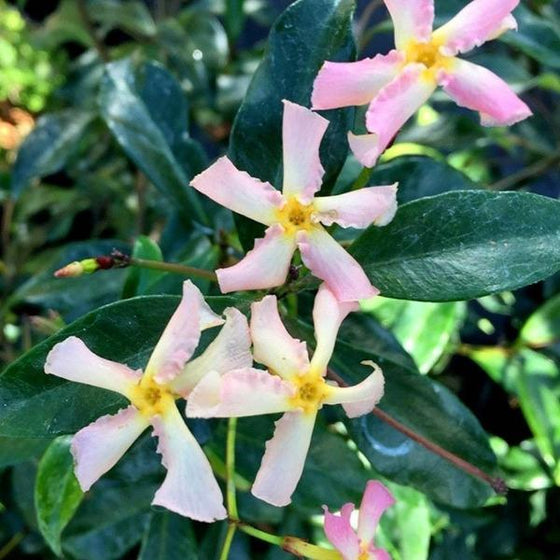 Images Depict Mature Plants
'Pink Showers' Star Jasmine for Sale Online
Pink Shower Star Jasmine (Trachelospermum jasminoides 'Pink Showers') is a cold-tolerant form of the popular climbing or spreading star jasmine. Deep green leaves highlight the clusters of incredibly fragrant pale pink flowers.
Fast-growing Pink Showers Star Jasmine is ideal for climbing along fences and trellises but will also make an excellent groundcover. They can reach upwards of 10 feet tall and 4 feet wide in 10 years' time.
This evergreen perennial has year-round interest. However, for those who live in northern climates, be sure to bring in your Pink Jasmine planted in containers during the winter months.
The pink, fragrant flowers bloom in the spring and periodically through the summer and fall until the first frost. Their fragrant flowers will impress any guest when placed in a container on your front patio. Don't just take our word for it, buy one for yourself!
---
| | |
| --- | --- |
| Hardiness Zone: | 7-10 |
| Mature Height: | 8 to 12 Feet |
| Mature Width: | 8 to 10 Feet |
| Sunlight: | Full sun to partial shade |
| Water Requirements: | Water well until established |
| Flower Color: | White and pink |
| Details: | Excellent vine for trellises, arbors, and fences |
Growzone: 7-10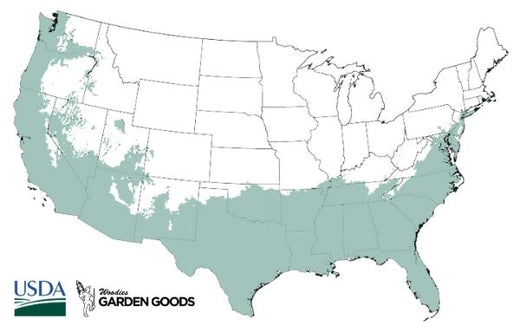 How to Care for Star Jasmine 'Pink Showers' Vine
Be sure to read our planting instructions to ensure a healthy and happy plant for years to come!

How do I plant a Pink Showers Star Jasmine?
Pink Shower Star Jasmine grow in a variety of soil options. When used as a ground cover, plant your Pink Shower 5 feet apart and use clippings to propagate for a wider growth pattern. If you want your plant to climb, plant it near the base of any fence or trellis and watch it grow in an upwards trend.

How often do I water Pink Showers Star Jasmine?
Pink Shower Star Jasmine's watering routine depends on how it is planted. If planted in your garden, watering at least once a week will do the trick. If planted in a container water slightly more often because their soil does not like to dry out completely. If potted, we recommend watering several times a week. A good rule of thumb is to check if the top layer of soil is dry, if so, water! In the summertime, keep a close eye on your plant especially if it placed in the full sun. They tend to dry out quickly in hot, dry conditions.

How Much Sunlight Should My Pink Showers Star Jasmine Get?
For the best blooming outcome, plant in full sun; however, they will still thrive in partial to full shade spaces. Be cautious about the hot summer months because these plants tend to dry out much quicker in hot climates. Best practice is to water them more frequently when the sun is brighter and warmer during the late spring and summer.

What Type of Fertilizer Should I Use with My Pink Showers?
Star Jasmines can continue and enjoy to grow in urban areas with high levels of pollution. We recommend you go easy on fertilizer when taking care of this plant. During the spring and fall months, apply a balanced fertilizer once a month. Best practice is to use 1/2 tsp of fertilizer per gallon of water used.
---
Other Products you may be interested in
---
Customer Reviews