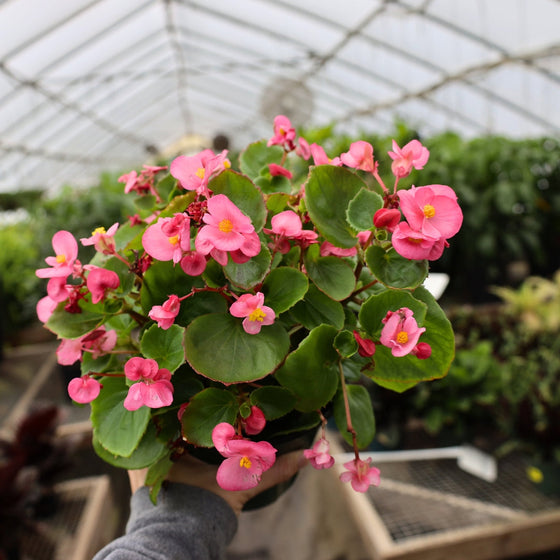 Images Depict Mature Plants
Green Leaf Pink Begonia Plants for Sale Online
Pink Begonia is an annual flower that yields rose "orchid-like" flowers. Their glossy heart-shaped leaves complement their flowers with their deep green hue. Pink Begonia can be planted as container plants or in hanging baskets and used for mass planting, border edging, or general garden use. 
---
Growzone: 9-11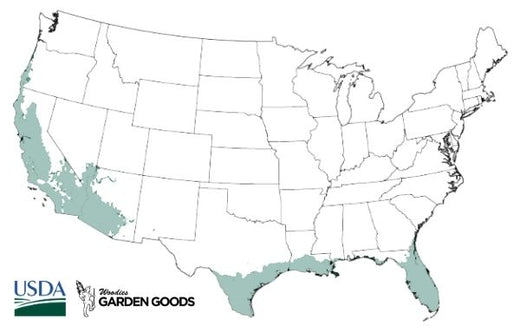 | | |
| --- | --- |
| Hardiness Zone: | 9-11 |
| Mature Height: | 12 to 18 Inches |
| Mature Width: | 12 to 15 Inches |
| Classification: | Annual |
| Sunlight: | partial sun, partial shade |
| Habit: | Upright |
| Flower Color: | Pink |
| Foliage: | Glossy dark green |
| Soil Condition: | well-draining, moist |
| Water Requirements: | Likes to stay slightly moist |
| Uses: | mass planting, container plant, hanging basket |
---
How to Care for Pink Begonia
Before you buy a Green Leaf Pink Begonia plant, make sure to read about the care instructions that are required and recommended to keep this plant healthy and thriving!

How Do I Water Green Leaf Pink Begonia?
Green Leaf Pink Begonia requires evenly moist well-drained soil to thrive. However, it is important not to overwater because if they sit in standing water, they will die. A regular watering schedule will be the most beneficial for the plant's success. We recommend watering at the base of the plant to keep their foliage dry and to prevent any leaf spot or diseases.

What Type Of Fertilizer Does Green Leaf Pink Begonia Require?
To keep your Green Leaf Pink Begonia in its best shape, we recommend feeding them every 10 days in the summer. Any liquid fertilizer that has been diluted slightly will work perfectly. This will ensure your plant's flowers will bloom to their best potential. Avoid fertilizing in the fall and winter time to minimize the risk of any plant damage.

What is The Best Soil for My Green Leaf Pink Begonia Begonia?
Green Leaf Pink Begonia requires rich, well-draining soil. It is not particular to a specific pH and can tolerate urban polluted locations. The well-draining soil will help avoid any possibility of root rot, a disease this plant is susceptible to. However, this plant does require its soil to be moist at all times. It is a tricky but important balance for your plant to get enough water and have its soil be moist without overwatering at the same time.

How Much Sun Does My Green Leaf Pink Begonia Need?
Green Leaf Pink Begonia prefer a more shaded location that receives a little sunlight each day. Even though they can survive in full sun, they do their best when given time away from the sun. If you are planting this annual in a garden, place it in a location that can be mostly shaded throughout the day. If you are using it in a container outside, make sure you place it in a location that does not get lots of direct sunlight. This will avoid any risk of burning the leaves or causing any other damage.
---
Frequently Asked questions
Will My Green Leaf Pink Begonia Attract Pollinators?
How Do I Successfully Grow My Green Leaf Pink Begonia Indoors?
Why are My Green Leaf Pink Begonia Dropping?
---
Other Products you may be interested in
---
Customer Reviews