Images Depict Mature Plants
Pieris Valley Fire Shrubs for Sale Online
Pieris Valley Fire Shrubs (Pieris japonica) is an evergreen plant with fiery red growth complemented by deep green foliage. Their broad, drooping clusters of white flowers "cool the flames" of their vibrant red blossoms; a contrast that creates a beautiful show in any garden. This shrub is ideal as a foundation plant, landscape grouping, or any unique Japanese Tea Garden. If you already have established azaleas in your landscape, Valley Fire shrubs are a beautiful companion for these plants.
Pieris Valley Fire shrubs require acidic, rich, well-draining soil conditions and shady areas. It is crucial to never allow this plant's soil to be oversaturated with water; this could cause root rot and damage your beautiful plants. Watch out for Pieris Lacebug infestations, a disease-specific to this shrub.
---
| | |
| --- | --- |
| Hardiness Zone: | 6-8 |
| Mature Height: | 5 to 8 feet |
| Mature Width: | 3 to 5 feet |
| Classification: | Broad Leaved evergreen shrub, Early to Mid-Spring flowering |
| Sunlight: | Part Shade to Part Sun |
| Habit: | Upright, Compact, densely branched |
| Flower Color: | Red and white flowers |
| Foliage: | Dark green |
| Pruning Season: | Late Summer, promotes increased branching and more flowers however rarely needs pruning. |
| Soil Condition: | Any well drained soil |
| Water Requirements: | Water well until established. |
| Uses: | Extremely attractive when used as a focal point in the mixed border, mass planting, or a specimen planting. Provides nectar sources for pollinators. Great winter interest due to the flower clusters. |
Growzone: 6-8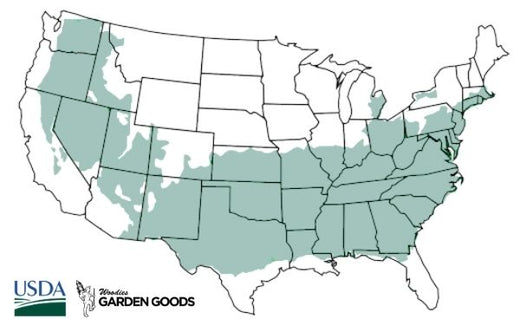 How to Care for Pieris Valley Fire
Be sure to read our planting instructions to ensure a healthy and happy plant for years to come!

How Much Water Does My Valley Fire Shrub Need?
If your shrub is a new plant, make sure to water them weekly throughout their first growing season. If you live in an area with more frequent rainfall, you might need to water them less. However, in most climate zones, you could set up a slow, one-hour trickle of water that will allow your plant to soak up the correct amount of water. During the hot summer months, soak the ground every few days instead of watering a little bit each day. Doing so will allow your plants to have consistent soil moisture instead of dry soil, wet soil, and back to dry soil every single day. Also, deep watering encourages your Valley Fire's roots to grow further into the ground resulting in a sturdier plant that will become drought-tolerant. If you want to check on your soil's moisture level, we recommend sticking your finger about 2 to 4 inches down; if the soil is dry, it is time to water.

Does My Pieris Valley Shrub Need to be Fertilized?
Pieris, such as Pieris Valley Fire, grow best if they are fertilized twice a year, once in the spring and once in the summer. Although some authorities recommend particular fertilizer mixes to get the maximum results, Pieris do amazingly well with a more relaxed approach. Apply an early spring fertilizer with a product such as Espoma Tree-tone or Plant-tone at the recommended rate to give the plant a boost of nitrogen needed for healthy abundant foliage. Follow this up with an early summer application of Espoma Holly-tone to provide the necessary nutrients and raise the acid level in the soil that Pieris favor. If chemical fertilizers are used on your Pieris Valley Fire, applying a slow-release, balanced fertilizer once a year is probably the simplest solution. Fall is the time for Pieris to begin preparing for dormancy. Fertilizing at this time may stimulate new growth that will be too tender to withstand the winter. As with chemical fertilizers, do not apply it right next to the trunk or stems emerging from the ground.

What Kind of Soil Does My Pieris Valley Fire Shrub Need?
Pieris Valley Fire Shrubs are very fussy about their soil conditions. These shrubs thrive best in rich, well-draining, acidic soils. It is crucial to make sure you never let this plant's roots sit in standing water for too long. If this happens, it will cause root rot disease and damage your plant's health. If you plant your Valley Fire shrub in alkaline soils, you will notice their leaves turn yellow; this is a process called chlorosis. If you have a sandy soil area of your landscape, this would be the perfect location for your shrub. If your soil is not acidic, add an acidifier to the soil to help ensure your plant grows properly.

How Do I Prune My Valley Fire Shrub?
You will need to prune your Valley Fire shrub to remove any dead branches or foliage. Doing so will encourage bushier growth, more flowers, and maintain your desired shape and size. If you see dead branches on your shrub, they must be removed close to the trunk-flush with the bark. If you are pruning to control your shrub's size or shape, cuts should be made right above a leaf bud and at an angle. This location will be where the new growth sprouts. You can cut your shrubs to keep them shaped like a hedge or any desired shape you prefer. Be sure to use a sharp and clean pruning tool, whether it is sheers or a knife. If they are not clean, they could be contaminated with a previous cutting off a diseased or dead plant. The disease could cross-contaminate onto your healthy Valley Fire shrub.
---
Other Products you may be interested in
---
Customer Reviews