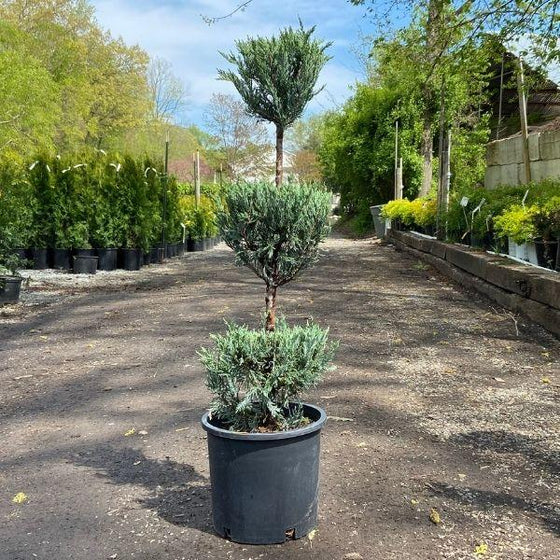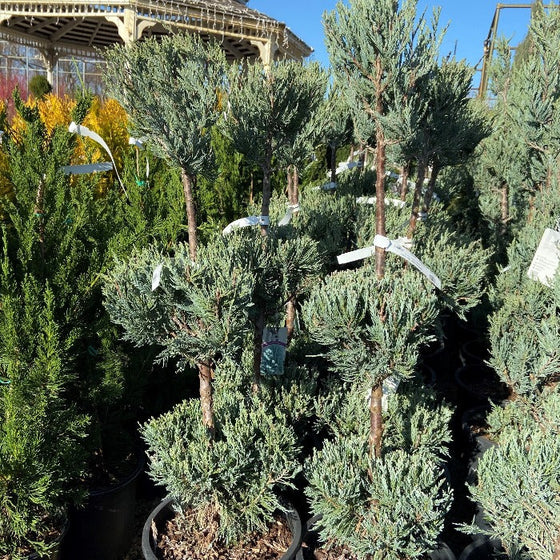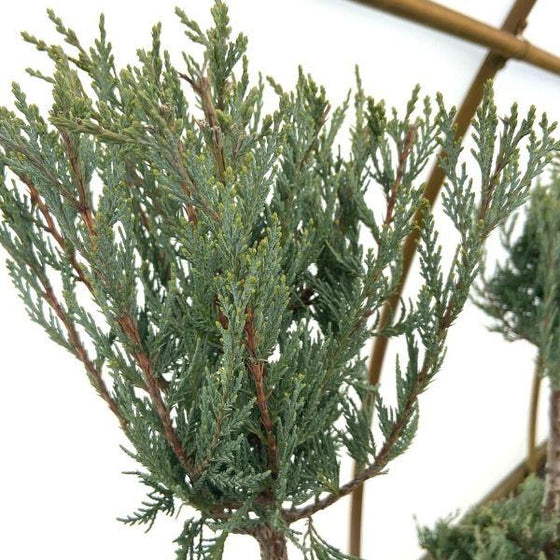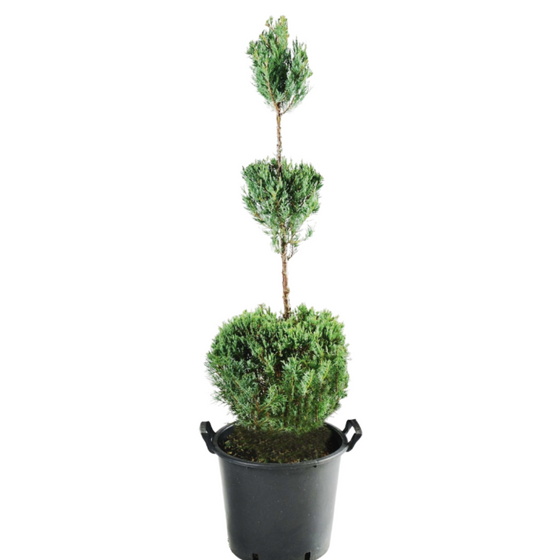 Images Depict Mature Plants
Moonglow Juniper Three Tier Topiary for Sale Online
The Moonglow Juniper tree, a hardy silver-blue evergreen, is now available in a handsome three-ball topiary. Trimmed by hand and carefully maintained to look like a poodle's tail, this unique and handsome specimen is sure to turn heads and start conversations. Bring an air of classic sophistication with a touch of quirky flair to your home. Plant as a focal point or in pairs as a frame to an entryway.
The signature bluish color of the Moonglow Juniper seems to truly glow, especially under snow in a winter interest garden. Since juniper trees grow in a conical habit, the top ball will naturally be smaller than the bottom ball, creating flowing visual interest. No one will mistake this striking live 3 ball topiary for any artificial replica.
---
| | |
| --- | --- |
| Hardiness Zone: | 3-7 |
| Mature Height: | 10 to 20 Feet, 5 to 6 feet in containers |
| Mature Width: | 3 to 4 Feet wide |
| Classification: | Evergreen |
| Sunlight: | Full sun |
| Habit: | Pyramidal, topiary shape maintained with regular pruning |
| Foliage: | Blue green |
| Soil Condition: | Any well drained soil, drought tolerant once established |
| Water Requirements: | Water well until established |
Growzone: 3-7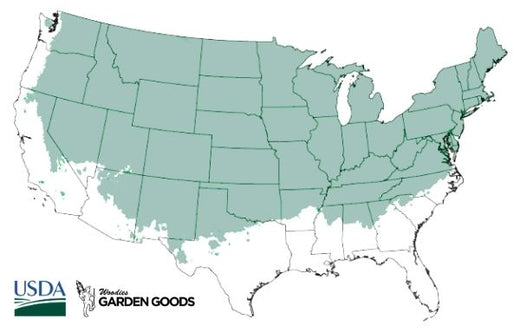 How to Care for Moonglow Juniper Three Tier Topiary
Before you buy a Moonglow Juniper Shrub, make sure to read about the care instructions that are required and recommended to keep this plant healthy and thriving.

How do I plant a Moonglow Juniper 3 Ball Topiary?
We suggest when planting your newly purchased live topiary tree that you dig a hole twice as wide as the root system but not deeper. The most common cause of plant death after transplanting is planting the new plant too deep. A good rule is that you should still be able to see the soil the plant was grown in after planting. Back-fill the hole with an even mix of native soil with organic matter like peat moss to create more drainage and compost or topsoil for nutrients. Pat down and water the area thoroughly. A first watering should be longer than usual. Cover the area with mulch but leave an inch of space around the trunk to allow for growth and airflow.

How often do I water my Moonglow Juniper Topiary?
After planting the Moonglow Juniper, give it a slow, deep watering. Then, check the soil over the roots to see how quickly the water drains from the area. Wait to water again until the top three inches are dry to the touch. Once a week until the tree is established is a good general schedule, but this will depend on the weather in your area. A general rule of thumb is to count to 5 for every one gallon of pot size. Check the plant daily for the first week or so and then every other day there after. Water using the counting method for the first few weeks. This same routine works for patio containers, but a tree in a container will need regular watering even after the first few months.

What type of fertilizer is best for my Moonglow Juniper?
Upright junipers such as Moonglow Juniper grow best if they are fertilized lightly in the spring once frost has passed with a well-balanced, extended-release, fertilizer such as espoma Tree-tone or Holly tone to provide the extra acid that junipers crave. Fertilize Moonglow Juniper again in late summer to mid-fall. Either chemical fertilizers or organic matter can be used successfully with Junipers. Since an organic method of applying manure and/or compost around the roots, produces excellent results and also improves the condition of the soil, this would be an excellent first line of attack. Organic additions to the soil can also be combined with a shot of chemical fertilizer for maximum effect. If chemical fertilizers are used on your Moonglow Juniper, applying a slow-release, balanced fertilizer once a year is probably the simplest solution. Don't fertilize Moonglow Juniper after August. Fall is the time for junipers to begin preparing for dormancy. Fertilizing at this time may stimulate new growth that will be too tender to withstand the winter. Use less fertilizer for junipers in a container.

How to prune and maintain my live topiary tree?
In order to maintain the handsome three ball poodle look of this Moonglow Juniper Topiary tree, you will need to prune them on a semi-regular basis. You can do this in a few ways, depending on the look you want. If you want the topiary to have a more natural feel, then we recommend pruning by hand and selecting which shoots of growth need to be trimmed individually. Start from the top and work your way down, following each extending branch and cutting it at the point where it will match your desired shape. If you want a cleaner more geometric shape, then you may carefully use a longer set of shears (or an electric hedge clipper for larger areas) and shear away anything outside of your desired shape. Either way, it is better to stay conservative - it is easier to trim more than to put branches back on. Planting your tree in full sun and providing fertilizer at the right times will help encourage fuller growth within the foliage, which is ideal for a lush topiary look. Make sure to keep an eye out for any dead, damaged or diseased branches, and remove them as far back as you can. The best time to clean the tree of any dead or damaged branches is early spring, after the last frost and before major growth.
---
Other Products you may be interested in
---
Customer Reviews