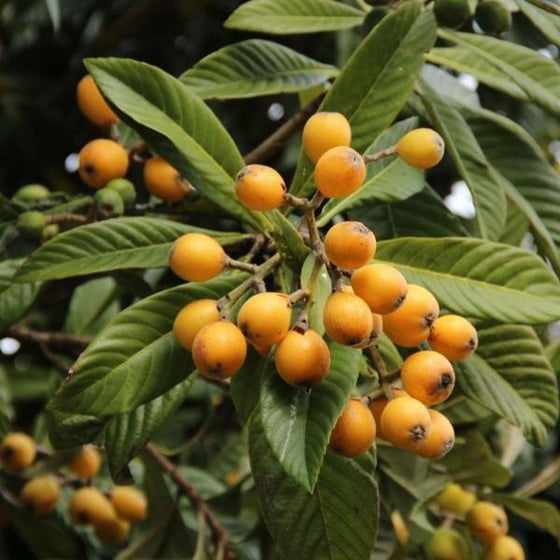 Images Depict Mature Plants
Gold Nugget Loquat Trees for Sale Online
Loquat trees are very versatile trees for landscaping. Loquat trees produce small yellow fruits, pear-shaped but the size of kumquats. They are edible and have a sweet, acidic taste, perfect for all foods, from chutneys to fruit smoothies. You can grow one in your backyard and enjoy the fruit and the year-round interest the tree provides. The dark green glossy leaves are oblong and come to a point, bringing a tropical look to any landscape. Gold Nugget Loquats are self-pollinating and do not require a different variety for fruit production.
NOTE: Does not ship to Arizona (AZ), California (CA), or Texas (TX) due to Phytosanitary rules and regulations.
---
Growzone: 8-11
| | |
| --- | --- |
| Hardiness Zone: | 8 - 11 |
| Mature Height: | 25 to 30 Feet tall |
| Mature Width: | 15 to 20 Feet |
| Classification: | Evergreen fruit tree |
| Sunlight: | Full sun to part shade |
| Habit: | Upright, rounded |
| Foliage: | Dark green |
| Flower: | White, fragrant |
| Fruit: | Yellow; tastes like mango, honey, peach, and citrus |
| Soil Condition: | Well drained; loamy, clay, sandy, peat |
| Water Requirements: | Water well until established |
---
How to Care for Gold Nugget Loquat Tree
Before buying your new Loquat Fruit Tree, read all of the recommended care instructions to ensure a happy and thriving tree.

How do I plant a Loquat Tree?
Since Loquat trees can grow to be up to 20 feet wide and 30 feet tall at maturity, you're going to need to make sure they are at least 20 feet away from any buildings, walls or fences. It does not need to be this far from other plants, especially if you are planting a hedge. Dig a hole twice as wide and the same depth as the container it arrived in. Mix the soil at the bottom of the hole with an even mix of native soil and organic matter, such as peat moss or humus. This is also the time to apply a starter fertilizer, such as Espoma Bio-tone Starter Plus. Then, position your tree in the hole so that the top of the soil it arrived in will still be visible, and backfill the hole with the 50/50 organic soil mixture. Pat down gently, and cover the area with 2 - 3 inches of organic mulch, such as hardwood chips. This will help prevent weeds. Do not put the mulch too close to the young tree trunk, leave an inch of space. Water your new tree thoroughly, then monitor the moisture levels each day for the next few weeks.

How much water do Loquat Trees need?
Loquat trees are considered a great specimen tree for xeriscaping, or landscaping drought-tolerant plants with water conservation in mind. Once established, they still need water but they do not need as much water as other fruit trees. The best method is to water them thoroughly, then let the soil dry out completely before watering again. This is, of course, after they have fully established themselves in their new environment - using this technique too early can negatively affect a young tree. You also do not want to overwater a young tree, as drowning the roots is a common cause of tree death. Using a Treegator bag can help regulate the amount of water going into the soil, so that you know your new Loquat tree is getting exactly what it needs to thrive and no more. We also recommend the 5 count rule - for every gallon of container size, water for 5 seconds from a standard garden hose. For a 3 gallon pot, water each loquat tree for 15 seconds, for a 5 gallon pot water for 25 seconds. Wait for the top 3 inches of soil to dry before watering again.

How should I fertilize a Chinese Plum tree?
Chinese Plum Trees, or Loquat Trees, are going to benefit greatly from a well-balanced fertilizing routine, about 3 to 4 times a year, spread out over the growing season. Loquats bloom with white flowers in the late fall and early winter in zones 8 through 10, and the loquat fruits ripen by early to mid spring. With this routine in mind, the best times to fertilize are Late March, Early May, Mid July, and Early September. This way the tree has the nutrition it needs to grow, but you are not causing the fruit to grow too quickly and fall off of its stem before it is ripe. The earliest you should fertilize is March and the latest is October, as long as your tree has not set flower buds yet. We highly recommend a fertilizer meant for fruiting citrus trees, such as Foxfarm's Citrus and Avocado Fertilizer or Espoma Citrus-tone.

How do I prune a Loquat Tree?
The best time to prune a loquat tree is after you have harvested all of your loquats, about late spring to early summer. Even if you live in a zone where it will not flower or fruit (zone 11), this is still the ideal part of the growing cycle in which to prune a Japanese Plum Tree. They are fast growing trees, used for privacy screens as well as specimen fruit trees, so pruning will greatly benefit your loquat, especially if it is growing close to other plants or is in a smaller yard. Remove dead and damaged branches, any branches that cross over each other and rub, and up to a quarter of the remaining branches. Pruning will help create more airflow through the branches as well as prevent your tree from growing to an unmanageable size. During the first two years of a new tree's life, we recommend removing fruits before they ripen (or at least half of the fruits), so that it can focus more energy on becoming a better established tree. This will help encourage better fruit yields in future years.
---
Additional Information
Loquat trees are low maintenance and grow very tall, up to 35 feet at maturity. While many people use loquat trees as a specimen tree, others have used this lush evergreen as privacy screens as well. The white flowers are very fragrant and bloom in the fall and winter. Native to China and Japan, they are also known as Chinese Plums or Japanese Plums. In China they are called pipa, because the shape resembles a popular Chinese instrument. Zones 8 to 10 are ideal, but they can tolerate down to zone 7 (if the winters are mild) and up to zone 11 (but they will probably not produce fruit in that heat).
---
Frequently Asked questions
Do Loquat Trees Need a Pollinator?
Are loquats edible?
Are loquats sensitive to cold?
---
Other Products you may be interested in
---
Customer Reviews