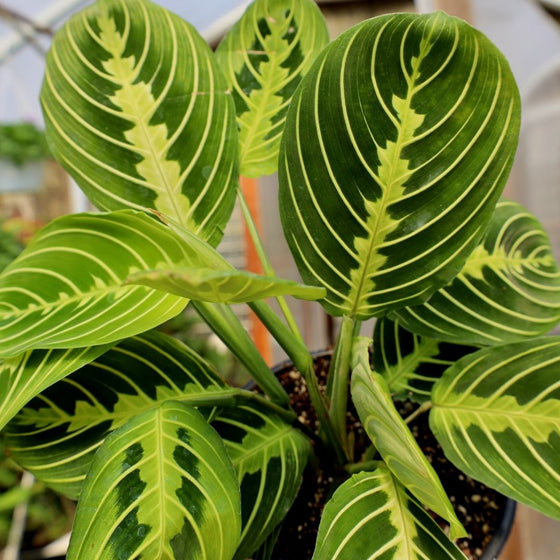 Images Depicted Range in Maturity & Container Size
Pots Not Included Unless Otherwise Stated
Lemon Lime Maranta Plants for Sale Online
Lemon Lime Maranta Plants have round leaves with green and yellow striped upper surfaces and an underside of a dark green color. It has an elliptically shaped leaf with white accents.
Lemon Lime Maranta Plant looks like it's been painted, but that's really how beautiful the leaves are on this lemon-lime-colored prayer plant. This family of plants is known for its bright, intense foliage as it performs well indoors and holds its color without much light or care. The foliage is both cat and dog safe, according to the ASPCA Plant Toxicity List. The leaves move up and down in changing light, as if in prayer, hence their common name prayer plant. 
---
Growzone: 9-11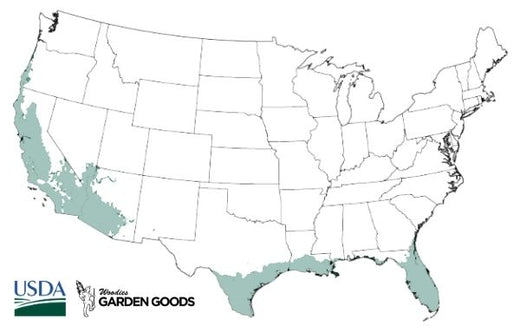 | | |
| --- | --- |
| Hardiness Zone: | 9-11 |
| Mature Height: | 20 inches |
| Mature Width: | 10 to 16 Inches |
| Classification: | Colorful Foliage |
| Sunlight: | Fluorescent to bright, indirect |
| Habit: | Upright |
| Flower Color: | Small white & purple flowers in summer |
| Foliage: | Dark Green and yellow elliptic with darker underside |
| Soil Condition: | Well draining |
| Water Requirements: | Likes to dry out between watering |
| Uses: | Excellent indoors in offices or low light areas, pet safe, air cleaning plant |
---
How to Care for Lemon Lime Maranta
Before you buy a Lemon Lime Prayer Plant, read these recommendations for optimal Lemon Lime Maranta care.

How do I water Maranta Lemon Lime?
Lemon Lime Maranta Plant like to dry out occasionally between watering. They will tolerate staying moist, but prefer to not have constantly wet soil. Maranta Prayer Plants appreciate humidity, so a pebble tray or window in the kitchen or the bathroom would suffice.

How do I fertilize Lemon Lime Maranta Plants?
Lemon Lime Maranta Plants will respond well to any well-balanced indoor plant food, either water soluble or slow-release. We recommend following the label's recommended dose, or cutting the dose by half for a softer effect that will be less likely to burn the roots. Feed on a regular basis from early spring to late fall - taper off and stop before winter: even tropical houseplants will do dormant in winter months.

What is the best light for Lemon Lime Maranta Plants?
Lemon Lime Maranta Plants do well with bright, indirect light. An eastern or northern facing window would be ideal. A western or southern window would work, as long as a curtain or blind prevents direct light from touching the foliage. This plant also performs well without any bright indirect light, and just fluorescent light. These make great office plants since they are tolerant of fluorescent lights.

What is the best soil for Lemon Lime Prayer Plants?
Lemon Lime Maranta Plants need a very well draining soil, and prefer to have slightly dry conditions. Regular potting mix or potting mix with sand or fir bark mixed in works well for plants potted in containers. Maranta Prayer Plant likes to be root bound so wait until the roots are showing at the drainage sites before potting up.
---
Additional Information
Maranta Lemon Lime likes to dry out between watering. While it can tolerate moisture, it prefers not to sit in water, and the minerals in tap water can cause leaves to brown at the tips. The foliage will fade or burn if exposed to excessive light. Maranta or Lemon Lime Prayer Plant does especially well in low-light areas. The unique foliage is elliptic & oval-like. It is a part of the Marantaceae family.
A happy Lemon Lime Prayer Plant is a perfect subject for a time-lapse and that is the best way to see all the different ways the leaves like to move. If the leaves stop moving regularly, it might mean your plant is not happy. Are you using filtered water? If not, try switching to filtered to see if it perks up and moves throughout the day again. Also check for pests or root rot, as these can contribute to your Prayer Plant shutting down.
---
Frequently Asked questions
How do I Propagate Lemon Lime Prayer Plants?
---
Other Products you may be interested in
---
Customer Reviews