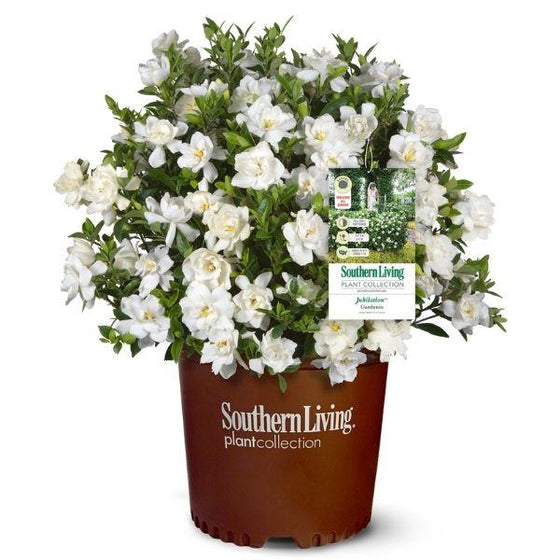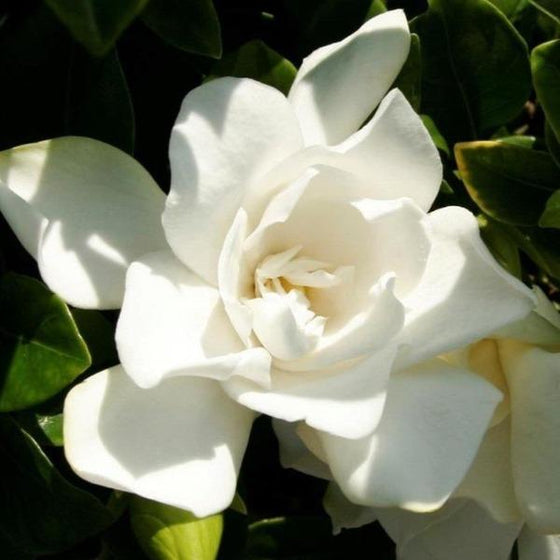 Images Depict Mature Plants
Jubilation Gardenia Shrubs for Sale Online
Jubilation Gardenia (gardenia jasminoides 'Jubilation') will rarely ever supply you short of flowers from summer to fall. Their rich aromas and snowy-white double blooms go perfectly planted as an accent, hedge, or along a pathway in your garden. Jubliation's easy-to-maintain shrubs grow 3 to 4 feet tall and wide at full maturity, making them super easy to place virtually anywhere in your garden.
They thrive best in full sun and acidic soil, so when planting, take into consideration your growing zone, the location of sunlight in your garden, and how acidic and well-draining your soil is. The best way to ensure you are planting your new shrub in the perfect location is by conducting a soil test. This will be the perfect way to solidify the location in your landscape for your beautiful plant to grow big and strong.
---
| | |
| --- | --- |
| Hardiness Zone: | 7-11 |
| Mature Height: | 3 to 4 Feet |
| Mature Width: | 3 to 4 Feet |
| Classification: | Evergreen shrub |
| Sunlight: | Full sun to partial shade |
| Habit: | Mounded, spreading |
| Foliage: | Evergreen |
| Flower Color: | Snow-white |
| Soil Condition: | Any well drained soil, likes acidity |
| Usage: | Deer resistant, used for accent or as a hedge |
Growzone: 7-11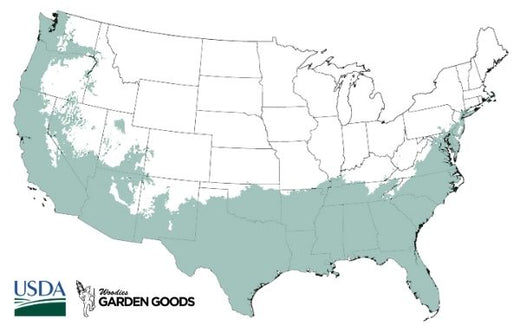 How to Care for Jubilation Gardenia
When purchasing your Jubilation Gardenia Shrub, be sure to read the recommended care instructions for a healthy and thriving plant!

When Should I Water My Jubilation?
When your shrub is first planted, water thoroughly watching for how quickly the top 2 inches of soil dry out. This simply indicates how well your soil drains and how your plant is adjusting to its new habit. Even thought they are fairly drought-resistant plants, their soil must remain moist on a regular basis but never soggy. The soil should be this way for the first 4 to 6 weeks. After your plant has had time to establish, water once a week up to every other day. This is depending on the climate you live in. If you live in the norther climates, water frequently and if you live in southern climates, water them more frequently. Not sure if your plant is ready for water? Check your soil about 3 inches down for dryness. If it's dry, water, if the soil is moist, leave it be.

What kind of soil do Jubilation Gardenia Shrubs prefer?
Gardenias love to grow and thrive in consistently moist, acidic, well-drained, and organic soils. Because they prefer a soil with more acidity, conduct a soil test before planting. If the test comes back with a higher pH level, add a soil acidifier to help balance the shrub's new habitat. When transplanting your plant into your garden, handle with care to avoid disrupting their roots system. Amending the local soil to ensure there is adequate drainage is key to avoiding root rot on your plant. Peat moss or fir bark are great choices to help create a better drainage system if you soil contains high amounts of clay.

How Should I fertilize my Jubilation Gardenia Shrub?
Jubilation gardenias do not require tons of fertilizer, but the do require some. The best time to do so is in early spring with a slow-release, balanced fertilizer, or use an organic acidic fertilizer to keep your plant happy and healthy. If your shrubs leaves appear yellow, mix a tablespoon of Epsom salt with a gallon of water and apply around your plant. Don't forget this evergreen plant does enter a period of growth dormancy during the winter months. Avoid any fertilizer during the early winter so you don't disrupt their dormancy.

How Much Sunlight Do Jubilation Gardenias Need?
Of course all plants need sunlight to bloom, but reblooming plants, such as this one, need it much more. Your gardenia prefers full sun and can handle partial shade for a few hours each day. If you live in the norther climates, place your plant where it can receive 4 to 6 hours of full to partial sunlight each day. If you live in the southern climates, plant your shrub where it will get 3 to 5 hours of partial sunlight to partial shade.
---
Frequently Asked questions
How Do I Plant My Jubilation Gardenia?
What Plants Compliment Gardenia Shrubs?
Can My Jubilation Gardenia be Grown Indoors?
---
Other Products you may be interested in
---
Customer Reviews