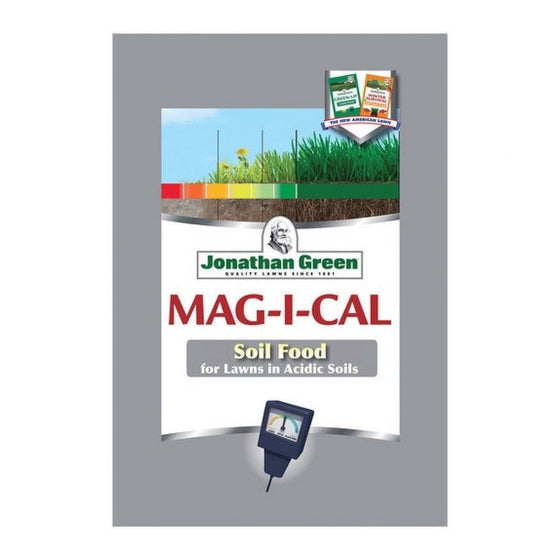 Jonathan Green Mag-I-Cal® for Lawns with Acidic Soil for Sale Online
Jonathan Green's Mag-I-Cal® for Lawns in Acidic Soil contains calcium carbonate in an entirely soluble form that is immediately available to adjust soil pH upwards. Poor soil is often the problem in growing a great lawn, and calcium is vital to many grass plant functions.
Lawns thrive in soil with pH levels between 6.2 and 7.0. When the soil's pH level is below this range, grass becomes light green, weeds persist, and fertilizer nutrients are not fully absorbed. When soil chemistry and biology are balanced, nutrients from lawn foods are not wasted, and the grass will thrive. Mag-I-Cal® Plus also contains humates to stimulate soil microbial life.
About Your Jonathan Green Mag-I-Cal®
onathan Green's New American Lawn Plan is the answer to your lawn care problems! When you feed the lawn AND THE SOIL, you will stimulate the vast array of soil life, reduce soil compaction, and balance soil pH for the greatest looking lawn ever. When seeding, plant Black Beauty grass seed. It contains superior varieties that will improve even the poorest lawn. With a deep root system, waxy coating to preserve moisture, and dark green color, Black Beauty is the premier choice for many leading sod growers across the USA. After using it, you'll agree, "Once you have seen a Black Beauty Lawn you will never forget it!"
---
Frequently Asked questions
When should I apply Jonathan Green Mag-I-Cal?
How do I apply Jonathan Green Mag-I-Cal?
How much are will one bag of Jonathan Green Mag-I-Cal cover?
When Can I apply Jonathan Green Mag-I-Cal?
---
Customer Reviews