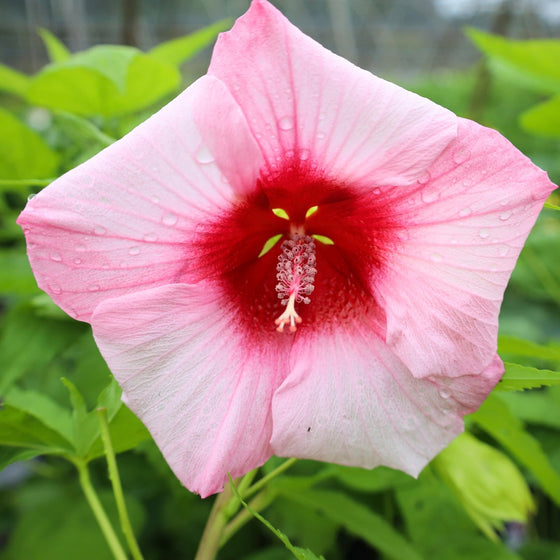 Images Depict Mature Plants
Hibiscus Lady Baltimore for Sale Online
If you are looking to add some summer drama to your garden, Hibiscus Lady Baltimore is the perennial for you! This compact, well-branched shrub produces large, satin-pink flowers that have a brilliant scarlet-red center. Their petals are ruffled and overlapping, making them show-stopping blossoms.
Hibiscus Lady Baltimore blooms from midsummer to fall each year. We recommend you plant your Hibiscus in a shrub border or a large container and place it on your deck or patio. Grow your Hibiscus in full sun to part shade, average well-draining soil, and always make sure their soil stays evenly moist.
---
Growzone: 5-9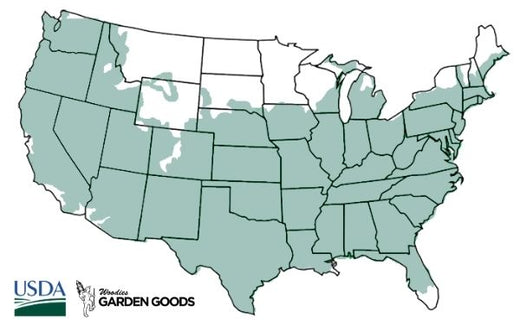 | | |
| --- | --- |
| Hardiness Zone: | 5-9 |
| Mature Height: | 4 to 5 Feet |
| Mature Width: | 3 to 4 Feet |
| Classification: | Perennial |
| Sunlight: | Full sun, partial shade |
| Habit: | Upright, compact |
| Flower Color: | Pink with scarlet-red center, 6 inches across |
| Flowering Season: | midsummer to late fall |
| Foliage: | Green |
| Soil Condition: | Prefers evenly moist soil |
| Water Requirement: | Water well until established. |
---
How to Care for Hibiscus Lady Baltimore
Before you purchase your Lady Baltimore Hibiscus, be sure to read the recommended care instructions to ensure your plant remains happy and healthy for years to come!

What Kind of Soil Do Hibiscus Lady Baltimore Prefer?
Hibiscus Lady Baltimore perennials thrive in organically rich, well-draining soil conditions. These plants also love to be in acidic soil with additions like peat moss or potting soil mixed into the garden soil. If the soil in your garden is mostly clay, consider planting your Lady Baltimore in a raised bed to help prevent water build-up. Also, make sure your plant's soil conditions are consistently moist. This perennial does not thrive or grow well in dry soil. Well-draining soil will help avoid any risk of root rot disease. The disease happens when your plant's roots sit in standing water for too long, and the water does not drain out.

What is the Best Light for Hibiscus Lady Baltimore Plants?
Lady Baltimore Hibiscus perennials grow well in full sunlight; however, they will grow in partial shade, but not as successfully. If your plant is grown in partial shade, its flowers will not blossom as big as they would in full sunlight conditions. However, if you live in an area with hot summer weather, your plant will benefit from midday shade time. The midday summer sun can be too hot and bright for your plants and could dry out their soil faster. Therefore, shaded time will give your Hibiscus plants a break from too much heat exposure.

How often Should I Prune my Hibiscus Lady Baltimore?
Once you notice your Hibiscus flowers become brown and unattractive, including seed pods, it is time to prune them. This process is called deadheading, and it encourages your perennial to produce new flowers and keeps them attractive throughout the growing season. You can also remove any brown stems or leaves to give your plant a healthier and more attractive appearance. After your Lady Baltimore has finished flowering, cut it back about 6 inches from the ground. In cold climates, cut your plant back just before the first snowfall. In warm areas, cut your plant back in the spring right before it begins to bud.

When Should I Water my Hibiscus Lady Baltimore?
Hibiscus Lady Baltimore plants thrive in moist soil conditions. If your plant does not receive enough water in its soil, its foliage will drop and die. However, if this happens, do not worry; your plant will perk back up as soon as it is thoroughly watered. The key to keeping your plant's soil evenly moist but not too soggy is well-draining soil conditions. If your plant's soil is too wet, it could cause root rot disease. This disease happens when your plant is watered, but the soil is not well-draining, and any excess water sits at the roots and causes root rotting.
---
Frequently Asked questions
How Should I Plant my Hibiscus?
When Should I Fertilize my Rose Mallow Lady Baltimore?
Do I Need to Prune my Hibiscus Lady Baltimore Plants?
---
Customer Reviews