Images Depict Mature Plants
Fargesia Rufa Plants for Sale Online
Hardy Clumping Bamboo Fargesia Rufa plants are the gracefully arching, slower-growing cousin to the invasive bamboo commonly planted in the United States. The Hardy Clumping Bamboo we sell grows to about 7 feet tall and does well in containers, as a border, or even as a focal point or specimen plant. It can also be used as an evergreen privacy screen.
---
Growzone: 5-9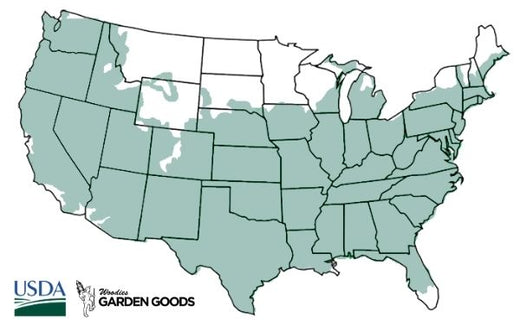 | | |
| --- | --- |
| Hardiness Zone: | 5-9 |
| Mature Height: | 6 to 8 ft. |
| Mature Width: | 4-5 ft. |
| Sunlight: | Full Sun |
| Foliage Color: | Dark green |
| Growth Form: | Dense upright and conical |
| Soil Conditions: | Grow best in average, medium moisture, well-drained soils. Will not tolerate extremely dry conditions. |
| Water Requirements: | Well Drained Soil |
---
How to Care for Fargesia Rufa Clumping Bamboo
Never plant Hardy Clumping Bamboo deeper than originally planted in the pot. As a rule we always say that before you mulch you should still be able to see the soil from the original pot. Planting to deep can cause rotting of the stem and death to the tree. Hardy Clumping Bamboo are fairly drought tolerant, however they grow very slow without adequate water. Staking young trees is recommended to minimize the stress on the stem from winds blowing the tree. When tying trees to stakes remember the tree will continue to grow. Loosely tie the tree with several twist ties to allow for growth. Check trees every three months and loosen as needed. If this is not done, the twist tie will grow into the tree causing injury. The one question that comes up often when talking to customers is "when is the best time to plant."? For the most part, container trees can be planted year around, provided the ground isn't frozen. Below Virginia many nurseries and Christmas tree growers field plant year around, weather permitting. When planting a potted tree, remember the only water source the tree has, is its small root ball, and all the water the tree uses must come from them until new roots can grow into the surrounding soil. New trees should be watered twice weekly, under hot drier conditions possibly more. Care should be taken not to over water. More trees die from over watering than under. How to Water Hardy Clumping Bamboo: After back filling and lightly compacting the 50/50 mix of existing soil and compost give the plant a good deep watering. This is not to be rushed. Most of the water you put on the plant at first will run away from the plant until the soil is soaked. A general rule of thumb is to count to 5 for every one gallon of pot size. For example a one gallon pot would be watered until you count to 5 a three gallon pot would be 15 and so on. Check the plant daily for the first week or so and then every other day there after. Water using the counting method for the first few weeks.
---
Frequently Asked questions
What type of mulch should I use for my Fargesia Rufa Plants?
What is the best fertilizer for Hardy Clumping Bamboo?
---
Other Products you may be interested in
---
Customer Reviews