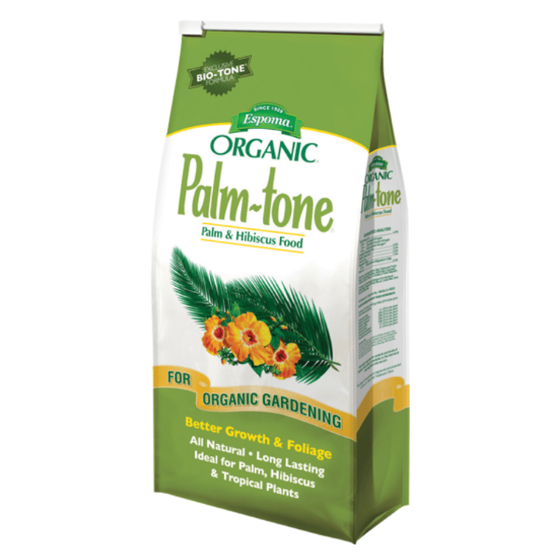 Espoma Organic Palm-Tone for Sale Online
Espoma Palm-Tone Plant Food is an all-natural plant food which is a popular choice for palms, hibiscus, and other tropical plants.
Good for use on both indoor plants and garden plants, this product is a special fertilizer blend that contains 100% natural and organic ingredients to give a balanced and complete food to your plants. It is enhanced with Bio-tone beneficial microbes that boost the growth of the plant and provide the nutrients they need.
About Your Espoma Palm-Tone
Feeding Established Palms Calculate the area beneath the branches of the tree and feed at a rate of 3 lbs. per 100 sq. ft. of area (1 cup per 10 sq. ft.). Apply evenly around the outer edge of the branches of the tree and mix into the soil. New Plantings Dig a hole twice as wide and the same depth as the root ball. Remove 1/3 of the soil and replace it with compost, peat moss or a good planting mix. Mix 1 cup of Espoma Palm-tone into the amended soil. Set the root ball in the hole and back-fill with the amended soil. After settling, the soil level next to the trunk should be at the same level at which the tree grew in the nursery field or container. Water thoroughly after planting. Check soil moisture regularly and water as needed. Feeding Established Hibiscus Follow rates in the chart below and sprinkle the plant food under the outer edges of the branches. Mix into the soil and keep the plant food at least 6″ from the trunk. Water thoroughly after each application.
---
Customer Reviews