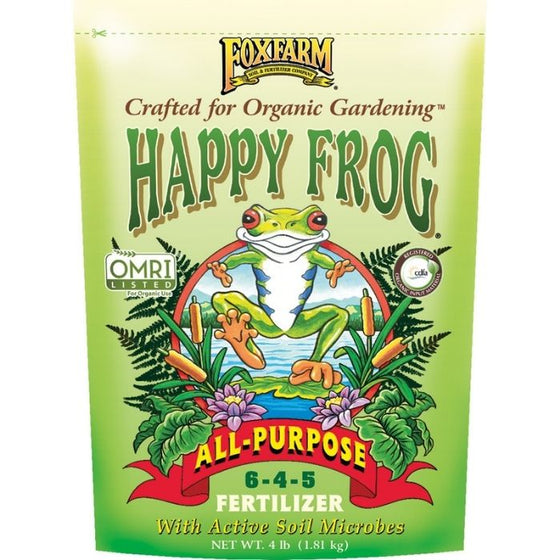 Happy Frog Organic Fertilizer for Sale Online
Happy Frog Fertilizers support healthy growth all season long. It's formulated with premium organic ingredients like feather meal, fish meal, bat guano, and naturally occurring micro-nutrients formed when organic matter decomposes.
About Your Happy Frog All Purpose Fertilizer
Happy Frog All-Purpose Fertilizer, produced by FoxFarm, is a granular fertilizer with both ready-to-use and slow release nutrients. This product is designed for use with vegetable gardens, annual and perennial flower gardens, ornamental plantings, and all types of container gardening. Both new and established plants will benefit from this fertilizer.
All fertilizers have a formula listed as N-P-K, with different numbers for each letter to specify what type of growth it improves. N or nitrogen is for growth and lush vegetation, while P or phosphorous is for fruiting and flowering, and K or potassium is for overall strength and vigor. Happy Frog All Purpose Fertilizer is a 5-5-5, so it's well balanced and designed to help with every aspect of plant health and vigor. In addition to the usual nutrients, Happy Frog All Purpose Fertilizer has beneficial soil bacteria and mycorrhizae as well. Soil microbes help the plant to adjust to new environments, source nutrients in the soil, and more easily move nutrients from the roots through the plant.
All-Purpose is a good general fertilizer to help with the transition to a new environment, or to rejuvenate an established garden. For new container plants, add 1 Tablespoon of Happy Frog All Purpose Fertilizer per gallon of soil. For new in ground plantings, add 1/4 cup fertilizer per 5 gallons of soil mixture, and an additional 1/2 cup of fertilizer around the base of the plant once the hole has been backfilled. For established row plantings, use 2 to 3 cups per 10 square feet of planting area monthly throughout the growing season. For established plantings, scatter 1/2 cup for every 2 feet of plant height. Lightly scratch into the top inch of soil and water thoroughly.
Happy Frog All Purpose Fertilizer comes in a resealable plastic bag with a net weight of 4 pounds. Specific instructions and ingredients can be found on the reverse of the package. This fertilizer is derived from feather meal, bone meal, fish meal, fish bone meal, alfalfa meal, sulfate of potash magnesia, blood meal, bat guano, kelp meal and gypsum.

---
Customer Reviews