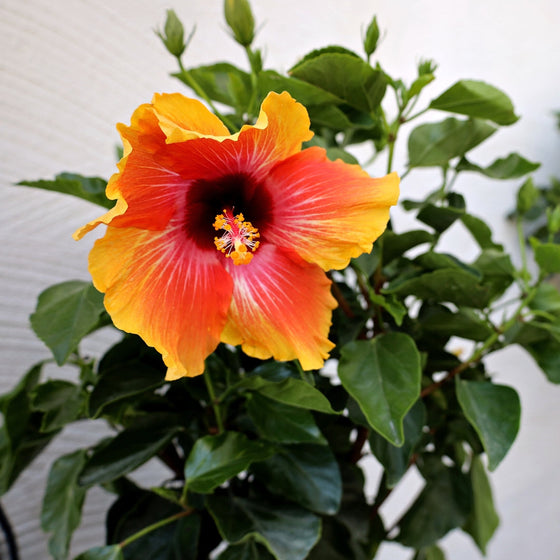 Images Depicted Range in Maturity & Container Size
Pots Not Included Unless Otherwise Stated
Fiesta Tropical Hibiscus for Sale Online
Fiesta Hibiscus (Hibiscus rosa-sinensis 'Fiesta') features bold orange round flowers with gold tons and white flares at the ends of their branches.
As their blooms begin to wilt in the fall, their dark green and glossy foliage last all winter long. These plants make for the perfect hedge or background planting bush for any garden.
Originating in Asia and the Pacific Islands, the hibiscus plant has been cross-bread for decades! This particular hibiscus was cross-bread with the rosa sinensis species to create this multi-colored flower.
Its upright growing habit will be sure to add the perfect accent garden plant you are looking for.
---
Growzone: 5-9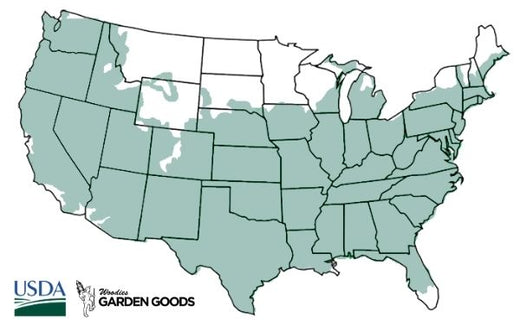 | | |
| --- | --- |
| Hardiness Zone: | 5 to 9 |
| Mature Height: | 6 to 8 Feet |
| Mature Width: | 6 Feet |
| Sunlight: | Full sun to partial shade |
| Flower Color: | Pink and Orange |
| Foliage: | Green |
| Water Requirements: | Prefers a wet location |
---
How to Care for Fiesta Hibiscus
Before you buy Fiesta Hibiscus, make sure to read about the recommended care instructions to keep this plant happy and healthy!

How Should I Water Fiesta Hibiscus?
Fiesta Hibiscus plants should be watered on a regular basis. They love to have moist soil, it is important to not allow their soil to dry out. During their first growing season, water deeply and on a very regimented schedule. We recommend once a week to ensure they establish an extensive root system. If you live in a climate with extreme heat conditions, water your hibiscus more frequently to keep their soil moist.

What Kind of Soil Does Fiesta Hibiscus Prefer?
Fiesta Hibiscus is not too particular to a type of soil, however a slightly more acidic soil usually is the best option. Most peat-based potting mixes work great when growing your hibiscus. Fiesta Hibiscus plants do enjoy moist soil, however a well-draining soil is still preferred to avoid your plant from sitting in standing water. These plants also thrive in urban pollution and inner city environments.

How Much Sunlight Should My Fiesta Hibiscus Plant Get?
Fiesta Hibiscus require full sun for them to reach their best potential. However, they will grow and flower under partial sun as long as they have half a day or more of direct sunlight. During the winter months, often your hibiscus will stop bud formation due to lack of light intensity. They can potentially even fall off as the plant does not have enough energy to continue to develop. For best growth, full sun with southern exposure will produce the most beautiful and full blossoms on your Fiesta Hibiscus.

What Type of Fertilizer Should I Use with My Fiesta Hibiscus?
A regular application of fertilizer is required during growing season for these relatively fast growing plants. A balanced fertilizer will be the perfect option during their active growing season from spring to fall. The constant fertilizer schedule will ensure the highest flower production on your hibiscus. Try using a pearled, slow release fertilizer, they work great to release nutrients over a period of a couple months.
---
Frequently Asked questions
Are Coffee Grounds Good For Fiesta Hibiscus Plants?
Why Do My Hibiscus Flowers Keep Falling Off?
How Do I Get More Blooms On My Fiesta Hibiscus?
---
Customer Reviews