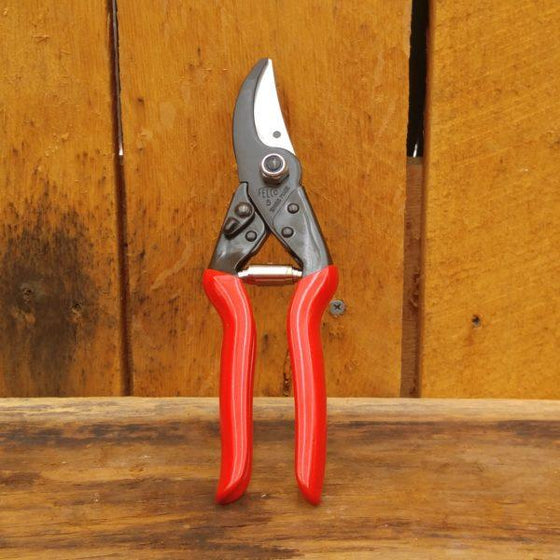 Felco 5 Pruners for Sale Online
This is the lowest-priced FELCO pruner on the market. No cushion stop, sap groove, or wire-cutting notch. Entry-level Feco 5 pruners still offer excellent cutting ability with handles made from solid steel and simplified construction; it is an ideal choice for the home hobby gardener.
About Your Felco 5 Pruner
Reliable, efficient, and ergonomically designed like all the other Felco tools, this pruner provides clean, precise cuts and overall good performance in a more basic and affordable model. Features include sturdy steel handles, hardened steel blade and anvil blade, easy cutting adjustment, and non-slip handle coating. All parts can be replaced. Made in Switzerland by Felco. This economical Felco Hand Pruner is a great choice for crews who lose or abuse their pruners. FELCO's aim has always been, and always will be, to offer innovative and durable solutions to commercial pruning and cutting markets. Even though thier business strategy is very much oriented towards the professional market, domestic users are not left out: those who enjoy the satisfaction of a job well done must also have access to the best cutting and pruning tools. FELCO has forever sought to produce very high quality tools by making use of precise procedures, with a single goal in mind: excellence. Various third-party certifications in areas as diverse as Quality, Environment and Safety are testimony to this. FELCO's Quality, environmental and safety policy is available upon simple request at info@felco.com. FELCO tools are designed to work in harmony with nature. Pruning professionals worldwide appreciate our clean, precise-cutting models because they guarantee the quick healing of the pruning wound. We use Felco's here on our farm and we think it is the first purchase a gardener should make. They are a well crafted tool which will last forever. I was given my first Felco's as a gift at graduation and I still have those today. They have spent everyday with me in the field. This basic Felco Hand Pruner gets the job done without the bells and whistles. Made with solid steel handles and simplified construction.
---
Customer Reviews