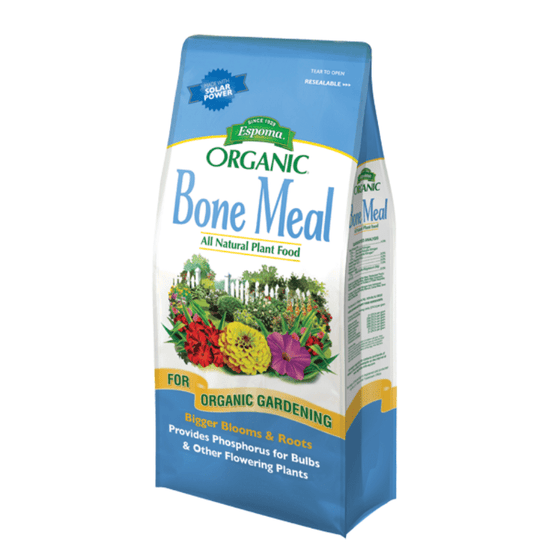 Espoma Organic Bone Meal for Sale Online
Espoma Organic Bone Meal is an excellent source of phosphorus for bulbs, gardens, trees, shrubs, flowers, and roses. Apply at the time of planting, but use in the spring and fall for existing plants.
About Your Espoma Bone Meal
Fall Planted Bulbs:
Allium, Buttercup, Crocus, Daffodils, Dutch Iris, Fritillaria, Grape Hyacinth, Hyacinth, Tulips, Scilla, Snowdrops, Spanish Bluebells, Spider Lily, Starflower
Spring Planted Bulbs
Anemone, Begonias, Caladium, Calla Lilies, Canna Lilies, Crocosmia, Dahlias, Elephant Ears, Freesia, Gladiolus, Lilies, Nerine Lily, Rain Lily, Ranunculus
Bulbs and Gardens:
Apply at a rate of 10 pounds per 100 sq. ft., raking it well into the soil. For individual bulbs, mix 1 teaspoon of Bone Meal into the soil.
Shrubs and Trees:
Apply 1 or 2 pounds depending upon size of shrub or tree. Rake well into soil under entire spread of shrub or tree.
Potted Plants:
Apply 2 oz or one heaping tablespoon per pot and work into the soil. Water thoroughly after applying.
---
Customer Reviews