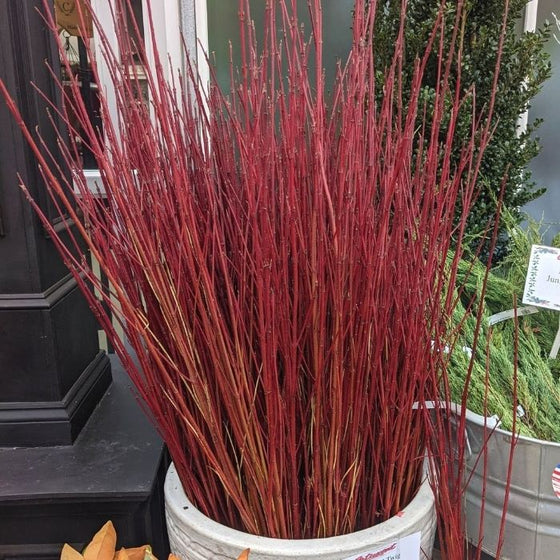 Red Twig Dogwood Stems for Sale Online
Red twig dogwood stems are perfect for beautiful floral centerpieces and holiday decorating. They retain the vibrant red color indefinitely when harvested correctly. This is when we harvest and dry our dogwood branches to preserve the red branches so they will last and look brilliant for a long time in your arrangements. These branches can be easily cut down to fit into whatever size project that you need them for. Dogwood stems are not brittle and can even be soaked in water, and then woven into wreaths or baskets. These deep red branches are sure to please item, get yours today!
Red twig dogwood stems are mixed with all sorts of greens and berries to create festive containers that last throughout the winter season.
Our Red twig dogwood stems are sold in bunches of 8 to 10 stems. Dogwood stems can easily be cut to any length needed. Dogwood stems can be bent and will retain their shape for long periods of time. Simply soak in water overnight and bend into curves or wreaths can be made with dogwood stems but the wreath must be tied to retain its perfectly round shape.
---
Customer Reviews