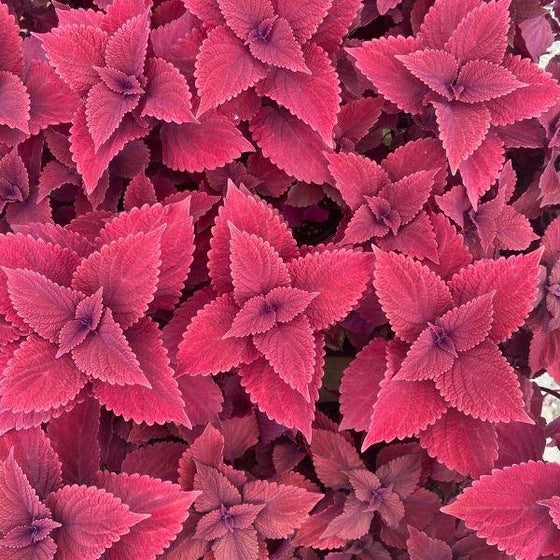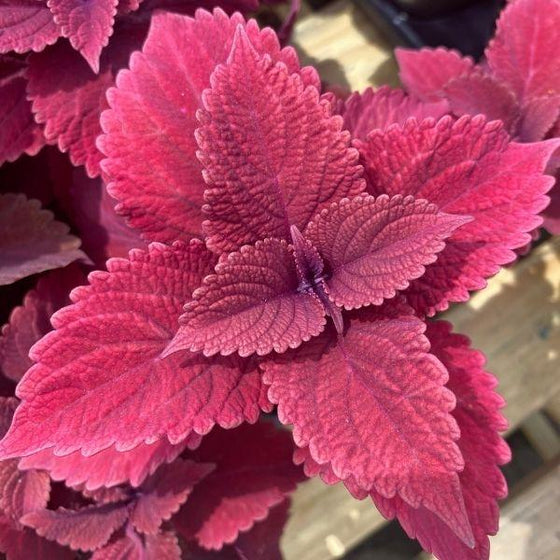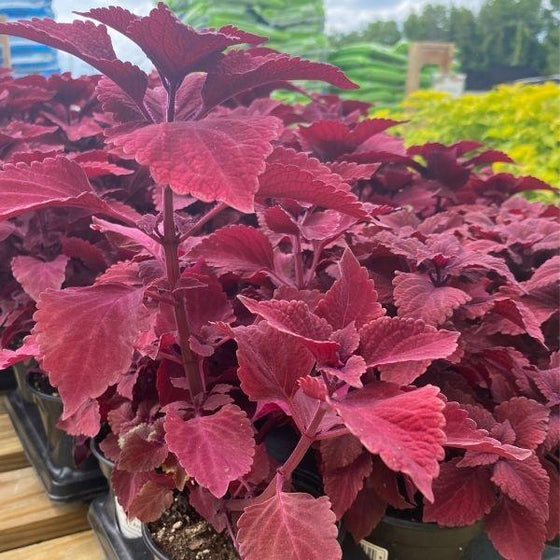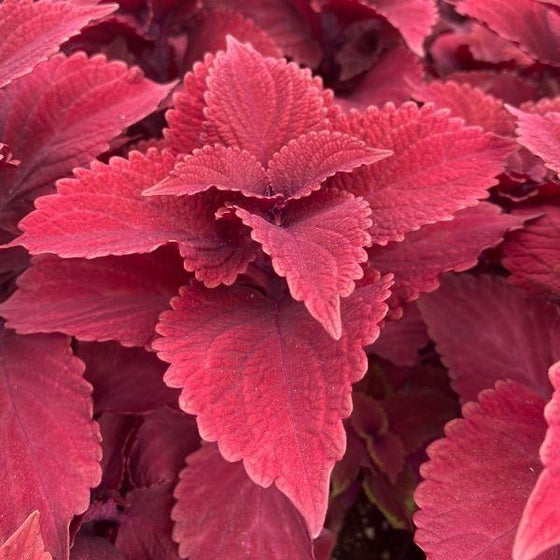 Images Depict Mature Plants
Coleus Red Head Plants for Sale Online
Coleus Red Head plants (Solenostemon scutellarioides 'Red Head') are the perfect colorful foliage annual to plant in your garden or a mixed container. Their chartreuse vibrant leaves have serrated pointy qualities that make them stand out as the focal point in a landscape. This plant has an upright spreading habit and can always be balanced by a couple of finer or coarser plants. Coleus annuals are a relatively low-maintenance plant that will typically thrive without much hassle. As long as your plant is in well-draining, evenly moist soil and receives sunlight and shade times throughout the day, your plant will thrive for its entire growing season.
---
| | |
| --- | --- |
| Hardiness Zone: | 3-11 |
| Mature Height: | 24 to 28 Inches |
| Mature Width: | 18 Inches |
| Classification: | Annual |
| Sunlight: | Partial shade, full sun, full shade |
| Habit: | Mound, upright |
| Flower Color: | Purple, burgundy |
| Foliage: | Purple, burgundy |
| Soil Condition: | well-draining, moist |
| Water Requirements: | Likes to stay slightly moist |
| Uses: | container plant, "spiller" plant, mass planting |
Growzone: 3-11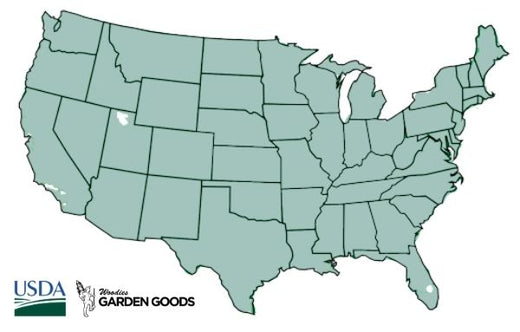 How to Care for Coleus Red Head Plants
Before you buy a Coleus Red Head plant, make sure to read about the care instructions that are required and recommended to keep this plant healthy and thriving!

What Type Of Fertilizer Does Coleus Red Head Require?
Like many plants with colorful foliage, Coleus Red Head plants require a regular feeding schedule. We recommend mixing a slow-release fertilizer into the potting soil when you are potting your Coleus plant. Once your plant establishes in its new home, you can feed it a diluted liquid fertilizer every week or two as it continues to grow. When your Coleus is in the ground, fertilize once a week or two with a diluted liquid fertilizer to keep it happy and healthy.

How Do I Water Coleus Red Head Plants?
We recommend keeping your plant's soil evenly moist but avoid watering too heavily. This plant is very susceptible to root rot disease, which is caused by overwatering. If your Coleus plant is in a container, it will require more frequent watering than those in the ground. During the hot summer months, your Coleus Red Head plant will most likely require daily watering, sometimes even twice a day. However, if you receive lots of rain, be sure to consider that before adding more water to your plants.

How Much Sun Do Coleus Red Head Plants Need?
Coleus Red Head plants thrive best in most sunlight conditions. They can be planted in an area of your garden that receives plenty of morning and late afternoon sunlight and a decent amount of midday shade. The midday shade will help keep your plants from drying out and their soil drying out. Ideally, you want to plant your Coleus in an area that receives morning and late afternoon sunlight, the time of day where the sun is least intense. And during the middle of the day, this area will receive plenty of shade or indirect sunlight.

What is The Best Soil for My Red Head Coleus Plant?
Your Red Head Coleus plant thrives in cool and well-draining soil conditions. It is crucial to your plant's success to always keep their soil evenly moist but never too wet. If their soil is too wet, you could risk the chance of root rot disease. Coleus plants are annuals and do not last a long time. Root rot disease could kill them off entirely, even before their growing season finishes. If your plant is potted, be sure their container has drainage holes to allow excess water to escape instead of staying in the pot. If your plant is in the ground, ensure its soil stays evenly moist regardless of its location in your garden.
---
Frequently Asked questions
Is Red Head Coleus Edible?
How Should I Plant My Coleus Red Head Plants?
How Can I Winterize My Coleus Plant?
---
Other Products you may be interested in
---
Customer Reviews